Austin Meets Syfy: 'Face Off' Contestant Eric Zapata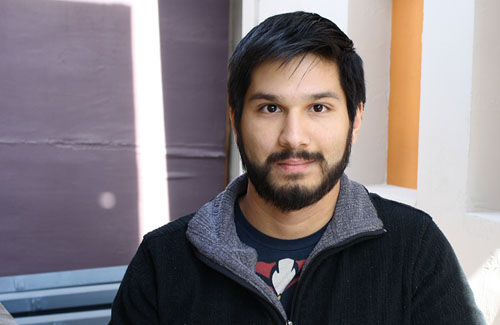 Take the talent and artistry of special effects makeup, combine it with the better aspects of reality TV and you have Syfy Network's show Face Off. Now in its fourth season, the TV series is a fascinating look at an aspect of filmmaking that often operates very behind-the-scenes.
Local special FX artist and filmmaker Eric Zapata is a current contestant on the series, and has been representing Austin well with creepy mosquito creatures and bearded ladies. I recently got the chance to meet Eric and talk about his career and time on Face Off.
Slackerwood: Congrats on being on the show. It's fun to see Austin represented.
Zapata: Thank you! I think it's really important to showcase the local industry.
From the audience point of view, special FX makeup seems like a very cool job. Is it really as fun as it looks like?
Zapata: 100% it is. Of course, anything involved in the entertainment industry is going to be stressful. But, every project that comes my way, if I'm not stressed out by it, it almost seems not worth it. If you're crazy enough to do this, then you're going to love it. And, I'm crazy enough and crazy about it.
Not that I am a reality TV expert, but the contestants on Face Off seem to smile more than contestants on other shows.
Zapata: On my season in particular, we were told by production that we all just clicked. It was really great for that to happen, but it's also hard to compete with people you love so much. We all share the same passion for this art, so it was hard to really pit us against one another. There's some of that that happens, but for the most part, everyone was really great. When you surround yourself with that many people who love doing what they do, it's a good time.
Why did you decide to try out for the show?
Zapata: Ian Cromer is a big reason. He was on Season 2, and he's one of my very best friends from school. He got on the show first and pushed me to audition for Season 4. He said, "If I can do it, you can do it. There's really nothing to it, just go and have fun." But then when I got there, I kept telling myself, "Ian told me what to expect," but you can never prepare yourself for anything like this. It's never what you think it's going to be. Every week I would go in thinking, "I know how I'm going to approach this," and then we would get the challenge and my mind would just go blank.
There are two other Texans on the show with you -- Jenna Green and Michael Faust. Did you know them before?
Zapata: I didn't, actually. I knew of Michael, because he is [Season 2 competitor and Austinite] Matt Valentine's brother, but I had never met him or Jenna. When we got there, Michael and I just clicked. Being from the same place and we had the same sense of humor. He ended up leaving on episode 2 and I took it very hard.
What's it like watching yourself on TV?
Zapata: Not awesome, but I like watching the episodes to see the other contestants. You are so focused on your own work during the competition that you miss out on their processes. It's cool to see their personal journeys through the show.
I have to know about the Work Room where the show takes place. It looks like this amazing artist's dream.
Zapata: It really is. You know, there's all these cool things and places we would go to for challenges, but the one thing I kept thinking about was, "When are we going to get back to that shop?" I wanted to play with all the toys. It really just felt like a field day. Granted, a really stressful field day.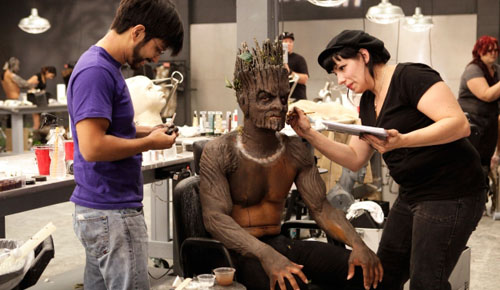 Turning towards your career and life before Face Off, you actually went to school for special FX makeup. That's somewhat of a newer concept for your industry.
Zapata: Absolutely. Back in the 80s there weren't schools. The industry for special FX makeup was really booming back then. All you had to do was move to LA and you would learn on the job. Now days, it's not that easy. So, people either teach themselves, or they go to a makeup FX school, such as Joe Blasco or the Tom Savini School or Cinema Makeup. I chose Tom Savini because I'm a fan of horror films. Tom had worked on the Friday the 13th series. I had that DVD collection growing up, and I saw a plug for his school on there. It blew my mind that there was a school for that. And, up until Face Off, it was the best decision I ever made. It opened my world up and changed my views on art and life.
So, school ends, and you have to start working. What happened?
Zapata: Right out of school I was lucky to get a job at the Creature Corps, this shop run by Bob Kurtzman. I worked for them for a year and worked on their line of haunted-house costumes and makeup. I also got to work on various movies, including John Dies at the End. It's so cool to go to a theater and see a movie that you are a part of. That was the first movie I had a credit in.
It seems like you have to have a wide range of knowledge to be a special FX makeup artist, everything from how to use silicone to insect anatomy.
Zapata: Yeah, absolutely. Everyone in the industry has to have some sort of technical background, as well as a love of learning about things. You also need that creative background. For me, growing up, I loved taking toys apart and learning how they worked and mixing things together to see how they solidified. And, I loved drawing and art and painting. When I found out what special FX makeup was, I thought, "That is everything I love to do in one job."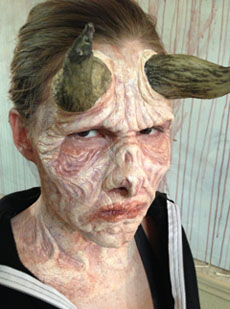 Do you have any horror stories -- no pun intended -- about your early days in the industry? It seems like there's a lot of trial and error.
Zapata: I remember one of the earliest times I was attempting a full-life cast, which is the front of the face, the back of the head and the shoulders. I was in high school and using my friend Chris as a model. I'd had some experience, but didn't tell him that I'd never done a life cast before. One of the main things about plaster bandages, which I was doing on the back of his head, is to use Vaseline on the skin. And…I forgot to Vaseline on the hair on the back of his neck. When it came to take off the back half, we just heard these screams coming from inside the face piece. Unfortunately, it was quite funny to a high-school boy.
[Side note: At this point in the conversation, AFS Director of Programming Chale Nafus walked in the room, having overheard our conversation, and told Eric, "That should be the opening scene in your next horror movie."]
Moral of the story – Vaseline.
Zapata: FX artists always joke about getting a tattoo that says, "Always remember to use release [agents], always put pry points on your molds, and always use Vaseline."

Eric was finally bested, unfortunately, by a glow-in-the-dark sea creature in a recent Face Off episode and succumbed to the double elimination round. Luckily, he turned right around and won Face Off Redemption, a webisode series that allows kicked-off contestants to compete for a chance to be on next season's show.
For now, Eric is back in Austin spending his time working with local special FX house Hawgfly Productions, as well as on his own short film projects with his production partners at Archimedes Media Lab.
You can catch Face Off on Tuesdays at 8 pm CST on the Syfy network. It's a great way to experience the special FX industry without all the Vaseline.
UPDATE: Eric won Face Off Redemption! That means he'll be back in Season 5. Congrats, Eric!
[Photo credit: Eric Zapata, courtesy of Austin Film Society; Zapata and Autum Cook working on a jungle-themed goblin in Season 4, Episode 1, from the Syfy website; Zapata's most recent creation for a RED camera shoot, courtesy of Zapata.]