SXSW 2013: On the Red Carpet with 'Sound City'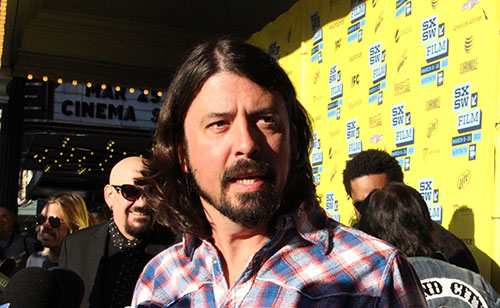 I was quite excited to hear that one of my favorite music documentaries at Sundance Film Fest was coming to SXSW 2013: Sound City, directed by Nirvana drummer and Foo Fighters frontman Dave Grohl. This film was a perfect fit for Austin, with Grohl's focus on the human element of music as well as the vanishing technology and places that built and supported music for decades.
Grohl delivered an inspirational keynote at SXSW Music Festival -- which you can watch on NPR Music -- that expanded on some of our conversation just before the SXSW premiere. Grohl was joined by fellow members of the Foo Fighters, Lee Ving of Fear, and the Sound City Players. Find out what he had to say, as well as see other famous rockers who were on the red carpet, after the jump.
Slackerwood: With over 20 music-related films including documentaries at SXSW this year, what sets Sound City apart from the others?
Dave Grohl: I don't know, my film is only my film -- I'm not a director, I wouldn't know the difference. All I know is that Sound City was different from any other studio that I'd been to in my life. What that studio represented was something very specific. Fortunately I got to record there and it changed my life. I made this movie more for me than anybody else.
Now that you've had time to reflect on this movie that you've created, what are your intentions for viewers?
Grohl: The intent and the heart of the movie is the human element of music -- what makes music so special. In talking about that, we are trying to inspire the next generation of kids to want to do the same thing.
How can you accomplish that goal?
Grohl: I think that as long as people respect, cherish and understand that it's the sound of a human being that makes other human beings want to make music. There's no right or wrong, electronic music is awesome, acoustic music is awesome -- music in general is awesome.
The best thing about music is the artist's voice behind whatever's happening. When I say voice, it could be the way that you play guitar or the drums. It's the person behind whatever that medium or instrument is that makes music exciting. I would rather hear a drummer that's sucks this bad, than something that's completely inhuman and perfect. Only because that's me -- I like the sound of a human being.
The advantage of digital technology is awesome, anyone can go home and make a movie or record -- it's inspiring. But the idea is that you respect and retain and respect your voice. Don't worry about sounding like someone else and don't let someone change the way you sound. Be yourself, and sound the way you sound because there is no right or wrong.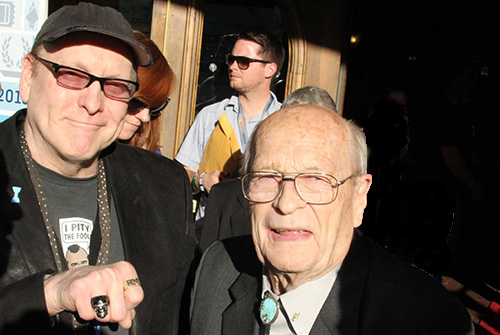 Getting back to the red carpet after interviewing Dave Grohl: Rick Nielsen of Cheap Trick posed with Rupert Neve, creator of the Neve mixing console featured in Sound City that Grohl now has in his own studio. Cheap Trick recorded several albums at Sound City Studio including their third album Heaven Tonight, which included Cheap Trick's mega-hit "Surrender." The console created by Neve for the studio was the only custom-built model and is therefore one-of-a-kind.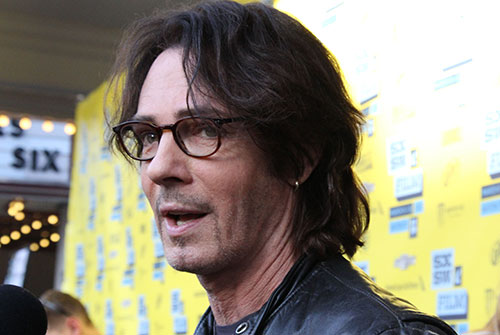 Rick Springfield, also on the SXSW carpet, found success at Sound City Studios with owner and manager Joe Gottfried. Springfield relates in the film his emotional distress after having left Gottfried's management.
If you missed Sound City at SXSW, it's currently available to watch online via outlets like Amazon and iTunes, and also on Blu-ray.
[Photo credits: "Dave Grohl Sound City Premiere," "Rick Nielsen and Rupert Neve," "Rick Springfield," by Debbie Cerda, all rights reserved.]