SXSW Dispatch: 'I Am Divine' at Thai Passion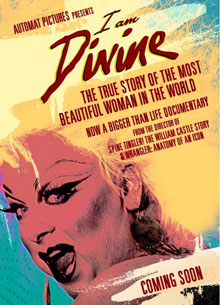 Saturday night, my friend April and I tried Thai Passion downtown for dinner (I had it in mind after Bryan Poyser's interview) after catching the screening of Prince Avalanche that afternoon at the Paramount.
It wasn't that busy when we arrived, but a large group came in a little while later and sat near us. We tried figuring out which movie they were related to, and April pointed out that one guy at the table was wearing a John Waters shirt. We assumed they were celebrating before the premiere of I Am Divine later that night.
As we were leaving, I asked the group at the table which movie they were with, and indeed, our assumption was correct. When director Jeffrey Schwarz saw my name, he mentioned Dark Shadows (very few people bring that TV show up when they meet me). The folks at the table encouraged us to attend the premiere that night, but it played against Before Midnight, which we were definitely going to attend.*
But we (and you) still have two more chances to see the documentary at SXSW. I Am Divine screens Wednesday, March 13, 9:30 pm at Stateside and Thursday, March 14, 11:15 am at Alamo Slaughter (screening info).
*And speaking of Before Midnight, we also spotted the composer of that film's score, Graham Reynolds, eating at the Thai restaurant.
The I Am Divine trailer is embedded below.