Interview: Sam Eidson, 'Jurassic Live!'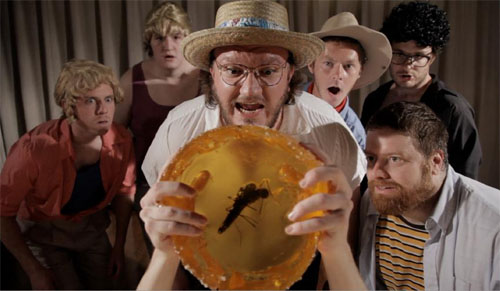 A few months ago, I wrote about a special type of show that treats movie geeks around Austin to a very special brand of comedy. Local audiences have witnessed The Old Murder House Theatre perform renditions of Die Hard, Home Alone, even a brilliant Aliens on Ice production. The theater company has a new show coming up, and it's part of their first national tour, which was successfully funded on Kickstarter. For their new show, for their biggest show -- Jurassic Live: Dino Action Show -- they've decided to take on one of the biggest movies in recent history, Jurassic Park.
The Old Murder House Theatre company is headed by local actor Sam Eidson, whom you might have seen in Austin movies such as My Sucky Teen Romance and Austin High. You might recognize some of the other cast and crew involved too from other local films. I had the opportunity to interview Eidson about some of the origins of this show, elaborate on their upcoming tour of Jurassic Live, and where they might go from here once the tour is done.
Slackerwood: How did the idea of doing a show like this come about?
Sam Eidson: It happened in Savannah, Georgia in 2008 when me and Josh Jones, Mike Bailey and Linda McNeil put together a Jurassic Park show for our friends. Our friends liked it so we did more. Me and Josh moved to Austin and kept doing it and Jurassic Park here will be our fifth show.

So this is a pretty elaborate tour you guys have planned. What made you choose these particular cities and locations?
Eidson: We just chose the cities we think would appreciate us. If we could go up to even Portland and Seattle we would, but it became just way too much. It's pretty ambitious for our small little group to take on a big tour but we'll just jump in and hope for the best.

What are some of your favorite shows that you've done?
Eidson: I think Aliens on Ice was our peak. We can only go down from there. But seriously, I like all of our shows. I think there are particular performances I'm happier with than others. Like our third show of Robocop was probably our best show. Die Hard/Home Alone was a pain in the ass to learn two movies but after it was done I was very proud. Lion King/Predator in 2009 in Savannah was a horrid disaster. Nathan Sakulich was working our props at the top of the house and he was wasted by the end of the performance so he was missing his cues. I love him though!

Any more special locations for future shows planned like the Aliens on Ice show?
Eidson: We would totally love to do location-specific shows after this. I want to make stunt shows like the ones you see at Six Flags for Batman and such.

What's been the biggest challenge in any of the shows that you've done?
Eidson: Aliens being on ice was pretty insane. There's really never any big challenges -- it's just a ton of tiny challenges that add up. But we all run the shows and we try and make them as fun as possible. No one is making hot dough off these shows, so we just do it for love. And I just hope people like them!
The Old Murder House Theatre kicks off their Jurassic Live tour on Sunday, June 10 at the Stateside Theater at 8:30 pm. Tickets are still available. If you can't make it on Sunday, they'll be back at Stateside on July 3. You can buy tickets to their other shows around the country and view videos of their past performances via the company's website. And check out the embedded video below for a special preview.