SXSW 2013 Guide: Where Film Meets Interactive (and Music too)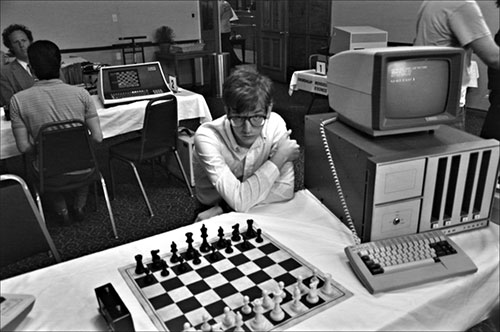 Just when you think it can't get any bigger, SXSW offers even more amazing content beyond its cornerstones of Film, Interactive and Music conferences. Continuing from 2012, this year's festivities include a SXSW Comedy program March 9-16 spotlighting stand-up comics, and SXSWedu from March 4-7, featuring content for educational innovation. The Tech Career Expo also returns March 8-9 in a new location at 311 East 5th Street, one block from the Austin Convention Center (ACC), open to those seeking careers in the tech and interactive media sectors.
Choosing among so many options can be difficult since the Film and Interactive conferences take place at the same time, from Friday, March 8 through Tuesday, March 12. The film festival starts on Friday as well and runs through Saturday, March 16. This guide will hopefully help you balance both Film and Interactive successfully, whether you have a badge for either conference or the Gold or Platinum badges that provide you access to both.
Here are some personal tips and "lessons learned" on balancing the film and interactive portions of SXSW 2013:
Be prepared -- Read our upcoming SXSW 2013 guides and check out the SXSW tips on Twitter.
Plan ahead -- Set up your SX Schedule.
Go mobile -- I found the SXSWGo app incredibly useful last year for viewing and or adding events to my schedule, mapping how to get to a venue and even sharing photos with other SXSW attendees.
Be flexible -- If a film will have wide distribution or a screening later in the week, go to a convergence panel or evening event instead.
Practice the SXSW mantra -- "Sleep is the enemy" -- but be prepared to hit the wall a few times.
Here are some great and new opportunities for you to mix film geekdom and techie love.
Come & Capture Film Factory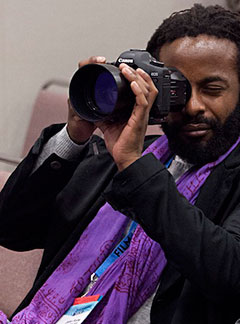 The Come & Capture Film Factory, from Saturday through Tuesday at the Capital Ballroom in the InterContinental Stephen F. Austin Hotel, allows participants to explore and interact with the newest tools for capturing and creating content. The daily program features panel discussions, workshops, and demos from companies such as Sony. It's open to all Film, Gold and Platinum badgeholdrs.
An assortment of filmmaking products will be available for attendees to try out and capture their experiences at SXSW. Completed content can then be shared with the SXSW community through SXSW's online channels on the official festival website.  
Panels take place from 11 am until noon and include:
Easy as 1, 2, 3: Point, Shoot and Share -- "With the increase in smartphone movie making and sharing content, this panel will discuss the best ways to use your smartphone and share your content as an amateur or professional filmmaker." (Saturday, March 9)
The Social Video Race -- "Social video will pave the way for how a new generation of smart, phone toting-youth will view and share the world. Which service in the space has the best formula for success?" (Sunday, March 10)
Changing Lives Through Collaborative Video Storytelling -- "Video is a powerful way to tell and share stories. Organizations around the globe are finding innovative ways to use collaborative video storytelling to make a difference in the world. In this session you'll learn about specific tools and techniques for doing this on a small budget, with limited infrastructure." (Monday, March 11)
Innovation & Filmmaking: Capture & Shape Content -- "Join filmmakers, developers and equipment representatives as they discuss the future and changing landscape of filmmaking tools." (Tuesday, March 12)
Meet the Insiders
An expansion on the successful Mentors program, each small group, hour-long session in ACC room 17B will feature two industry insiders from Saturday through Tuesday. Badgeholders can connect with the film community and gain insight and understanding of the industry from the insiders at the forefront of their respective fields.
The Film Hideout Lounge at The Hideout Theatre offers an exclusive spot to meet up and relax with other Film, Gold and Platinum badgeholders. Perks include free wifi, watching interviews with SXSW filmmakers, a stand-up comedy show and web videos. Plus, they'll offer free breakfast in the mornings and open bars at happy hour. The Film Hideout Lounge will be open from Friday, March 8 through Friday, March 15 from 10 am–7 pm.
SXSW Convergence Panels
The SXSW Film Conference features over 150 key conversations, panels, workshops, and mentor sessions this year. The Convergence programming is back, with over 20 sessions focusing on the interaction between Film, Interactive & Music. Convergence panels take place in the Dell Hall of the Long Center and in Room 18ABCD on the fourth floor of the Austin Convention Center. Some panels of interest for both film and interactive fans:
How Tech Companies Should Pitch Hollywood -- "Learn how to succeed at establishing business relationships with major media companies in Hollywood in this panel from industry experts." (Saturday, March 9, 12:30 pm- 1:30 pm, ACC 18ABCD)
Downloaded: The Digital Revolution -- "This open round table discussion of the Digital Revolution on how it started, how it has changed and what lies ahead with Napster founders Shawn Fanning and Sean Parker, musician and Co-Founder of the Electronic Frontier Foundation JP Barlow and Alex Winter, director of the documentary, Downloaded. Moderated by Eugene Hernandez, Film Society of Lincoln Center." (Tuesday, March 12, 11 am-noon, Dell Hall at the Long Center)
Chuck Lorre: In Conversation with Neil Gaiman -- "In his first SXSW appearance, television writer/creator Chuck Lorre (The Big Bang Theory, Two and a Half Men) joins author Neil Gaiman (Stardust, Coraline) about the creative process and shares the bitter truth behind the challenge of delivering several successful TV shows at once. Lorre will also be promoting his book, What Doesn't Kill Us Makes Us Bitter, with all of Lorre's proceeds going to a charitable cause." (Saturday, March 9, 3:30 pm-4:30 pm, Dell Hall at the Long Center)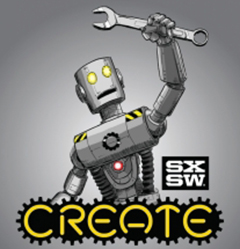 SXSW Create
The second annual SXSW Create takes place Friday from 2-6 pm, and Saturday through Monday, 11 am-6pm in an outdoor venue at 101 Red River, adjacent to the Austin Convention Center (ACC). Local and international members of the SXSW community join forces "to share disruptive creations and showcase the latest tools and fabrication methods."

SXSW Create, which focuses heavily on hands-on activities, is free and open to the public. One highlight will be the Plastic Storm Sculpture by George Sabra, 14-feet-high storm funnel made of reclaimed plastic bottles, cups, jars, and caps. The sculpture was commissioned in 2012 by the City of Austin in partnership with Keep Austin Beautiful, and represents the massive "storm" of plastic waste generated by humans on a daily basis.
As part of SXSW Create, the SXSW PhotoCamp is in session there on Monday from 11 am-6 pm. I'm especially looking forward to the 3:30 pm session, "Media Management and the Creative Process," which will cover "universal principles that can guide your technical workflow in support of your creative processes" whether working in still photography, video or multimedia production.
Interactive-themed Films
The theme this year for Interactive-related film content focuses more on computers and file-sharing. Please note that you can't use an Interactive badge to get into these films -- standard badge/ticketing rules apply. Here are some highlights:
Computer Chess -- This local narrative (picturedat top) about a man-versus-computer chess tournament won the Alfred P. Sloan Feature Film Prize at Sundance 2013 Film Festival for "its offbeat and formalistically adventurous exploration of questions of artificial intelligence and human connections. (screening schedule)
Downloaded -- Writer/director Alex Winter explores the rise and fall of Napster, the vanguard of peer-to-peer music file sharing in the late Nineties that started as an underground distribution network that became a global resource. (screening schedule)
TPB AFK: The Pirate Bay Away From Keyboard -- Director/cinematographer Simon Klose followed the copyright infringement lawsuit against the Swedish founders of The Pirate Bay, the world's largest file-sharing site. Meanwhile in an undisclosed location, a data center filled with computers and servers labors on to duplicate files. (screening schedule)
Check out the trailer for Downloaded on Vimeo below:

SXSW Music-themed Films
The major trend I've observed at film festivals this year is films about recording studios and musical artists, with over twenty music-related documentaries at SXSW 2013. Some of the recommendations I'd covered in my Sundance 2013: Behind the Music and the Voices post are screening including Muscle Shoals, Sound City, Twenty Feet From Stardom and Pussy Riot: A Punk Prayer.

Check out SXSW Film Programmer Jim Kolmar's recommendations for Music at the Movies, including Texas filmmaker Tim Mccanlies' When Angels Sing. Here are my personal recommendations for music-related screenings in the 24 Beats Per Second category (Again, standard access/ticketing rules apply):
Watch the trailer for All the Labor below:
Can't make it to Austin for SXSW? You don't have to miss out with SXSW Live streaming, which includes keynotes, music showcases, convergence panels and more throughout SXSW 2013. The SXSW Live Streaming Schedule will be announced soon.
[Photo credit: "Audience Members after the Panel" by Sam Seizert, courtesy of SXSW]