Update on 2013 Texas Film Hall of Fame Awards (Tarantino!)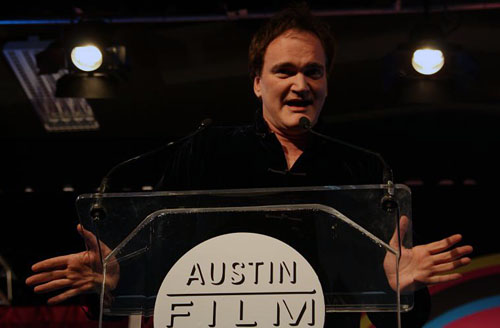 What do Ann Richards, Lauren Bacall, Dennis Hopper and William Friedkin all have in common? They've all had the honor of presenting awards at the Texas Film Hall of Fame Awards. In January, Jette shared the list of 2013 honorees -- this week, Austin Film Society announced presenters for 2013, as well as the evening's master of ceremonies.
The gala awards ceremony next Thursday night will be emceed by highly capable actress and singer Dana Wheeler-Nicholson. She's well known for her many film and television roles, including the Austin-shot series Friday Night Lights and the legendary movie Fletch.
Several more award presenters were also announced this week. Filmmaker/actor Rob Reiner will turn this event up to 11 when he presents an award to Princess Buttercup herself, Robin Wright. Joining Reiner is the one, the only, the stupendous David St. Hubbins, better known by his stage name Michael McKean. McKean will be presenting an award to his wife Annette O'Toole.
How do you top a Spinal Tap mini-reunion? You do it with Quentin Tarantino! Yesterday we were greeted with news that legendary filmmaker, recent Oscar winner and 2010 Texas Film Hall of Fame Awards honoree Tarantino will be presenting the Star of Texas Award to Richard Linklater's movie Dazed and Confused.
There could not be a more appropriate pairing of fellow filmmakers. These gentlemen share an undying love of all things cinema,which has benefited Austin moviegoers greatly over the past two decades. Linklater co-founded Austin Film Society, and is well known for his early love of film. Tarantino is also known for his exhibition of exploitation films at the now legendary QT Fest. One of Tarantino's other ventures is the New Beverly Cinema in Los Angeles where they show 35mm double features. Seeing both filmmakers on stage together will be an event you will not want to miss.
This year's awards ceremony will take place on Thursday, March 7 -- the night before SXSW begins. The event is returning to Austin Studios and will take place in Studio 7. Tickets and tables for the gala and awards dinner are currently on sale via the AFS website. In addition, an after-party will overlap with the awards, and after-party-only tickets will be available for $30 (two for $50) if the gala tickets aren't in your price range.
Here are a few photos of this year's celebrity attendees from previous Texas Film Hall of Fame awards galas. First, Dana Wheeler-Nicholson on the 2011 red carpet with her Friday Night Lights co-star Kyle Chandler:
Our favorite Linklater-at-the-gala photo is from the 2010 red carpet:
And here's a very entertaining video of Robert Rodriguez presenting Quentin Tarantino with his Tom Mix Honorary Texan award at the 2010 ceremony (be sure to watch all the way to the end).
[Photo credit: "Quentin Tarantino at 2010 Texas Film Hall of Fame Awards" by Debbie Cerda, "Dana Wheeler-Nicholson and Kyle Chandler" by Cole Dabney, "Richard Linklater at TXFHoF 2010" by J. Kernion. All photos taken for Slackerwood; all rights reserved.]