Texas Film Hall of Fame 2013 Honorees Announced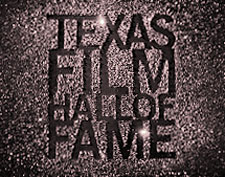 Some very familiar faces, whom you might not realize are Texas natives, are among this year's Texas Film Hall of Fame Awards recipients. In addition, a quintessential Austin film will be honored that evening: Dazed and Confused. At a press conference this morning, Austin Film Society Associate Artistic Director Holly Herrick announced the honorees: Stephen Tobolowsky, Robin Wright, Henry Thomas and Annette O'Toole. In addition, actress Julie Hagerty will attend the event to present Tobolowsky's award.
Parker Posey will also be there, to accept the Star of Texas Award for Dazed and Confused. "And I think we may have the director there as well. We'll see," joked Herrick. Richard Linklater, who directed the film and co-founded AFS, was sitting in the front row of the press conference at the time.
Linklater attended the conference to talk about where the funds raised by Texas Film Hall of Fame event go: the Texas Filmmakers Production Fund and to AFS educational programs. The gala is the primary fundraising event for AFS.
This year's awards ceremony will take place on Thursday, March 7 -- the night before SXSW begins.The event is returning to Austin Studios (yay parking!) and will take place in Studio 7. Tickets and tables for the gala and awards dinner are currently on sale via the AFS website. In addition, an after-party will overlap with the awards, and after-party-only tickets will be available for $30 (two for $50) if the gala tickets aren't in your price range.
There are still some surprises left regarding the evening -- for example, who will emcee. Past emcees have included Wyatt Cenac, Thomas Haden Church, Dan Rather and the late great Ann Richards. And not all of the presenters have been announced yet. We'll keep you posted.
Some Texas-related details on the honorees announced today:
Ubiquitous character actor Stephen Tobolowsky is from Dallas, attended SMU, and was one of the writers on the movie True Stories. A documentary about him, Stephen Tobolowsky's Birthday Party, played at SXSW 2005. If I went through all his roles to find the Texas connections, this article wouldn't run until February.
Robin Wright is probably best known for her role as Buttercup in The Princess Bride. You might not know that she was born in Dallas. More recently, she's been in The Girl with the Dragon Tattoo and the TV series House of Cards. Her latest film is Two Mothers, which will premiere at Sundance this month.
He's had a long acting career but Henry Thomas is still thought of by many as "the kid from E.T.". He's from San Antonio and attended Blinn College in Brenham. He was a musician with the San Antonio band The Blue Heelers in the 1990s. His first film was Raggedy Man, written by Bill Witliff and shot in Seguin and Maxwell, but most recently he's in Big Sur, which will premiere at Sundance.
I didn't realize that actress and Houston native Annette O'Toole co-wrote the song "A Kiss at the End of the Rainbow" from A Mighty Wind with her husband Michael McKean. (The song was nominated for an Oscar but lost to that dreadful Enya thing from one of the Lord of the Rings movies.) O'Toole has acted in films like 48 Hrs and Superman III but in recent years, has become well known for her role in the TV series Smallville.
If I have to tell you about Dazed and Confused and its Austin connections, you have not been reading Slackerwood long enough. This year marks the 20th anniversary of the movie. Let's hope for a special screening, perhaps at the Top Notch.
Check out the 2013 Texas Film Hall of Fame video below, created by Jim Stedman.