Review: A Place at the Table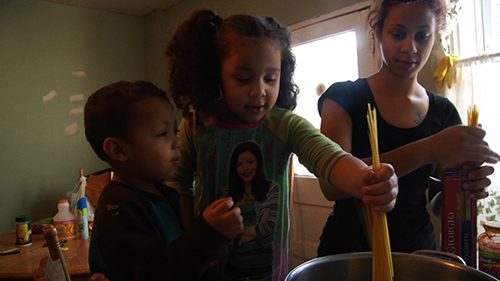 According to the Capital Area Food Bank of Texas (CAFB), food insecurity is "the condition of not having regular access to enough nutritious food for a healthy life." CAFB serves 21 Central Texas counties, from cities like Austin, Round Rock and Waco with dense pockets of poverty to small, rural communities with limited access to services. Of the nearly 300,000 people CAFB serves each year, 41 percent are children, and more than a third of the agency's older clients go for extended periods without food. CAFB reports "1 in 5 families served by CAFB experience the physical pain of hunger."
Across the U.S. the numbers become even more staggering, with 50 million people uncertain about where their next meal will come from. Directors Kristi Jacobson and Lori Silverbush bring this critical socioeconomic issue to audiences in their hard-hitting and engrossing documentary, A Place at the Table, focusing on three at-risk individuals from rural Mississippi to Philadelphia. Mississippi has the highest food insecurity rate in the U.S., but also the highest obesity rate from the empty calories consumed.
The main subjects featured in the film A Place at the Table include Barbie, a single mother in Philadelphia trying to get an education to provide a better life for her kids than she had growing up; Tremonica, a Mississippi eight-year-old who suffers from asthma, compounded by her weight issues brought on by the empty but cheap calories her mom can afford; and Rosie, a fifth grader who can't focus and is failing in school due to hunger and the resulting fatigue, and whose dream is to be an honor roll student.
As touching and intimate as their stories are, I also found myself extremely engaged by the insightful statements interwoven in the movie from nutritionists, authors and policymakers, as well as teachers and activists. Interviewees include Top Chef Tom Colicchio -- executive producer of A Place at the Table -- and actor Jeff Bridges, who founded the End Hunger Network. Raj Patel, author of Stuffed and Starving, states, "A lot of people think that there is a yawning gap between hunger on the one hand and obesity on the other when in fact they are neighbors. The reason that they happen often at the same time, in the same family and in the same person is because they are both signs of having insufficient funds to command food that you need to stay healthy."
This health issue is compounded by the creation of "food deserts," where fresh fruit and vegetables are unavailable to an alarming number of people across the nation. My assumption that food deserts primarily exist in rural areas is disputed by the film's report that roughly 75 percent of U.S. food deserts are urban.
A Place at the Table is a well-balanced expose showing the seriousness and impact of hunger on American citizens and nutrition deprivation on a child's physical and mental development, as well as the challenges of qualifying for food-stamp programs and subsidized childcare. This beautifully shot film from cinematographers Daniel B. Gold (Blue Vinyl) and Kirsten Johnson (The Invisible War) travels across the U.S. from sweeping landscapes to the Philadelphia skyline to our nation's capital, and into food banks and afterschool food cafes. The soundtrack by T-Bone Burnett is well suited for the film's pacing through both urban and rural America.
What makes A Place at the Table stand out from other documentaries about food insecurity isn't just the filmmakers' well rounded examination of the economic, social and cultural factors and the impact of farm subsidies and agribusiness. This film offers solutions to the problem of making healthy food available and affordable to all. We see impoverished and well spoken women empowered as members of "Witnesses to Hunger" led by Dr. Mariana Chilton as they travel to Washington, D.C. to lobby for increased funding for the Child Nutrition Act. Witness to Hunger member Crystal states in a radio interview, "America has turned a blind eye to the fact that people are hungry on a day to day basis. It's not just women, there are men who are raising their children and two parent households who go to work everyday and still have to turn to public assistance to sustain their families -- it makes no sense."
As a longtime advocate and volunteer for CAFB, I thought I was quite knowledgeable about this film's subject. A Place at the Table made me aware of how much I have to learn, and re-ignited my personal advocacy for hunger elimination in our community. I highly recommend seeing this documentary that dispels many myths and exposes the truth about the hard fact that 50 million Americans in dire need of food on a daily basis.
A Place at the Table opens today for a limited engagement at the Violet Crown Cinema and is also available via iTunes and other video on demand outlets. To find out more about this film as well as how to effect change, visit their Take Part page. Watch the trailer below: