Win Tickets to Texas Film Hall of Fame After-Party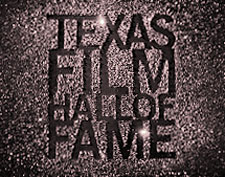 Austin Film Society has promised me that the after-party for the Texas Film Hall of Fame Awards this year is going to be a night to remember. The party starts at 9 pm on Thursday, March 7 in Austin Studio Stage 7 -- it actually overlaps a bit with the awards themselves, so you can get in there and start warming things up before the crowd from the awards ceremony fills the room.
DJ el john Selector will provide some great music, with guest DJs Jim Eno (Spoon), Adrian Quesada (Grupo Fantasmo, Brownout) and Graham Reynolds (do I need to tell you Austin film people who he is?). There will be an open bar, and snacks from local businesses (Tiny Pies!). AFS is also promising us "lots of surprises," and when you consider that this after-party is for an event attended by many local and a few national celebrities, that could mean just about anything (in a good way).
I mean, I'm planning to go, and you know what a wuss I usually am about late-night parties, especially the night before a major local film festival for which I need to pace myself to survive.
Slackerwood is giving away two pairs of tickets to the after-party. I'll tell you how to get them after the jump. And if you don't win, you can buy tickets on the AFS website. The proceeds go to the Texas Filmmakers' Production Fund, and if you're a regular Slackerwood reader you don't need me to tell you how many great local movies have benefitted from this fund.
Okay, here's the very complicated thing you have to do to qualify for the ticket giveaway: Post the title of your favorite Austin-shot movie in the comments. If you want to be interesting, you can tell us why it's your favorite, but even if you just post the title you'll qualify. Make sure you include your email address in the comment form. I'm the only one who will see your email address and I will only use it if you win and I need your info for Will Call.
The deadline for posting is Thursday, February 22, at noon. I'll pick two winners at random, and the winners will each win two tickets to the party. So post your comment now!