Lone Star Cinema: Before Sunset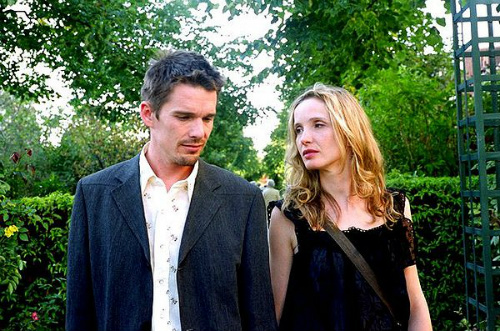 In Richard Linklater's movie Before Sunset (2004), we meet up again with Jesse (Ethan Hawke) and Celine (Julie Delpy). Jesse stops in Paris to promote his book, This Time, a fictionalization of the experience he had with Celine in Vienna nine years prior. And who does he spot in Shakespeare & Co. but Celine herself? They decide to have coffee and chat before Jesse has to catch a flight in the evening. The film is something of a real-time depiction of how they spend the next couple of hours.
The naivete of the kids from Before Sunrise is nowhere to be seen here. Jesse and Celine are now in their thirties and have dealt with some blows from life. The rhythm of their conversation flows realistically -- at the start of their time together again somewhat hesitant and impersonal, slowly opening up to show their real selves to each other as the afternoon proceeds. The screenplay from the combined forces of Linklater, Delpy and Hawke is natural and honest.
I felt like I understood Celine far more clearly in this outing. She gets to say such lines as "Memory's a wonderful thing if you don't have to deal with the past." At one point Celine and Jesse are being driven somewhere and Delpy's character spouts some angry, emotional truths to Jesse. I wanted to give her a high five or fist bump or whatever the cool kids do to signal agreement nowadays.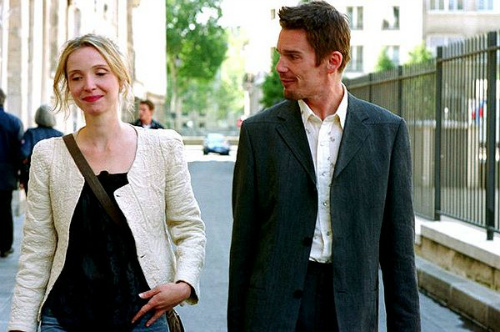 Since I had watched Before Sunrise so recently, I could appreciate the similarities to that film. As scenes of empty Vienna streets where the two characters meandered were shown at the end as a sort of farewell sequence in Before Sunrise, scenes of empty streets in Paris open Before Sunset. One assumes (correctly) that we will soon see Celine and Jesse ambling through these locations. Unlike the first movie, this sequel has no musical score. The ambient sounds of the French capital accompany the discussions in Before Sunset. There is some incidental music, such as the songs performed by Delpy which start and end the film.
Before Sunset is a more mature outing than the movie preceding it, which makes sense. The two characters have grown up, have learned (or are learning) from their mistakes and are now slightly cautious when confronted with a situation that might bring them happiness. After finishing this movie, I'm extremely eager to see Before Midnight. Indeed, this movie made me want to check out more of Delpy's films (2 Days in Paris, 2 Days in New York). Funnily enough, even though I haven't seen her more recent film, I still recognized Delpy's dad's cameo in Before Sunset just from seeing the trailer for 2 Days in New York.
Austin connections: Ethan Hawke was born in Austin and Richard Linklater resides here. The third film in this series, Before Midnight (Debbie's review), premiered at Sundance and will screen at SXSW in March. You can bet I'll be there!