AFS Doc Nights Preview: Koch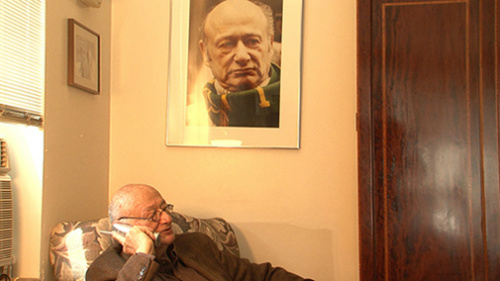 It seems timely that Austin Film Society (along with the Austin Jewish Film Festival) is screening the movie Koch this Wednesday, February 13 [details]. Former New York City mayor Ed Koch died on the first day of this month; this documentary about his life and times in office from 1978-89 pulls no punches, yet had his approval and participation.
Director Neil Barsky incorporates interviews with members of the media and New York community leaders along with interviews with Koch himself. Koch zeroes in on his mayoral tenure, but we also learn about his childhood (his family barely got by running a hat-check station) and his post-mayoral doings. He's even shown puttering alone around his apartment. Songs of the period punctuate the documentary, with Oliver Nelson's bouncy jazz work "Complex City" setting the tone from the start.
At the time of the 1977 election, New York City was bankrupt, and the slate of mayoral candidates (besides Koch) included Mario Cuomo and Bella Abzug. With some help from the party machine (the film delves into the back-room dealings) and support from different demographics to which Koch made promises -- such as the promise he would later break to keep Harlem's Sydenham Hospital open -- Koch scored a win.
The issues that plagued Koch during his time in office -- claims of racism, anger from the gay community about his lack of response to the growing AIDS epidemic, the scandal during his third term that brought a halt to his momentum -- are all addressed. One of the interviewees says about the former mayor, "Worse than a racist, he's an opportunist." At a current-day political breakfast, an elderly Koch speaks in a patronizing fashion to a woman who questions him about his endorsements. After an election rally, he's heard off-handedly referring to the newly-elected Governor Andrew Cuomo as a "schmuck." He even argues about the Ground Zero mosque (he was against it) with a family member at Yom Kippur!
The Ed Koch in Koch seems the same personality he's always been, never tiring of being in the public eye -- in fact, overly desirous to remain relevant. Koch's voice is heard throughout the film, and we learn about his successes as well as his missteps. He may not have always wanted a true answer to his, "How'm I doin'?" every time he asked it, but Koch remained true to himself. Barsky's film gives us an honest, closer look at this famous politician.
[Still via New York Jewish Film Festival]