Cine Las Americas Series Showcases Contemporary Comedies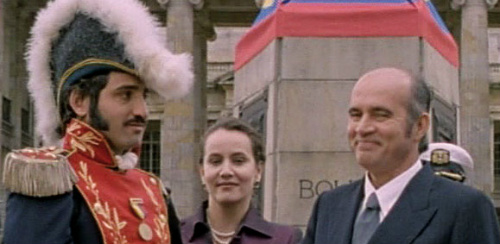 Austin's Cine Las Americas will run a free weekly film series from the last two weeks of January through the month of February. Films from Chile, Mexico, Brazil, Colombia, Argentina and Uruguay incorporate the mix of comedies from the previous decade. The series kicks off this Wednesday, January 23.
In their press release, Cine Las Americas calls the movies in this series "some of the finest comedies to emerge in Latin America in recent years, and each one of them defines a special moment in the cinema of their country. Dark humor and irony abound, with a sharp edge for social, political and cultural commentary."
Each of the screenings will be held at the Emma S. Barrientos Mexican American Cultural Center (MACC) at 600 River Street [map]. The movies will have English subtitles.
The schedule:
Bolivar Soy Yo! (Bolivar Is Me, 2002) (pictured above)
Wednesday, Jan. 23, 8 pm
An actor named Santiago Miranda (Robinson Díaz) becomes so convinced by his own performance as Venezuelan military leader Simón Bolívar in a telenovela that the difference between reality and fiction becomes obscured.
Buena Vida (Delivery) (Good Life Delivery, 2004)
Weds, Jan. 30, 8 pm
Gal rents room from guy, they fall for each other ... then her family moves in and starts a bakery in his house.
Temporada de patos (Duck Season, 2004)
Wednesday, Feb. 6, 8 pm
Two 14-year-old boys have plans for their Sunday that don't include adults. Those plans soon become thwarted by a neighbor (Danny Perea) who wants to borrow their oven, and a pizza delivery guy who refuses to leave without payment. Here's the trailer:
O Cheiro do Ralo (Drained, 2006)
Wednesday, Feb. 13, 8 pm
This Brazilian film is about a pawn shop owner who becomes obsessed with a lovely new waitress (well, really, her bottom) at his regular dining spot.
25 Watts (2001)
Wednesday, February 20, 8 pm
24 hours in the lives of three guys from a Montevideo neighborhood. The trailer (en español):
Ilusiones ópticas (Optical Illusions, 2009)
Wednesday, Feb. 27, 8 pm
The stories of multiple characters intersect in this Chilean satire about the importance placed on appearances.
For more information on the films in this series, visit the Cine Las Americas website.
[Still from Bolivar Soy Yo! via Cine Latino Trieste]