Movies This Week: January 11-16, 2013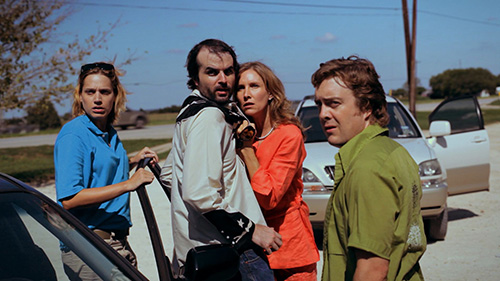 Local filmmaker Craig Elrod's feature directorial debut The Man from Orlando premieres locally on Saturday night, and although tickets sold out for the main event, a second screening has been added at 10:30 pm at the Stateside Theatre. This Austin-based comedy features familiar faces including Alan Metoskie, John Merriman, Chris Doubek, Sam Eidson and former Austinite Lee Eddy. Co-writer and lead actor Jason Newman portrays Orlando, a former gangster lifeguard who is stuck in a love triangle. Get your $10 general admission tickets online here before it's too late.
Austin Film Society has quite a bit to offer this week. On Monday night, catch Francine, the "The Narrative Edge: Spotlight on Factory 25" selection screening at the AFS Screening Room. AFS Essential Cinema presents Warriors of the Rainbow: Seediq Bale as part of the "Asia: Hot and Cool" series on Tuesday night at Alamo Drafthouse Village. On Wednesday at Alamo Village, AFS Doc Nights will present Gregory Crewdson: Brief Encounters. Over a period of ten years, Crewdson created "giant format photos of street scenes in disappearing small towns of the American Northeast."
Enjoy a special screening in 35mm of the drag queen-filled comedy To Wong Foo Thanks for Everything, Julie Newmar presented by nonprofit organization United Court of Austin on Sunday night at Alamo Ritz. The event is a fundraiser for Project Transitions.
Movies We've Seen
Zero Dark Thirty -- This Oscar nominee is a dramatization of the decade-long hunt for al-Qaeda terrorist leader Osama bin Laden after the September 2001 attacks, through his death in 2011. Jessica Chastain stars as Maya, a CIA operative driven by determination to track down bin Laden and bring him and his collaborators to justice. Elizabeth says, "Although Maya's search provides the trajectory for the film, Zero Dark Thirty is far more story-driven than character-driven." Read her review. (wide)
Gangster Squad -- Based on Paul Lieberman's seven-part series in the Los Angeles Times, this film portrays LA's ruthless and violent post-WWII crime world. A secret group led by Sgt. John O'Mara (Josh Brolin) and Jerry Wooters (Ryan Gosling) fight to take down a brutal Mafia boss. Mike says, "Gangster Squad is the role Josh Brolin was born to play. Somewhere in the middle between The Untouchables and Dick Tracy, Ruben Fleischer's period drama is exceedingly bloody and satisfying." Check back for his review this weekend. (wide)
Other Movies Opening in Austin
A Haunted House -- Scary Movie franchise co-creator Marlon Wayans wrote and stars in this comedy about a couple who resort to the aid of a psychic, priest, and ghostbusters to rid their house of an evil spirit.