Holiday Favorites 2012: Chale and the Noir Side of 'Scrooge'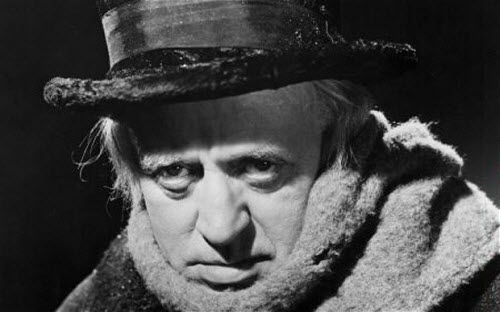 Christmas was the most wonderful holiday for my mother. Not for religious reasons, since she adamantly avoided organized religions, but for the opportunity to decorate the house. Her specialty was "the village," covering two long tables with a wintry scene of miniature buildings, people, animals, ponds and my small train set. Some of our most joyful moments were spent setting up this miniature idealized community.
Charles Dickens' A Christmas Carol was also part of that season's celebration, first with my mother reading it aloud over several nights and later by listening to a radio version (Lionel Barrymore's). Having spent six of her teenage years in a Texas State orphanage in the 1920s, my mother loved and understood Dickens in ways I could not yet fathom. When the British film production of A Christmas Carol arrived in Dallas in December 1951, my parents took my niece and me to see it. I honestly can't remember my initial reaction, but I have thoroughly enjoyed repeated viewings over the intervening 60 years. Putting nostalgia aside and ignoring the awkward special effects of the time, I still consider it a remarkable film.
One might have expected David Lean, the master of Dickens adaptations, to have brought A Christmas Carol to the screen. With Great Expectations (1946) and Oliver Twist (1948), Lean had revealed an eye for the grimmer aspects of Dickens' view of industrial Britain. Perhaps the Christmas story wasn't really big enough for Lean's imagination. Instead, a less sparkling director, Brian Desmond Hurst, received a contract with Renown Pictures Corporation to turn Noel Langley's screenplay of A Christmas Carol into Scrooge.
Nonetheless, adhering to a faithful adaptation, Hirst was able to create the classic version of A Christmas Carol (retitled for the American market). He was aided by a cast of priceless character actors. The often expressionistic, noir-ish cinematography of C.M. Pennington-Richards provided the chills of a horror film. But it was Alastair Sim's note-perfect performance as the avaricious businessman Ebeneezer Scrooge that ensured the film's perfection.
Filming took place during the summer of 1951, so prints would be ready for Christmas audiences. The production company used the oldest studio in England, Nettlefold. Passing through various hands in 50 years, the studio cast only a thin shadow of its former glory, but was cheap to rent. It served its purpose, once the birds had been scared away.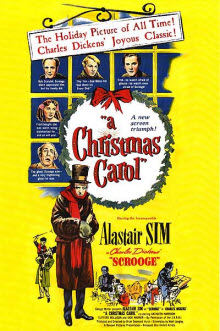 This version of A Christmas Carol doesn't take long to let us know what an old skinflint Scrooge is with his sarcastic dismissal of two men soliciting donations for the poor. "What? Are there no prisons? Union work houses? Is the Poor Law not still in full vigor?" -- cruel Victorian methods of removing the indigent from public sight. Scrooge's underpaid clerk, Bob Cratchit, is servile and terrified when the heartless boss arrives. Even the old man's flesh-and-blood, his nephew, is harshly berated for marrying a woman as penniless as himself. In short, Scrooge is obviously not one who will be exuding Christmas cheer this Christmas Eve.
Alone in his dark, gloomy home, inherited from his deceased business partner Marley, Scrooge is ill at ease after an apparition of the dead man's face startled him downstairs. Soon he is visited by the ghost of Marley, who informs him of impending visits by three spirits that will attempt to save him. Thinking he has just eaten something disagreeable, the old man climbs into his four-poster bed and draws the curtains.
The three ghosts which visit Scrooge serve as warnings to change his evil, selfish ways. The Ghost of Christmas Past, a rather benign, but insistent wraith, takes Scrooge on a journey through his past to review what he had lost because of his growing greed as a young businessman. The deepest dagger of remorse is driven into Scrooge's heart when he is reminded why his betrothed left him: his crass money-grubbing. With no steadying female hand and heart, he was doomed to selfishness.
The second apparition, Ghost of Christmas Present, is amiable enough, almost looking like a fairy-tale king surrounded by mounds of food and wealth. The spirit takes his arm and away they fly, first to the Cratchit home where Scrooge sees the simple happiness of this large, poor family, despite Tiny Tim's disability.
Realizing that Scrooge has not "profited from what I have shown you of the good in most men's hearts," this second ghost reveals a nearly naked boy and girl, who represent ignorance and want. Startled, Scrooge asks if they have any recourse, but hears only his earlier solutions hurled into his face: "Are there no prisons? Are there no workhouses?" As he did in practically all of his writings, Charles Dickens argued for more humane treatment of the poor, the elderly and the infirm, who were easily the majority population in Great Britain during the Industrial Revolution. London was filthy and disease-ridden in many areas. Relatively few children attended school since they had to work.
Scrooge tries to escape this horror but is stopped by a large hand blocking his path. It belongs to the dark, faceless specter, the Ghost of Christmas Yet to Come, the most fearsome one, but also the one who silently suggests that the future might be changed. The most heartrending thing shown to Scrooge is Tiny Tim's empty seat by the fire.
It takes a while for Scrooge to realize that he is also observing the aftermath of his own death as two servants and an undertaker sell some of his belongings. Only when he is shown his tombstone does Scrooge realize he will soon be dead. With a cry for pity, he promises to repent and to change. At that point he awakens to find himself still alive.
From that moment on he is indeed a changed man -- giggling, embracing his servant, ordering a big turkey for the Cratchits, and barging in on his surprised, but pleased nephew. The film ends with Scrooge dancing like a madman, but a very happy one. Unlike the book, which simply closed with a discussion of this wonderful transformation and his friendship with the Cratchits, the film tacks on a visual postscript showing Tiny Tim easily running toward his "second father," disabled no more.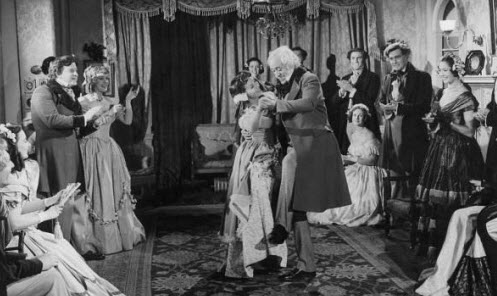 Like so many of his works, A Christmas Carol was written from the heart and personal experiences or observations. Dickens' father, a struggling clerk, was sent to debtor's prison when Charles was 12, necessitating the boy's leaving school for factory work. However, life dramatically improved for him in his late teens when he became a newspaper reporter. With that experience, he wrote his way into fame as an accomplished author. He had published six novels, including Oliver Twist, before writing A Christmas Carol in the fall of 1843 at the age of 31. Married since 1836, he already had four (of an eventual ten) children and had amassed numerous debts trying to take care of his family. His prior novel Martin Chuzzlewit was not selling well, and Dickens wanted to earn enough money to take his family to Italy. A charming Christmas tale might just be the answer to his needs.
Inspired to pen "a cheerful, glowing, heart-moving story in which he would appeal to all of people's warmest feelings," he threw himself into his writing. Beginning in mid-October, he emerged six weeks later with A Christmas Carol in Prose, Being a Ghost Story of Christmas, a 69-page manuscript.
The 6000 copies of the first edition sold out the very first day of distribution. He had a huge hit on his hands, and yet the publishers found numerous ways to cheat Dickens out of his just rewards. In fact, they should have been called Scrooge and Sons. American publishers stole the book outright, while even in Britain unscrupulous publishers printed unauthorized copies.
A dramatized version of A Christmas Carol appeared on the London stage just six weeks after the book's publication. It quickly made its way across the Atlantic and continued to be presented in various theaters even after film versions began appearing in the early 1900s. In 1853 Dickens found another way to supplement his always precarious income by appearing on stage to read the entire work in a three-hour one-man performance. He was reportedly the first "great author" to perform one of his works in public, and critics found that public display distasteful. Audiences, on the other hand, eagerly paid to hear Dickens read his work in a variety of voices. It was always the passage about the probable death of Tiny Tim that made audiences audibly weep. Doubtlessly, some took those sentiments out onto the streets and vowed to improve the lives of the poor.
More info:
Edgar Johnson, Charles Dickens, His Tragedy and Triumph, two volumes (Simon and Schuster, 1952)
Sir Christopher Frayling, "Dead To Begin With: The darker side of a classic," A Christmas Carol, Blu-ray
Trailer: http://youtu.be/97PwRDfHBlg (and embedded below)
Where to watch? A Christmas Carol (1951) is available in a new Blu-ray/DVD combo. You can rent the movie locally from Vulcan Video on Guadalupe in the Literature section.