A Delicious Evening With 'Amelie' and Chef du Cinema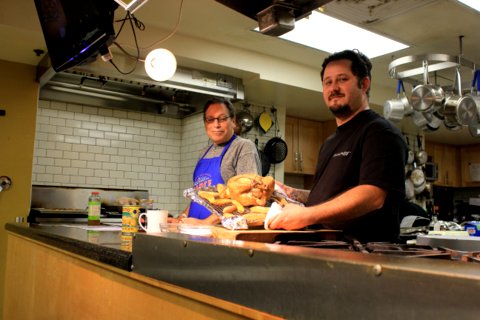 By Kaliska Ross
Walking into the Central Market Cooking School for a Chef du Cinema class felt like walking into a French café. Well, sort of. There was wine and French bistro music was playing. I guess the similarities end there.
Unlike a French café, the cooking class had bright lights, a televised demonstration table, and an effervescent instructor who was very personable and greeted us when we walked in. You certainly won't find that in a French café. He made small talk while the participants trickled in. I took that time to look over the menu. Tonight we'd be making Artichoke and Tomato Tartlets, Warm French Green Lentil Salad, French Style Roast Chicken with Potatoes, Endives au Gratin, and Maple-Pumpkin Crème Brûlée. Naturally, I was starting to get excited.
Next came a brief introduction of the chef, Ron Deutsch, and his assistants. He then went on to explain the dishes being prepared and how they related to the evening's movie, Amélie. The appetizer (Tartelette d'artichauts et tomates) appeared on the menu because a line in the movie is "At least you'll never be a vegetable -- even artichokes have hearts." The dish was a puff pastry topped with artichoke hearts, sun-dried cherry tomatoes, shallots and melted Gruyère. Let me tell you, those little pastries were good!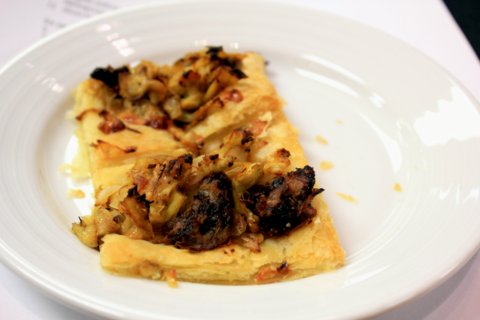 While the assistants worked on preparing the next dish in the kitchen, Chef Ron told us some interesting background information about the director, Jean-Pierre Jeunet, and the making of the movie Amélie. Interspersed between these interesting facts about the film was another food demonstration.
This dish was a Warm French Green Lentil Salad (Chaud Salade de Lentilles Vertes Francaises). The connection with the movie for this dish was through Amélie's list of her favorite things. She "cultivates a taste for small pleasures: dipping her hand into sacks of grain, cracking crème brûlée with a teaspoon and skipping stones at St. Martin's Canal." (We'll come back to that crème brûlée later). The shot shows her plunging her hand into a barrel of French green lentils, hence, this dish. The preparation seemed easy enough to handle and it was really hearty, filling and healthy tasting. I am definitely going to try to make this one at home.
Next came the main course, the French Style Roast Chicken with Potatoes (Poulet Roti avec pommes de terre). This dish appears twice in the film. The chefs demonstrated how to butter and then truss a chicken (pictured at top). It was seasoned with thyme, rosemary, garlic, lemon, a Dijon mustard sauce and onions. They made it look so easy, but I suspect it would take many tries before achieving their level of expertise.
Cheese covered endives (Endives au Gratin) was the next dish. Chef Ron explained the difference between endives and endives (it's a difference in pronunciation) and demonstrated how to make a delicious cheesy Dijon sauce to cover them after they have been wrapped in bacon and cooked. Yes, you read that right, wrapped in bacon and covered in cheese sauce. This dish was actually mentioned by name in the movie in the café where Amélie works, Café des 2 Moulins.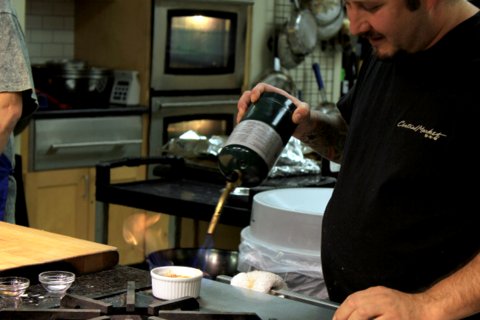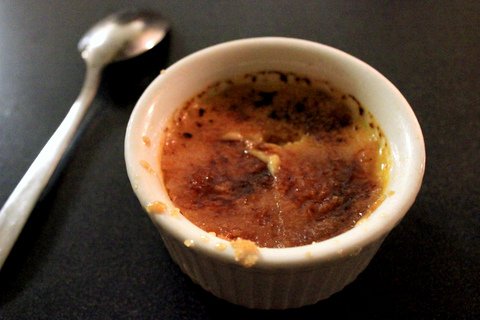 And finally we had the pièce de résistance: the crème brûlée. Remember Amélie's list of simple pleasures from the beginning of the movie? In arguably the most iconic and adorable part of Amélie, she smiles sweetly as she cracks the top of the crème brûlée with her spoon. And isn't that everyone's favorite part of this dessert?
Chef Ron told us some facts about this incredibly French dessert; like the fact that it was first documented in France in 1691. Neat! We had a maple-pumpkin flavored crème brûlée to coincide with the fall season. I had never seen a crème brûlée made from scratch, so I was really interested to see the technique of burning the top successfully. It was pretty amazing. And it tasted like pure fall perfection in a cute little cup. It was without question my favorite part of the meal.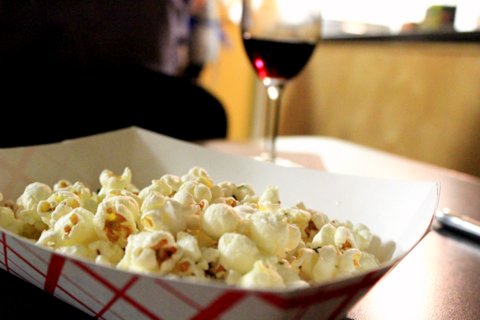 Then, it was show time! The meal was served while we watched Amélie. As an added surprise, we were served fancy popcorn after the meal and before the dessert. It was not your average popcorn though; there were some extra spices and butter. Needless to say, it was a nice touch. Finally, the crème brûlée was served. Have I already mentioned how delicious it was? Well, it bears repeating.
Overall, the Chef du Cinema class was a really fun way to spend a Saturday evening. I learned some new cooking techniques and really enjoyed watching one of my favorite movies in a theatre-like setting with the only thing that could possibly make this film any better: great food! I hope I will be able to do another Chef du Cinéma class in the future, but until then, au revoir!
Kaliska Ross is an intern at Austin Film Society.
[APhoto credit: All photos by Kaliska Ross]