Catching 'Twister' at the Rolling Roadshow Drive-In

After a couple of days sleeping off my turkey coma, I found my way out to Spiderwood Studios for the third installment of the Alamo Drafthouse Rolling Roadshow series: Road Rage Drive-In which in previous weeks showed The Legend of Billie Jean and Wild at Heart. The November 24 selection was one of my favorite disaster movies, Twister, starring Helen Hunt and Bill Paxton as well as future stars Zach Grenier, Jeremy Davies and Philip Seymour Hoffman.
This year Twister turned sweet 16, and I was eager to relive one of its most intense scenes, set in a drive-in theater, while watching it in an actual drive-in. Unfortunately, the weather did not want to cooperate, and there were to be no thunderstorms this weekend. I found the setting wasn't quite as I'd hoped as well, though it was still an entertaining evening.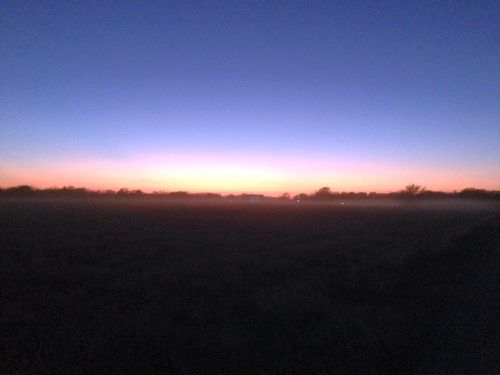 The drive was scenic, and the sun was setting over farms that closely matched the rural settings featured in Twister. On arrival at the property, there was a brief check-in and instructions to drive down a dirt road to where the screen was set up. I snapped this photo on the way. Friendly staff members were directing cars to the best parking locations, and I settled into a spot just behind and to the right of the Rolling Roadshow projection truck.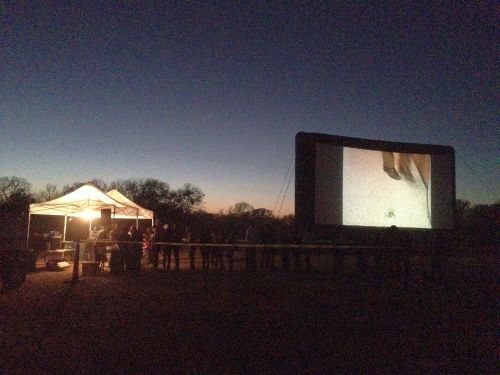 Tents were set up to the left of the screen serving drinks and Franklin BBQ. I had forgotten to bring cash, and there was a long line by the time I arrived, so I decided to forego the sweet, sweet brisket. As always with Franklin's, the early bird gets the 'cue!
As I jumped back in the car, the show was just starting. First we watched a couple of trailers for other disaster films, Armageddon and The Day After Tomorrow and then the old "Flick My Bic" no-smoking message ... then on into Twister.
In lieu of a review for a movie well into its second decade, I spoke with LCRA meteorologist Bob Rose to ask a few questions about the weather science behind Twister and how it has advanced since the mid-1990s:
Me: The movie begins with an image of the now-retired GOES 8 weather satellite. Wikipedia has an entry that doesn't explain much of the satellite's function. What did the GOES satellites do, and is the system sill in use?
Bob Rose: The GOES 8 satellite was a step forward from previous GOES satellites, taking images of the Earth every half hour enabling forecasters to have a clear view of developing thunderstorms, track hurricanes and relay search and rescue data from vessels that are in trouble day and night. GOES satellites are still used today. However, GOES 8 has been retired and GOES 13 and 14 are now in operation.
Today's satellites take images every 15 minutes and have additional sounders that can measure temperature and humidity at various levels of the atmosphere. Meteorologists today have an even clearer picture of the atmosphere compared to the earlier GOES satellites.
Me: The team in Twister explains that they have "no idea" how a tornado works, and they want to launch DOT probes into a tornado to collect information about its structure. Was it true at the time? Isn't that what Doppler does? How much more do we know about tornadoes now?
Rose: At the time, the idea of launching probes into a tornado was still in development. It was being worked on by forecasters, but it was not a reality. However, the idea did become reality around the mid-2000s by researchers at the University of Oklahoma. The idea was the probes would send back infomration about the distribution of temperature, humidity and wind speeds in the immediate environment around and inside of a tornado. This is different from Doppler radar. Doppler radar detects the wind motion and speed in the environment around and inside a thunderstorm. However, the radar cannot detect temperature and humidity at all levels. There are also some instances where the Doppler effect doesn't work. The probes would provide a more thorough 3D scale of the environment.
Researchers know a lot more about tornadoes today compared to when the movie was made. Data from storm chasers and Doppler on Wheels placed near developing tornadoes has greatly improved the understanding of how tornadoes work and develop. However, the answer to why tornadoes form with some thunderstorms and not with others is still not fully understood.
Me: Two other terms are used in the film, "cone of silence" and Phillip Seymour Hoffman quips, "It's the suck zone!" Are these real terms in relation to tornadoes?
Rose: The cone of silence refers to about a 5-mile zone around a weather radar site where the radar cannot detect rain and wind. So if a tornado or thunderstorm happens to move toward the radar site, there will be times when the radar will be blind to the storm. Without knowing the location of the tornado, it is possible the storm's winds could cause extreme damage (or suction) with little notice.
Me: Do you know any storm chasers or have you ever been tempted to go tornado hunting yourself?
Rose: Yes, there are a few professional storm chasers that live in Austin and deploy out of Austin during periods of severe storms. I do happen to know a couple of them, Steve Draper and Randy Dempsey. I did a couple of tornado chases when I was in college but none since. I am tempted to chase again, but not on my own. It's best to chase with a group that has experience and good equipment in order to find the storms but not get so close as to get caught by the tornado.


I grew up within shouting distance of a derelict drive-in in rural north Texas, and the Rolling Roadshow screen can't compare to the size of that four-story structure built in the 1950s (see it here thanks to photographer Randy Carlisle), which once played to audiences of over 300 cars. There were by my rough estimate about 50-60 cars at the Twister screening. Still, it was a fun evening and a great attempt to recapture the feel of an old-school drive-in. There is still one more chance to catch this series this Saturday, December 1 with Thelma and Louise. You'll want to be sure to have a couple of blankets in the car to keep warm. Thanks to the Drafthouse and especially the Rolling Roadshow crew for putting on this series and huge thanks to Bob Rose for taking the time to speak with us.