SXSW Day 1: Drive-By Reviews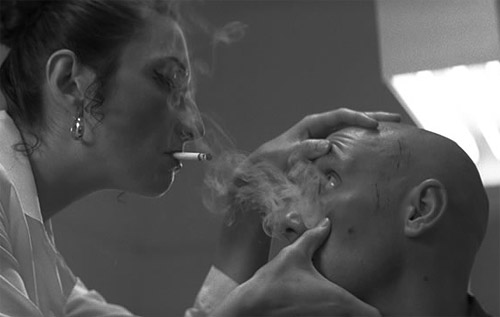 Despite the chill and the rain, filmgoers seemed to be out in force for the first day of SXSW film festival.
The Square (Spotlight Premieres)
Director: Nash Edgerton. Writers: Joel Edgerton and Matthew Dabnet
I usually avoid the opening film for festivals, and at SXSW, there is usually a single-screening of a smaller film I want to see. This year, it was The Square, which I knew very little about. It was an excellent choice. Screening with his darkly humorous and startling short, Spider let the audience know they were in for a very interesting ride. A tale of choice and repercussions, the audience gasped audibly several times, in unison, and at one point twice, yet the shock value was never gratuitous or outrageous. I don't know if it has distribution yet, but if it does, check it out. It's the best kind of low-key, small budget thriller. It's a shame it only screened once, I'd like to see it again.
Monsters from the Id (Spotlight Premieres)
Director: David Gargani
It made me sleepy, with the relentless, trance-inducing soundtrack, and awkward camera/interviewer angles.
Zift (shown in above photo) (Midnighters)
Director: Javor Gardev. Writer: Vladislav Todorov (novel and script)
Despite the fact that the shuttles don't go to Alamo Ritz, I still managed to make it from South Lamar Alamo to the Ritz in time for the last screening of the day. Unfortunately, they directed me to the wrong theatre for Lake Mungo. By the time I realized this, it was too late, but like most SXSW related mistakes, it worked out well.
Zift is an alchemical blend of mid-century eastern European disillusion, scatalogical noir with a dash of Fellini style absurdity and a healthy dose of Bergmanisms resulting in a poetically misogynistic ode to nihilism. I enjoyed it a lot. Despite the misogyny.
I would have loved to hear the Q&A, but it was late and if I missed the Night Owl bus, I'd be stuck downtown for another hour.