Film on Tap: Hemingway Cocktails, The Taproom and Beer Diaries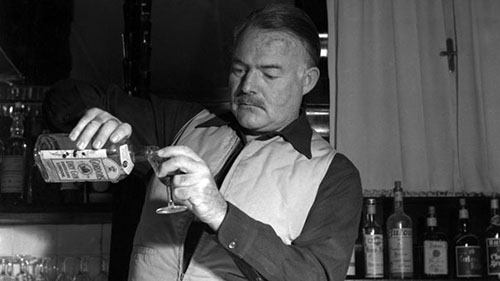 Film on Tap is a column about the many ways that beer (or sometimes booze) and cinema intersect in Austin.
The festive holidays are upon us, which often means indulging in cocktails. If all you have is an antiquated edition of Mr. Boston Official Bartender's Guide to guide you, you might want to check out one of the unique cocktail experiences at the Alamo Drafthouse for inspiration and even education. On Monday, November 26 at 7 pm at Alamo Ritz, author Philip Greene hosts "To Have and Have Another -- A Hemingway Cocktail Companion," a 90-minute seminar based on Greene's book of the same name about the drinks featured in the life and works of Ernest Hemingway. Tickets include a flight of four cocktails including The Jack Rose (applejack, grenadine, lime juice) and The Hemingway Daiquiri (white rum, lime juice, grapefruit juice, maraschino liqueur).
On Tuesday, November 27 at 7 pm at Alamo Slaughter, enjoy a flight of whiskey cocktails also inspired by Philip Greene's novel including a Boulevardier (bourbon, Campari, sweet vermouth) and The Affinity (scotch, sweet vermouth, dry Vermouth, bitters) while watching the charmingly romantic Woody Allen film Midnight in Paris -- read my review. Greene will be in attendance and will talk about the featured libations.The Texas Craft Brewers Festival and Austin Beer Week kept craft beer lovers satiated in October, and Texas craft brewers are still trying to catch their breath -- and build up production -- after a whirlwind month of events and awards at the 2012 Great American Beer Festival in Denver. Blanco's Real Ale Brewing Company won silver medals for Hans Pils and Fireman's #4 Blonde Ale, and Shiner's Spoetzl Brewery was the biggest Texas winner with three gold medals for Shiner Bock, Shiner Bohemian Black and Shiner Oktoberfest.
Local brewpub and movie theater Flix Brewhouse now hosts the Flix Fan-firkin-tastic Film Vault, a monthly event featuring a film that "although you may not have watched it for ages, you will never forget." The movie is paired with a special firkin (or two) of beer brewed by head brewer Justin Rizza that is only available on that night to guests in the special screening. Tickets are only five dollars, and it's recommended to buy tickets in advance. The pairing for November 27, 7:30 pm, is Top Gun with Flix's "Hop Fun for Top Gun," a generously hopped Lupulus additionally dry-hopped in the cask with whole Centennial, Simcoe and Citra hops for a total of 8 different hops varieties in the brew.
In other local craft beer and film news, Crafting a Nation director Thomas Kolicko (Beer Culture) has sent us an update regarding his craft beer documentary. While filming in locations around the US including Central Texas, his team captured over six terabytes of footage which amounted to about 183 hours. The film has been edited to about 100 minutes for the early "fine cut" stage.
"Overall, as director, I am incredibly excited to see how the film is evolving and finally coming to life," Kolicko told me. "The crew and myself have been working around the clock for three months in post-production working towards what we hope will be the film that defines perfectly what the American craft beer industry is and presents. The craft beer industry has inspired us, and we hope our film inspires audiences to go out and support these hard working brewers."
Kolicko and his team were also inspired by a visit to Minnesota, which recently repealed the taproom law, whereas in Texas production breweries are not allowed to sell beer out of their taproom for on- or off-site consumption. Kolicko said, "Instead of the finding the zombie apocalypse in Minnesota, we found a local economic surge in job growth and revenue for many small businesses including the breweries because of the letting production breweries sell beer directly to the consumer in a taproom. The 'Taproom' in Crafting A Nation, as it is in craft beer, serves as a place where the communities across the country come together. It is almost a plot device for the film, a visual metaphor of warmth, comfort inspirational, and hope for communities that we feature in the film. To see that Texas craft beer lovers are restricted from engaging in that sense of community is really the point that we are striving to achieve. Times have changed and people want to support their local businesses, now more so then ever."
Kolicko further stated that "Austin and Freetail (Brewing) still remain to play a huge role in the early part of the second act. We have refocused the story in Texas to reflect how Texas plays into the national growing craft culture. Also led by Scott (Metzger of Freetail Brewing) and Davis (Tucker of North by Northwest), their story explains what can be gained if the laws are repealed in Texas, and how brewpubs and production breweries will help grow their local communities. Looking towards Minnesota as a model of what can happen."
Watch the official trailer for Crafting a Nation below.
Local filmmaker Mike Mann (Brewed) has embarked on a new craft-beer related video project, The Beer Diaries featuring Dr. Greg Zeschuk. Mann teamed up with Bioware co-founder Zeschuk after meeting him over a pint along with fellow filmmaker Ben Leavitt at local beer retailer/bar/brewpub The Whip In. The Beer Diaries features two programs. "The Beer Diaries: Austin" features Zeschuk interviewing brewers and discussing their business and their beers in a casual setting. "The Beer Diaries: World Tour" is currently under development, and will feature a combined documentary format along with Man conducting interviews and featuring "breweries and beer in unexpected locations." Mann's first visit is to Thailand "where he talks to brewers, monks and others about the beer culture there." Check back for more news about when the videos will be available.
[Full disclosure: Debbie is a part-time consultant for NXNW Restaurant & Brewery, and is an active member of the Brewers Association, Texas Craft Brewers Guild, and The Master Brewers Association of the Americas. She serves on the Governing Committee for the American Homebrewers Association, and supports as many local breweries, brewpubs and homebrew clubs as her liver and pocketbook allow.]