Review: Midnight in Paris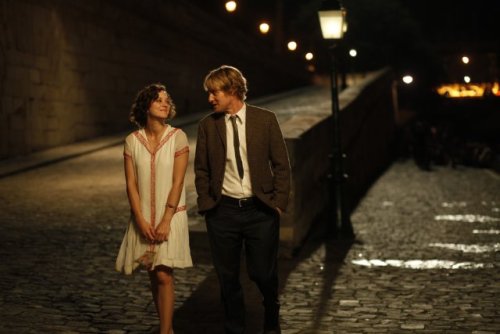 I've always disclaimed being a fan of Woody Allen -- not just because of his neurotic portrayals, but also his writing in Annie Hall and Manhattan. I couldn't relate and felt alienated from the New Yorker culture and mentality. In all fairness I'll admit I thoroughly enjoyed several of his period pieces including Radio Days, The Purple Rose of Cairo and Bullets Over Broadway.
With an impending long-awaited vacation to Europe looming at the end of the month, I was intrigued to get a preview via Allen of "The City of Light" in his latest movie, Midnight in Paris, which was the opening-night film at Cannes this year. Ironically, Allen's ability to capture a subculture that not everyone can relate to is what I adore about this film -- only instead the group is the "Lost Generation" of writers, painters and musicians who flocked to Paris in the 1920s for inspiration. Allen addresses his love letter to Paris with an extended opening sequence of Parisian monuments and locations including the River Seine, Cathedral of Notre Dame, Les Champs Elysees and the obligatory Eiffel Tower aglow at night.
Midnight in Paris centers around Gil (Owen Wilson), a successful Hollywood screenwriter who wants to move to Paris and write his great novel, inspired by his literary hero, Ernest Hemingway. Gil's over-privileged fiance, Inez (Rachel McAdams), has different plans that include a house in Malibu, not a relocation to France. While on vacation in Paris with Inez's parents John (Kurt Fuller) and Helen (Mimi Kennedy), the couple bicker over Gil's romanticism. Inez's snobbish academic friend Paul (Michael Sheen) pontificates, "Nostalgia is a denial of a painful present."
Escaping from a stuffy dinner and conversation with the staunch Republican John and judgmental Helen, Gil takes a walk through the streets of Paris. On a dark street at the stroke of midnight, a vintage car pulls up alongside Gil and the occupants invite him to join them for festivities. On arriving at what would appear to be a costume party, Gil is introduced to the Fitzgeralds -- F. Scott (Tom Hiddleston) and Zelda (Allison Pill) -- while Cole Porter (Yves Heck) tickles the ivories and croons to the ladies.
What happens next in Midnight in Paris can be compared to Allen's A Midsummer's Sex Comedy -- Gil is led on a magical journey into the past as he becomes acquainted with of the icons of the Lost Generation, including Salvador Dali (Adrien Brody), and his hero, Ernest Hemingway (Corey Stoll) who introduces him to Gertrude Stein (Kathy Bates). Much to Gil's delight, Hemingway and Stein critique his novel. However, it is Pablo Picasso's young mistress Adriana (Marion Cotillard) who captivates Gil with her beauty and soul. Will Gil give up his modern life to live in the age that he felt he should have been part of? Or will he return to the fiance he can't agree with, and to hack rewrites?
To address the incredible performances of the stellar cast of Midnight in Paris would take more words than I could fit in this review. The casting of this film was phenomenal, and Allen's direction brought out the best of so many familiar stars and lesser known actors. Wilson is the perfect choice to play a writer who has a dream come true and fumbles his way through making the best of a miracle. McAdams displays a wide range from the mildly supportive fiance to a shrewish, self-entitled brat. Mimi Kennedy and Kurt Fuller are picture-perfect Americans not understanding French culture and society, despite the fact John is doing business with the French. Bates, Brody and Stoll are endearing caricatures of the icons of a glorious age of Paris as well as literature and art, and Allison Pill is Zelda.
The lovely and talented French singer and former model Carla Bruni has a short yet memorable scene as a museum guide who is corrected by Sheen's character on her French history facts -- especially humorous since Bruni is the current First Lady of the French Republic. However, it's Academy Award winner Cotillard (La Vie en Rose) who steals the spotlight whenever she is onscreen. Dewy-eyed and jaded, her character yearns for the Belle Epoque as Gil waxes nostalgic for her era.
The art design and production design of Midnight in Paris can be attributed to Anne Seibel (The Devil Wears Prada, Munich), who effectively captures both contemporary and 1920s Paris, from market booths in Montmartre to the Red-Light District of La Pigalle in the early 20th century. The costume design is also wondrous, whether Bates is wearing the masculine cut clothing of Gertrude Stein or Cotillard dons simple yet elegant straight-line shift dresses.
To enjoy Midnight in Paris you don't have to be familiar with the writers and artists of the 1920s, but it certainly helps. I recognized dancer-singer Josephine Baker (Sonia Rolland) immediately, but a companion professed he didn't know the significance of the Afro-French dancer. Hemingway was quoted as saying, "If you are lucky enough to have lived in Paris as a young man, then wherever you go for the rest of your life, it stays with you, for Paris is a moveable feast." Allen's Midnight in Paris will stay with me as I walk the streets in search of Hemingway's haunts, wistful for the magical moments brought to the screen.