Austin Polish Film Festival 2012 Preview (Part Two)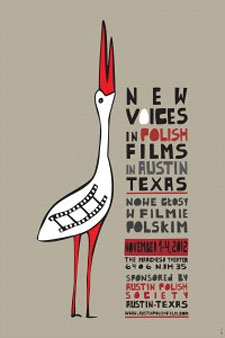 For info about tonight's films, read Part One of Chale's preview.
This weekend the Austin Polish Film Festival continues with a variety of events, starting Saturday with a selection of children's films (1-3 pm). Then a workshop led by Austin artist Mig Kokinda will celebrate world-famous Polish poster designs, followed by a return screening of Marcin Latałło's illuminating documentary The Other Side of the Poster (2010).
Saturday evening showcases three gems of contemporary Polish cinema. Jan Komasa's 2010 movie Suicide Room (Sala samobójców) is a brilliant, harrowing portrait of a teenager who descends into a dark world. Dominik seems happy enough in high school, but a suggestion that he may be gay leads to merciless cyber-bullying and the boy's withdrawal from society. His parents, wealthy, well connected, and both engaged in extramarital affairs, seem oblivious to the boy's growing depression.
Finding a website called The Suicide Room, Dominik becomes immersed in a world of equally depressed people. Through online avatars, gracefully depicted through animated sequences in the film, these loners interact, while romanticizing suicide. By the time his parents seek help for their son, it may be too late. Suicide Room is a cutting-edge film, both in style and through its theme of children lost in cyberspace. The film and its director have received various international awards.
80 Million (80 milionów, directed by Waldemar Krzystek, 2012) will fortunately be introduced by University of Texas professor Dr. Gilbert Rappaport. I say "fortunately" because as much as I was intrigued by this complex thriller, I was somewhat at a loss to understand the complex characters or their actions. On the eve of the imposition of martial law in 1981, five anti-government activists legally withdraw 80 million złoty (US $25,000,000) from various trade union bank accounts in Wrocław, a Solidarity stronghold. They had been tipped off by a shadowy character who warned them of the coming crackdown.
This is no Hollywood heist, committed by a gang to enrich themselves. Instead, it is a political act designed to fund the underground activities of Solidarity during the impending darkness. As in other political thrillers, the cast of characters is complexly motivated, and friends may turn out to be spies. All of this adds to the intrigue and tension of 80 Million, which is rightly a candidate for Poland's 2013 Oscar submission.
Closing Saturday night is a delightful documentary about the golden age of rock and punk music in Poland. Beats of Freedom, directed by Leszek Gnoinski and Wojciech Slota, reminds us how totalitarian regimes hated rock'n'roll. Just when that musical style seemed to become manageable and sometimes melodic, along came punk to shake it all up again. During the repressive 1980s, song lyrics had to be submitted to state censors. However, once the lyrics were accepted and the vinyl recording made, there was nothing to stop the musicians from singing more overtly anti-establishment lyrics in live concerts. There was even an annual Woodstock-like festival permitted by the government for several years, before state-sanctioned goons waded in to start fights and disrupt the music. Beats of Freedom is an important testimony to the importance of music in struggles for personal and social liberation.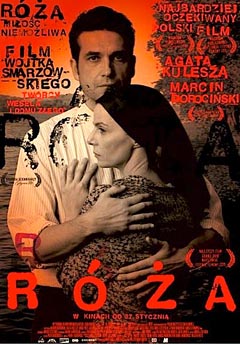 Sunday offers some equally engaging narrative films. Rose (Róża, directed by Wojciech Smarzowski) is a relentlessly harrowing drama set during World War II and its aftermath in Mazury, a region which alternated Polish and German rule for centuries. After the war ended, the area returned to Polish control. Consequently, many of the area's families with German ties emigrated to avoid reprisals. However, Róża, despite being the widow of a German who had fought on the losing side, has stayed behind on the family farm.
The new Polish government officials, along with Soviet soldiers of occupation, vary in their treatment of those they consider Germans, ranging from kindness and understanding to mass rape and robbery. Fortunately for Róża and her daughter, an AWOL Polish soldier, Tadeusz, arrives on the farm and slowly builds a relationship with the tragic, but resilient woman. This multi-awardwinning film will be introduced by Dr. Mary Neuburger (UT).
It soon becomes clear that Courage (Wymyk, directed by Grzegorz Zglinski) is ironically titled. Alfred Firlej does nothing to stop teenage thugs from beating his brother Jerzy and then shockingly throwing the unconscious man off a fast-moving train. Alfred's wife, Viola, really seems to love him, but their relationship becomes very strained after the brutal attack on Jerzy. Taking the hospitalized, comatose man's two children into their small home only exacerbates Alfred's morose nature. When video footage of the attack on the train is proudly posted on a website by one of the miscreants, Alfred's cowardice is visible for all to see. We wait for him to finally do something. Alfred Firlej is brilliantly portrayed by Robert Wieckiewicz, last seen at Austin Polish Film Festival as the crude security police officer in Little Rose.
Another psychological drama, Fear of Falling (Lęk wysokości, directed by Bartosz Konopka) is focused on an equally unbalanced family relationship, this time between father and son. Tomasz seems to have a perfect life -- happily pregnant wife, a modern condo, a fine car and a promising future as a TV reporter/news announcer, but his father Wojciech has unexpectedly checked himself into a psychiatric hospital. Confused about this new twist, Tomasz returns his father to his messy apartment. The distance between the old man's home and the psychiatric unit will be traversed over and over by father and son, as the former becomes ever more violent and irrational. Wojciech's inability to explain what is really bothering him and the son's incomprehension of what has happened to his once vibrant father make this a very emotionally demanding yet rewarding film. This screening will give viewers two chances in one day to see the very talented Marcin Dorocinski, who also plays Tadeusz in Róża.
Other films screening this weekend at the fest include a documentary showing internationally famed director Andrzej Wajda in action on the set of his film Katyn. For a complete schedule of screening times and events, visit the Austin Polish Film Festival website.