Austin Polish Film Festival 2012 Preview (Part One)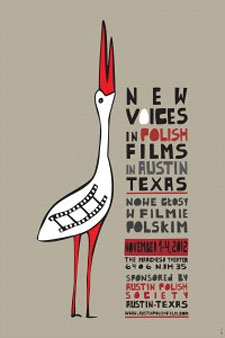 The seventh annual Austin Polish Film Festival starts tomorrow (11/1), and runs through Sunday. There are always plenty of wonderful films, discussions, Q&A sessions, posters and food, and this year will be no exception. All the fest's screenings and events will take place at The Marchesa Theatre in Lincoln Village.
Kicking off the festival's opening night is an (eventually) uplifting drama, Women's Day (Dzien kobiet), in which the Polish "solidarity" of the 1980s gains a feminist point-of-view in the 21st century. In the same vein as American cinematic characters Norma Rae, Karen Silkwood and Erin Brockovich, Halina Radwan reaches a point in her professional career where she won't "take it anymore."
What seems to be a great opportunity at first turns into a nightmare, as Halina is promoted from cashier to manager of a Butterfly grocery store, one in a nationwide chain of supermarkets in post-Communist Poland. As could be expected in any society, there is the inevitable jealousy on the part of some former colleagues, who now function as her employees. But Halina is told by her district boss that she has to be tough in dealing with them. He also makes it clear that she needs to do him favors of a sexual nature. She hasn't had a husband for four years, she hasn't dated because of long working hours and a daughter, so she eventually gives in to his demands, but without much feeling. What is harder for her to do is reprimand women who are late because of hangovers, absent with morning sickness or generally difficult.
After some managerial training exercises, which involve singing, running around outside in a circle and chanting "Productivity" as loudly as "Stalin" was yelled out 60 years before, Halina begins to accept her role as boss. After all, she is able to get a new apartment, buy a computer for her teenage daughter Misia, and pay some much needed attention to her own happiness. But then disaster strikes, and Halina sees that she is nothing more than a discardable tool in a very corrupt, inhumane business. Only when she succeeds in enlisting the aid of other women is she able to confront the powerful corporation.
Veteran actress Katarzyna Kwiatkowska, with over 30 films and TV shows to her credit since 1992, gives a flawless performance as Halina. Her face reveals a wide array of thoughts and emotions as she rises, falls, and rises ever higher (on her own terms) in this righteous film.
That Women's Day is perfectly directed by one of Poland's most popular jazz-pop vocalists, Maria Sadowska, only adds to the film's power and interest. This is her first feature film, made after just one short, which also starred Kwiatkowska, but it feels like it is made by a veteran director. Perhaps having the talent and confidence to record her first solo album at the age of 14 and to compose and star in a musical at the age of 17 gave her the fearlessness to do this film.
In a recent interview with FilmNewEurope, she referred to Women's Day as a "feminist western," and that is quite feasible, with such films as High Noon coming to my mind. A solitary man, with clear ideas about right and wrong, considers abandoning a difficult cause before deciding to confront the bad guys. In like manner, Halina almost gives up hope before finding her voice and seeing that her struggle is about much more than money. The support of other women is what gives her even greater strength and courage.
Sadowska reveals that it was the film's producer, Dariusz Gajewski, who determined she would be the right person to direct this movie. She declines to consider herself a "major, fighting feminist," but admits that "issues concerning women are close to [her] heart" and will doubtlessly continue to be subject matter for her future films.
Hopefully she will continue balancing both careers -- composing music for her concerts and recordings as well as directing films. A visit to her MySpace page will provide a pleasant experience of her singing and composing talents.
Both writer/director Maria Sadowska and actress Katarzyna Kwiatkowska will be present for the screening of Women's Day on Thursday, November 1 at 7:15 pm, to be followed by a Q&A session. This is a rare opportunity for Austin audiences. Austin Film Society is co-sponsoring this film.
On Friday, November 2, another film surprisingly also set in a Polish grocery store will be presented at 6:30 pm. But Supermarket is a unique, Kafkaesque thriller with an entirely different approach and agenda than Women's Day. A jeweler enters a giant supermarket to replace the battery stolen from his car in the parking lot. Through thoughtlessness and a misunderstanding, he finds himself taken to an interrogation room, strip searched by security guards, and accused of shoplifting. His innocence, recklessly coupled with anger and stubbornness, is countered by the private security company's intention to turn Mikal Warecki into an example to counterbalance a recent rash of thefts. Tragically and unnecessarily the situation spirals completely out of control.
Meanwhile, Mikal's wife searches for him, the police investigate, guards eat the store's food and flirt with cashiers, shoplifters and pickpockets strike, and closing time on New Year's Eve approaches. Supermarket is a completely believable thriller full of suspense and dramatic twists, written and directed by Maciej Zak.
I've neen unable to see My Name is Ki (Leszek Dawid, 2011), but the Austin Polish Film Festival description definitely makes me intend to see it Friday night at 8:45 pm: "Ki is a young woman who refuses to play the part of the tired single mother; she wants to live a fast-paced and colorful life. Will her relationships with men help her to grow up and embrace love and responsibility for her son?"
In addition to these feature films on Friday night, there are several shorts including Chomik (The Hamster) and Mika, both of which sound entertaining.
The Polish poster exhibit will be up on the walls of the festival venue the entire four days.