AFF 2012 Dispatch: Film and Food and The Perils of Romance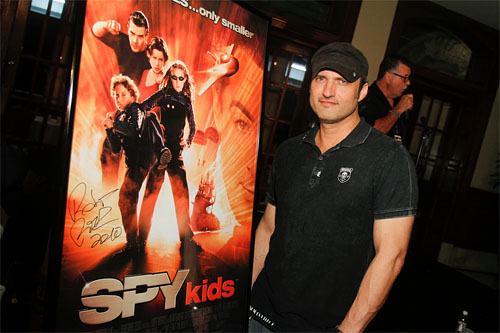 I'm very fond of Austin Film Festival and this year, a little sad that I'm not able to spend as much time at the fest as I'd like. Still, I've had nothing but good AFF experiences so far. Here are a few highlights from the first couple of days.
First of all, if you are going to do AFF and you can afford the tickets, the Film and Food Party is the best way ever to kick off the fest-ivities, especially if you have an adventurous eater with you, especially especially if she helps encourage you to not eat all the heavy-duty pork dishes so you don't feel too terribly stuffed.
I even bid in the silent auction this year, being lured by a signed Star Trek script as a potential way to score major Awesome Wife points, although I got outbid on that one and decided that after a certain price point, you can't decimate the household budget and still be Awesome Wife. Hopefully I got points for trying. I also was outbid on the signed Spy Kids poster, which is probably a good thing because my house is in a state of movie poster overload. You can see the poster above with the gentleman who signed it, honorary Film and Food chair (and local filmmaker, natch) Robert Rodriguez.
I really liked the music this year, which was of a type and volume that didn't discourage conversation, so we could chat with people while enjoying feta cheesecake and cucumber sorbet and some delicious lobster-y tidbit from Ruth's Chris and that thing with the bleu cheese that I can't remember where it's from, sadly. Also, the Cheese Balcony as pictured below.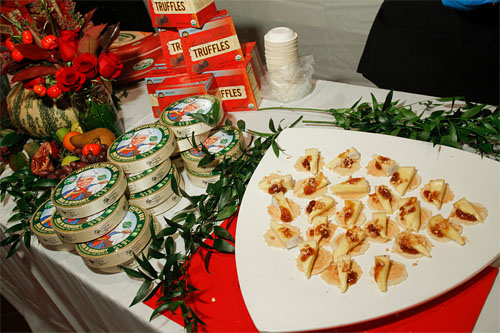 On Friday, I decided to try a new venue for AFF, Alamo Drafthouse Village, which has the virtue of being right by my house and also having good parking. In fact, I picked the venue without caring too much about what movie I was going to see. Fortunately, I struck it lucky and even got a surprise Austin short film.
I sat down pretty much at random, then heard my name called and realized I was one seat over from local actor John Merriman. In fact, his parents were there too (I met them at Dallas IFF and had also seen them onscreen in You Hurt My Feelings at AFF last year). He reminded me of the Pictures of Superheroes premiere on Saturday and I said I'd try to be there, not because that's what film journalists/critics always say but because it was in fact on my schedule.
The screening started with Do Over (pictured below), a very cute short from Austin filmmaker/editor David Fabelo. It's a simple premise: a first date involving an extremely nervous and eager young man. Garrett Jester, a student at the school where Fabelo teaches, plays the young man perfectly. I noticed a familiar name in the credits -- Jory Balsimo -- and looked it up when I got home to realize he is the co-writer of Saturday Morning Massacre, which is also playing at AFF this year (Tuesday, 10 pm, Alamo Village) and which I recommend. (We interviewed Balsimo and co-writer Aaron Leggett earlier this year.) Austin can be a very small world sometimes.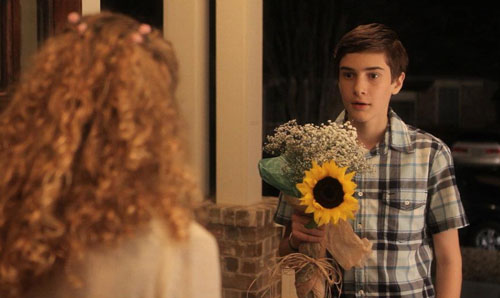 The main feature was Missed Connections, a comedy about Neal, a guy who can't get over his girlfriend cheating on him with his best friend. So his other friends decide to cheer him up by introducing him to a scheme to pick up women: They answer the "missed connections" ads on Craigslist, and when the missed connection doesn't show up at the rendezvous point, they swoop in with sympathy and flattery for the stranded women in hopes of scoring. But then what happens when the same woman shows up more than once?
What I liked about Missed Connections was that the dialogue had an authentic sound to it, especially between Neal and his not-so-bright friends Barry and George (pictured below). Authentic, but with an edge of sharp humor that most of us can't quite reach in conversations. Filmmaker Eric Kissack said some of the crazier lines were in fact improvised. The main female character's motives were a little unusual, but it didn't keep the movie from being a very entertaining quirky romantic comedy.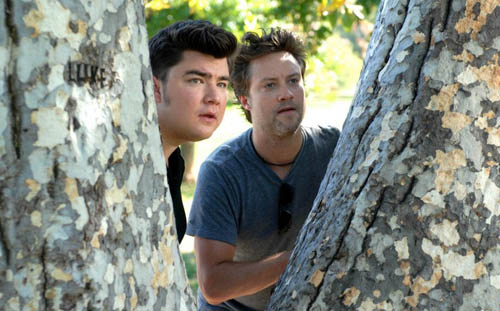 After the feature, we got a dual Q&A session: David Fabelo, Garrett Jester and producer Andrew Logan from Do Over as well as Eric Kissack and producer Lisa Rudin from Missed Connections. I was pleased to see the short filmmakers getting some questions and not being overlooked. I'm also happy that AFF is treating Alamo Village like a full-fledged venue and bringing filmmaking talent to the screenings there.
And then there was Saturday, and I'll save that for the next dispatch.
[Photo credit: "AFF Film and Food Party" photos by Jack Plunkett, used with permission from AFF.]