LAFF Review: Saturday Morning Massacre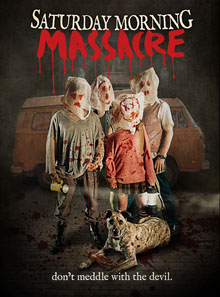 I wasn't at the Los Angeles Film Festival this weekend, sadly for me. However, former Austinite Spencer Parsons screened his locally shot horror-comedy Saturday Morning Massacre here in Austin last week, and I was lucky enough to be there. It's just the kind of horror movie I like -- lots of humor but not enough to dilute genuine scariness, and no prolonged graphic violence. Seeing it accomplished with familiar local talent was a happy bonus.
Saturday Morning Massacre is set in 1994, which seems random until you realize that's right before cell phones became commonplace, thus keeping them out of the picture. Four twentysomething slackers have formed a small business that videotapes and debunks paranormal activities, although it's not especially profitable. It's led by Nancy (Ashley Spillers), the short perky gal in the big pink sweater, and includes the attractive and clean-cut couple Gwen (Josephine Decker) and Chad (Adam Tate) as well as stoner Floyd (Jonny Mars) ... and let's not forget Hamlet the dog. If this sounds to you like a certain long-running popular Saturday morning cartoon, you're right, and at one point an irate detective (Sonny Carl Davis!) comes within an inch of calling them "meddling kids."
The meddling kids finally land a gig that will pay well -- a banker (Chris Doubek) asks them to visit a remote old house that the bank wants to sell but that everyone thinks is haunted. When they arrive at the house, the banker is nowhere to be found, but a local policeman (Paul Gordon) eagerly recounts the many lurid tales surrounding the place. Are they simply local myths, or has the team finally stumbled upon actual supernatural entities? And what happens if the entities aren't pleased to be visited by would-be ghostbusters?
If you watch a lot of Austin indie films, a few of the actors mentioned above will be familiar faces. In addition, Heather Kafka is nearly unrecognizable in her role, and Cyndi Williams shows up briefly in an opening scene with director Parsons and producer Jason Wehling. Ashley Rae Spillers, on the other hand, is at the beginning of her film career (though you might have seen her in the short Magpie or with Mars in the Paul Gordon-directed Slacker 2011 scene) and adds verve and believability to what could have been a ridiculous role.
The premise of "what would happen if the Scooby-Doo characters encountered a graphically horrifying situation" sounds gimmicky, but Saturday Morning Massacre transcends such a premise and becomes genuinely suspenseful. You would never find some of the unexpected plot twists in a kids' cartoon. The humor is prevalent in the first half of the movie, which slowly transitions into an old-fashioned "terrors in the spooky house" horror flick. (The kind deconstructed in The Cabin in the Woods, yes.) The combination ultimately makes for a film that will screen better on Saturday at midnight than at 7 am.
Now, let's hope Saturday Morning Massacre plays Austin soon.
Austin connections: Saturday Morning Massacre was shot locally with a mostly local cast and crew. The "remote haunted house" is actually the Commodore Perry Mansion in Hyde Park. Other recognizable locations include the Monument Cafe and Austin Studios.