AFF 2012 Guide: Film Festival Venues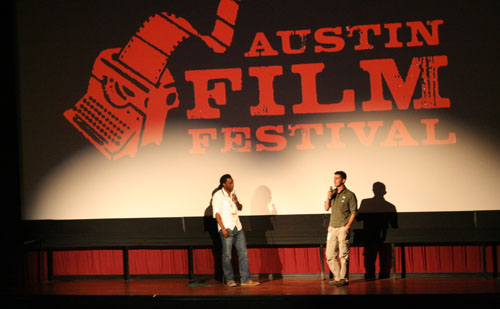 Austin Film Festival offers a wide range of theaters for its 2012 screenings, from south of the river to Anderson Lane. Some are an easy walk from the Driskill (conference HQ), like the Paramount, Hideout, ACC and Alamo Drafthouse at the Ritz; a couple might be considered walking distance if you are fond of hiking, like the Rollins Studio Theatre at the Long Center and the two theaters at Bob Bullock Texas History Museum; and some absolutely necessitate finding a car or sharing a taxi, like Alamo Drafthouse Village.
If you like to watch as many films in a day as possible, AFF is not a good festival for extensive venue-hopping in a single day -- it's simply not scheduled that way. You can try to shuttle between Paramount, Ritz, Hideout and even ACC, but this film fest works best when you pick a theater where you think you'll like most of the offerings that day and stay put.
A few notes about AFF programming at various venues:
The Paramount is the biggest theater of the bunch, with seating for nearly 1200 people, and you'll find red carpets and the occasional surprise celebrity at the marquee screenings held there.
Alamo Ritz, used during the first part of the fest, is one of the smaller and yet more popular venues -- it's often difficult to get into movies even with a conference badge, much less a film pass. Arrive early.
AFF's many and varied shorts programs screen at The Hideout, which also can brew you a mighty fine cup of coffee.
Austin Convention Center will be the home for two film venues during AFF. We don't know much about the specific spaces being used, but ACC is usually an underappreciated venue.
Alamo Drafthouse Village is a new venue for AFF this year. I really enjoyed this theater as an alternate venue for SXSW -- you don't have to show up terribly early to get a seat, the theatergoing quality is excellent, and the parking is a no-brainer.
For those of you traveling by car, please remember that City of Austin has changed the downtown metering schedules and you will have to pay to park most evenings (and all day Saturday). St. David's usually has reasonable parking rates; ACC isn't bad either. And there's always the bus -- this isn't SXSW and you can shuttle from the Triangle park-and-ride without having to deal with overflowingly full buses.
Also, please be aware that some downtown weekend events will increase traffic and cause street closures. This year, AFF is up against a UT home game (gaaaah) on Saturday night, with Baylor fans expected all over downtown, so parking will be difficult and expensive. On Sunday, the Livestrong Challenge will start and end at Palmer Events Center, which may make parking at Rollins a challenge during the day. And there will be partial lane closures downtown on Sunday from 1:30 to 4 for AIDS Walk Austin.
Click the theater names below for more information, including bus routes and nearby places to grab a bite to eat or a drink. If we've left out anything helpful about these venues, please leave a comment.