AFF 2012 Guide: Dining (and Drinking)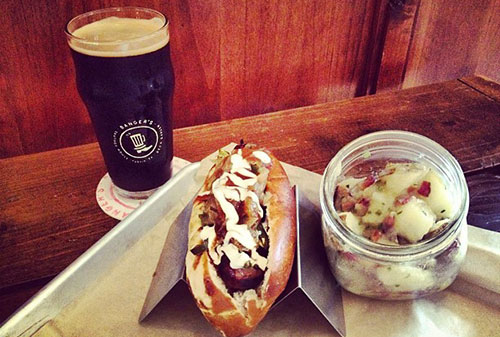 Whether at home or traveling to new locales, I always try to stick to local fare or independent food establishments. Austin Film Festival (AFF) takes place at venues convenient to some favorites of our Slackerwood contributors, and this year we've put together our personal favorites in this food and beverage guide.
For AFF attendees interested in trying our burgeoning Texas craft beer, timing could not be better with the third annual Austin Beer Week taking place October 20 - 28. Over 150 events spread throughout 40 different venues over 9 days are sure to please craft beer fans of any level or palate. Find out more about food and beverage venues at the end of this article.
The guide is divided into four locales corresponding to the venues: Downtown (easy walk to ACC or Paramount or both); Slightly South (convenient to Rollins/Long Center), Slightly North (Bob Bullock) and Way Up North (Alamo Village). Thanks to my fellow Slackerwood contributors for their input included after the jump:
Downtown
Downtown Austin is jam-packed with food spots including chain restaurants Chipotle Mexican Grill (801 Congress Avenue) and Jamba Juice (600 Congress Avenue), which are great places to grab a quick bite during the day.
But the overwhelming favorite of Slackerwood contributors is the small urban grocery store Royal Blue Grocery with several locations downtown. Slackerwood contributor Elizabeth Stoddard recommends the 609 Congress Ave location, not far from the Paramount or Driskill. Elizabeth states, "I love their pre-made sandwiches, but they also have pizza (from East Side Pies, I think?) you can buy by the slice. Compared to other downtown eateries, Royal Blue is very reasonably priced. Even when there is a line, it's not too long, and it's a nice place to stop between movies."
Slackerwood contributor Austin Culp also recommends Royal Blue Grocery, and says, "If you're hitting the panels early in the morning, make sure to swing by. Besides a great selection of fruit and juices, you can also find what I consider to be some of the best breakfast tacos in Austin: Taco Deli. Their tacos go quickly so you might not have first pick, but every one of their options is delicious. Just make sure to grab the salsa before you go!"
If you have enough time between screenings at The Paramount or ACC, check out the following nearby places:
For dining and drinking, here are my personal favorites: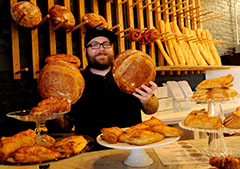 Slackerwood contributor and AFS Community Education Manager Katy Daiger Dial shares the following recommendations for downtown fare: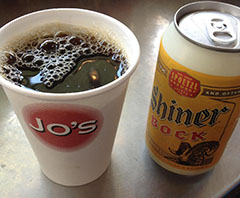 Slightly South
Barton Springs Road features everything from a food trailer court to my favorite local barbecue joint, Green Mesquite BBQ, and a local brewpub:
Slightly North (near Bob Bullock Texas History Museum theaters)
There are quite a few places along the Drag on Guadalupe Street north of MLK Boulevard, but here are the highlights: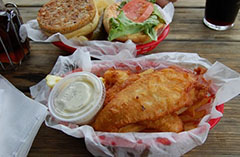 Way Up North (near Alamo Village)
The Alamo Drafthouse at the Village features a full menu and recently opened a beer garden where you can relax before or between screenings. For other fare, check out the following:
Katy has the following North Austin recommendations:
Bonus Boozin'
One of the highlights of the week during Austin Beer Week that is located near the Austin Convention Center is Banger's Beer College, featuring both local craft brewers and experts from around the United States. New Belgium's sensory analysis expert Lauren Salazar will be in town to discuss exotic and experimental ales. Check out Salazar's 2010 interview on YouTube below with Beertown Austin at the Draught House as she talks about her role as a sensory specialist and New Belgium beers.
On Thursday, October 25 at 5 pm, Easy Tiger will feature Real Ale Brewing Company's Brewmaster Erik Ogershok who is bringing six casks with him from the Blanco-based brewery: Imperium, Signature Hop Pale Ale, 4-Squared, Dry-Hopped Porter, Russian Imperial Stout and Sisyphus. Real Ale's Black Quad will also be available on draft.
What are your favorite places to grab a bite or a pint near AFF venues? Feel free to leave a comment below.
[Photo credits: "Pint and a Meal" courtesy of Banger's; "Jo's South Austin Speedball" courtesy of Jo's Coffee; "Breads at Easy Tiger" courtesy of Easy Tiger; "Fish and Chips" courtesy of The Dog and Duck Pub]