Lights. Camera. Help. A Night at Austin's Nonprofit Film Festival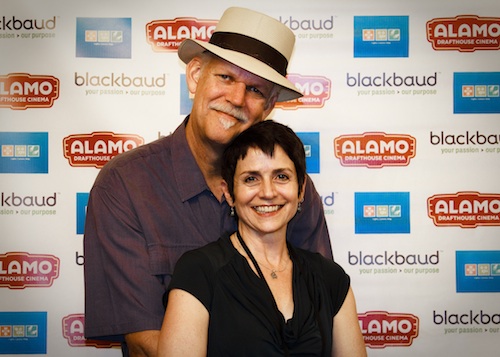 by Stefan Gill
On September 14, at the Scottish Rite Theater, a few dozen film denizens gathered for the final night of the Lights. Camera. Help. film festival under a very inauspicious mood. The rain, ever rare in the dry Austin atmosphere, began its weekend-long parade, which only highlighted another strange occurrence -- an unrealized bomb threat at UT, which cleared the campus of its 50,000+ students. So on the final night of the 4th annual nonprofit-themed fest, which focuses on the good and triumph of humanity, there were many examples to counter such statements of good.
But any idea of giving into the negative was wiped away by the keynote address by Turk Pipkin, an actor who became a filmmaker with a heart for the humanitarian world. Noticeably tall and vocal, it is quickly obvious that he puts his passion for the good of humanity first, and his life as a filmmaker is motivated by that passion.
Pipkin highlighted his work with The Nobelity Project, the organization he founded to work with Nobel laureates and other humanitarian groups to promote their work with film and art and to create new opportunities. The YouTube page for Nobelity contains dozens of films, two of which Turk showed to the audience: 1000 Books for Hope - Join the Club, a about a donation drive to give books to five schools in Kenya; and Replant the Park, about the Bastrop fires and how Nobelity has fostered a youth tree-planting project in the area, which is embedded below for you to watch.
The theme of the talk was not simply promoting Nobelity and Turk's work, but how advances in filmmaking have made it simpler and more rewarding for filmmakers to dip into the nonprofit world
"A couple people can make really great films," Turk stated, but he also cautioned that the main problem is and always will be getting people to cooperate with your project. "You would be amazed how important it is to get people invested in your dreams."
His main point of encouragement was that technology has become more compact and at a higher quality, which makes it easier to focus on getting to the people you need. He only had one word of advice on that front, "The answer is: you ask."
After Turk's address, the audience moved to the Texas Spirit Theater at the Texas History Museum for the final film screenings of Lights. Camera. Help. The first section was focused on short films and public service announcements. The short films included one from Nobelity, Let There Be Sight, a film about the Seva foundation and their work on eye care in Nepal; Stay, a film about migrant workers in Mexico and the struggle to remain in the poorest places; and A Unique Look At The Austin Bat Cave, about a writing program in Austin that helped the life of a girl named Unique.
The PSAs were shorter but no less creative. Their subjects included gay marriage in Illinois, a writing competition based around foster children, a cooking workshop focused on poor communities, and the winning PSA Ford Warriors In Pink, about a clothing line that donates its whole profits to breast cancer research. After a break, there was a screening of From The Streets To The Fields, a doc-like narrative about a soccer program made up of multiple races and cultures in South Africa, under the backdrop of the 2010 World Cup.
All of these films were a perfect highlight of many wonderful projects for good around the world. In a time when a film made with malice can create chaos in the Middle East (a reference that came up several times in the night), it is refreshing and even important to see works made with heart and with an end based on improving the world for the whole of humanity. As one of the filmmakers stated at the Q&A after the film screenings: "It's a common misconception that pessimism is the key to being a realist. All of the people I've encountered who bring ideas for improving the world are extreme optimists."
The afterparty for the festival was a great example: Everyone there was full of energy and shared a passion for filmmaking and using it for the greater good (and they seemed to like the sushi). All and all, the closing night of Lights. Camera. Help. did more than entertain and enlighten, it encouraged a community of film that makes a difference.
I was also able to ask Aaron Bramley, the fest co-founder and Chief Operations Officer, some questions via email about the festival and his views on nonprofits.
Slackerwood: What was the genesis of the festival and what were the inspirations that made you think nonprofits were a good theme for a festival?
Aaron Bramley: The idea for the film festival came from a colleague of David's [David J. Neff] at the American Cancer Society who wanted to have a festival of health-related films. David thought this was too narrow so he called up Rich [Rich Vazquez] and myself and we began to brainstorm around the idea for festival of nonprofit films. Our first meeting was on January 19, 2009. Since then we've grown from two screenings and a party in community rooms and classrooms that gave out $1,000 in prizes, to a three-day event with 6 screenings, a keynote address and a lounge area that gives out a total of approximately $3,000 in prizes.
I enjoyed the films I saw, and found From The Streets To The Fields to be a pretty fascinating mixture of documentary and narrative. What qualities in the filmmaking do you look for when you select your films and how do the messages of their organizations factor into that decision?
Bramley: The message and/or call-to-action is the judging category that is weighted the most. After that, we look at the cinematography, sound, editing, etc. in making our decisions. Primarily we look for films that do a good job in showing the viewer the effect the organization has on its constituents. The more powerfully and efficiently they do that, the higher chance they have of being picked for the festival.
How does Austin rank as a place that fosters nonprofit programs and a spirit of good will, and where have you seen it shine the most?
Bramley: Austin is a town that ranks very high when it comes to doing good. There are 6,000 nonprofits in Central Texas and Austinites are extremely forthcoming when it comes to giving their time to nonprofits. They are less forthcoming when it comes to giving their money, but we've found that many videographers here in town seem to be very generous when it comes to donating their time and energy when it comes to creating great films.
What are the biggest lessons you've learned about working with and running nonprofit organizations, either from personal experience or through the films and filmmakers at the film festival?
Bramley: The biggest lesson I've personally learned in staring my own charity is that a nonprofit is a business just like any other and the only way it's going to succeed is if you treat it that way. The other difference is that the goods and services you provide tend to be paid for totally, or in part, by the community at large. Just like any other startup we are focusing on our business model and trying our best to perfect it.
What are some of your biggest plans for the festival as it goes to year 5 and beyond, and how do you see it helping promote the message of the nonprofit world?
Bramley: I really see the Lights. Camera. Help. Nonprofit Film Festival being the international hub of cause-driven film. My vision includes a SXSW-style combination of an educational conference and screenings that draws a who's who of documentarians, actors, filmmakers, nonprofit professionals and enthusiasts. The only difference between our event and other film festivals is that we will always continue to focus on good.
[Photo credit: "Turk and Christy Pipkin at Lights. Camera. Help." by Virginia Hernandez. Found via Flickr, used with permission.]