Fantastic Fest 2012: Fantastic Sounds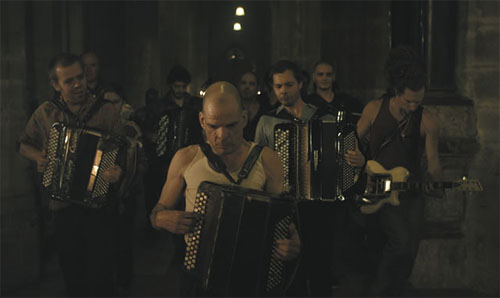 Every year we celebrate the films of Fantastic Fest, awarding prizes for best films in various genres, best actors and actresses and best director. But many of this year's entries, it's safe to say, can be recognized for something that often goes unmentioned at the fest: their music.
Studio films, independents, narratives and documentaries all were well represented in the soundtrack department this year at the fest. One of the audience favorites was a sci-fi musical comedy featuring tunes from a two-man band, Future Folk, who performed live during the closing night party. By the midpoint of the fest, links to a track from one film had already begun circulating on Twitter feeds.
We've collected the following as a sampling of the sounds of Fantastic Fest 2012.
"Strange Love" from Frankenweenie -- This music by Karen O plays as the credits roll.
"Pusher Theme" from Pusher -- Orbital reunited to create this soundtrack, which is easily one of my favorites from any film. More info here.
'A Life in a Day" from Looper -- If you like the music, you can buy the full soundtrack from this movie, as well.
Theme from Cloud Atlas -- The "Cloud Atlas Sextet" provides a narrative connection between two storylines in the movie.
"Let My Baby Ride" from Holy Motors -- This is the song that accompanies the accordion flash mob (pictured at top). A lot of Fantastic Fest-goers shared this link around Twitter after the movie screened at the fest.
"Over the Moon" (MP3) from The History of Future Folk -- This music aptures the essence of the film.
Did I miss any other music you found memorable at Fantastic Fest? Let us know in the comments.