Fantastic Fest 2012: Mid-Fest Buzz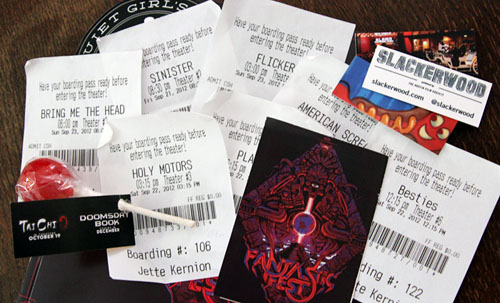 We're halfway through Fantastic Fest 2012, and that means we still have four more days of amazing movies, friends and partying. Many filmmakers and industry types have left or will be leaving, to be replaced with second-half badgeholders. For those of you just arriving, we've got some tips and updates.
First, you must navigate the ticketing system. At 9:30 am you have two choices. You can stand in line at the South Lamar box office, or you can go online at http://tix.fantasticfest.com and click the Reserve Boarding Passes button, which puts you in the ticket queue. When your turn comes up in the queue, you enter your badge number and then select from the available films in each timeslot for the day. When you're finished, click the button at the bottom of the page to return to the Fantastic Fest homepage. There will be no other confirmation that you are done. Also, you must still go to the box office to have your tickets printed and number assigned. (Don't be scared by the high numbers. You can get a pretty good seat even with a number above 200.)
Be prepared to make alternate selections, as many first choices will already be booked. You can also try to get in by checking at the box office for any returned tickets, and if that doesn't work, waiting in the standby lines at the end of the tent before showtimes. If everything is listed as sold out for a timeslot and you can't pick a movie, don't panic. Go to the box office as soon as you can and they'll ensure you are seated for something in that timeslot. There have been many cases of extra booking resulting from people being confused by the system.
Check the online schedule at http://schedule.fantasticfest.com regularly for updates as extra screenings are sometimes added to accomodate more people.
We posted at the start of the week with some hot-ticket movies. Going into the second half, here are some selections people are buzzing about.