Alamo South Lamar Plans an Intermission, and Other Theater Development News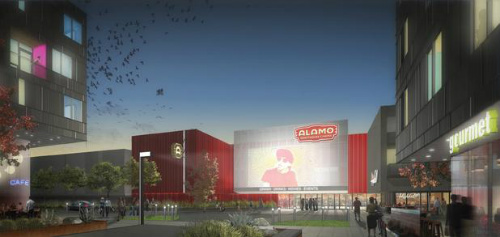 The land sale has been in the works for a while, and yesterday it became official: Lamar Plaza, which houses Alamo Drafthouse on South Lamar and The Highball, has been purchased by Greystar developers. This likely multi-million dollar deal (the final sale price hasn't been released) means the current surface lot and one-story shops setup are going bye-bye. Of more interest to filmgoers such as you and I are the implications of this sale as far as the Alamo theatre and The Highball are concerned.
The news is mixed. The Alamo South Lamar and Highball will be sticking around, although not in their current formations. The Highball, where my friends and I sing karaoke during happy hour every now and then, will close November 17 to be re-worked. When the new Highball opens in mid-to-late 2013, gone will be the vintage bowling lanes. There will still be a bar, stage and private karaoke rooms -- along with the addition of open-air seating. The new Highball will sit adjacent to the theater.
The South Lamar theater will close in January 2013 for about nine months, and this will likely throw some event planners and moviegoers for a loop. Regular series (such as Austin Film Society screenings) that usually show at the Lamar location will probably relocate to either the Ritz or Village locations. If you prefer watching summer blockbusters at the Alamo, you'll have to head to the Slaughter, Village, or Lake Creek locations ... or learn to love other Austin movie theaters.
The biggest concern for many filmgoers in town is that the South Lamar location has been a major SXSW Film venue in past years, with two or three screens devoted to the festival. This will obviously not be an option for the 2013 festival. What would the alternate options be? Nothing promising leaps to mind.
When it re-opens in third quarter 2013, the updated Alamo Drafthouse South Lamar theater will have a larger lobby and three more screens. Alamo founder and CEO Tim League says, "As much as I love the current shopping center, the redevelopment of South Lamar Plaza will enable us to execute much-needed lobby renovations and increase the parking capacity for the complex ... I feel that after a brief closure we will re-open with the best Alamo Drafthouse yet."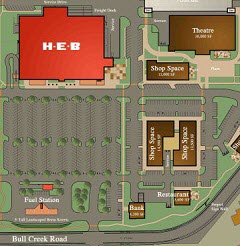 That's not the only movie-theater/development news brewing in Austin right now. Some neighborhood associations in north central Austin are reviewing a proposal regarding upcoming land development along 45th at Bull Creek in Central/Northwest Austin.
A preliminary proposal from Stratus Properties for the currently-state-owned land includes plans for "an Alamo or similar movie theatre." A letter from Stratus to the Ridgelea Neighborhood assocation says, "We also envision an Alamo Drafthouse, Violet Crown or Studio Movie Grill type theater, although discussions with specific operators have just begun."
Here's a PDF with more information about the proposed development. Obviously it's early days yet on this possible development, but we'll keep you posted. You might also keep an eye on the Allandale Reporter website if you're interested.
[Drafthouse image courtesy Michael Hsu Office of Architecture; Bull Creek development concept drawing courtesy of Allandale Reporter]