AFF 2012 Lineup So Far: Superheroes, Flight and a Disaster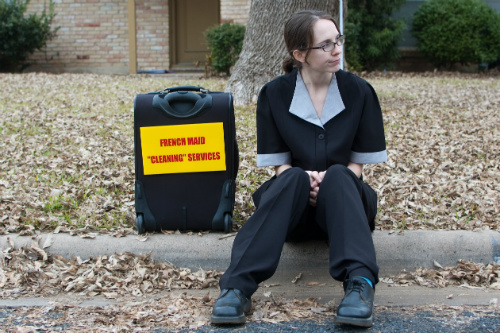 The 2012 Austin Film Festival will take place October 18-25, and some of us are waiting with bated breath for the full film schedule to be released. Until then, we have this week's announcement to hold us over. The creator of The X-Files, Chris Carter, will receive the fest's Outstanding Television Writer Award, and episodes from The X-Files and Millennium will be shown at the festival. Carter will also serve, along with director Paul Feig and screenwriter Brian Helgeland, as a guest programmer for AFF. Paul Feig has already chosen the films he will present: my favorite favorite film Bringing Up Baby and the 1976 blaxploitation flick The Human Tornado.
Robert Zemeckis's new drama, Flight, which includes a star-studded cast led by Denzel Washington, will serve as the Centerpiece film. Washington plays a pilot who averts disaster, only to be caught up in the resulting investigation (or so I infer from this nail-biter of a trailer). Now we know why John Goodman had a ponytail in a couple of his Community cameos last season!
The other AFF films announced early include a few with Lone Star connections. Having its world premiere at the fest will be Pictures of Superheroes (pictured above), an Austin-shot comedy about a woman who cleans house for two strange men. This movie is produced by Kelly Williams and directed by Don Swaynos, both hailing from our fair city.
Don Swaynos told me that the idea for Pictures of Superheroes "started as a script for some animator friends who were looking to make a TV pilot. That never materialized so I decided to turn what I had into a feature that I could shoot with what was available to me (losing the talking dinosaur, etc)."
Kelly Williams said the movie "came about pretty fast and almost out of frustration. Writer/director Don Swaynos and I were living directly across the street from each other and he handed me the script and said, 'Hey, I wrote this with my house in mind as the main location, let's make it next month.' We were both tired of waiting to make something, so, we just started shooting on the weekends. We called in favors and were lucky enough to pull in some of Austin's best comic talent. Don's story lives in an odd, absurd world and fortunately our three lead actors -- Kerri Lendo, Shannon McCormick and John Merriman -- knew how to fit in that world nicely." According to Swaynos, there wasn't a large amount of improvisation, but "a lot of my favorite lines from the film are things that were said on the fly."
"I'm really happy to be showing at AFF as part of their Comedy Vanguard section, which has always been my favorite part of the festival in previous years. I'm excited to see what else [AFF Film Program Director] Stephen Jannise has planned," Swaynos told me. Williams commented, "I'm a little biased, but it is one of the best film festivals around." Williams formerly worked as AFF's Film Program Director.
Here's the teaser trailer for Pictures of Superheroes:
It's a Disaster, from UT alum Todd Berger, premiered at the LA Film Festival and will show at AFF. Stars Julia Stiles and America Ferrera will be in Austin to present the screening. Last week, It's a Disaster was picked up for distribution by Oscilloscope Films. It's about friends at brunch who are so self-absorbed they don't notice the world is ending. Berger's previous films, The Scenesters and Don't Eat the Baby, have also screened at AFF.
A comedy from Baylor alum Jay Gammill is also among the AFF films. Gammill's Free Samples is about a Stanford law school dropout who runs an ice cream truck in LA for a day. It stars Jesse Eisenberg and Jess Weixler. AFF will also screen Austin native T.C. Johnstone's documentary Rising from Ashes, about U.S. cyclist Jock Boyer helping Rwanda build its first national cycling team, with a finale at the 2012 Olympics.
Kix Brooks -- who appears in one of my favorite King of the Hill episodes with his former singing partner Ronnie Dunn -- will present the world premiere of his new film To Kill A Memory at the fest. The indie Western about a vengeful U.S. marshal is directed by Dustin Rikert.
The other films in the AFF Early Ten, with descriptions from the press release:
LAST WILL & TESTAMENT
Directors: Laura Wilson, Lisa Wilson
US Premiere
This documentary explores the ongoing debate about the authorship of the works attributed to Shakespeare. Writers and critics, actors and scholars, including Mark Twain, Sigmund Freud, Charlie Chaplin, and many others have struggled to reconcile England's "Star of Poets" with the grain dealer from Stratford. Why? Featuring interviews with Vanessa Redgrave, Derek Jacobi, Mark Rylance, and other highly regarded Shakespearean actors.
SHADOW DANCER
Writer: Tom Bradby
Director: James March
Single mother Collette McVeigh is a Republican living in Belfast with her mother and hardliner IRA brothers. When she is arrested for her part in an aborted IRA bomb plot in London, an MI5 officer (Mac, played by Clive Owen) offers her a choice: lose everything and go to prison for 25 years or return to Belfast to spy on her own family. With her son's life in her hands, Collette chooses to place her trust in Mac and return home, but when her brothers' secret operation is ambushed, suspicions of an informant are raised and Collette finds both herself and her family in grave danger. Starring Clive Owen, Andrea Riseborough, and Gillian Anderson.
SPINNING PLATES
World Premiere
Writer/Director: Joseph Levy
Spinning Plates is a feature documentary film about three restaurants, extraordinary for what they are today as well as the challenges they have overcome. A cutting-edge restaurant named the seventh best in the world whose chef must battle a life-threatening obstacle to pursue his passion ... a 150-year-old family restaurant still standing only because of the unbreakable bond with its community ... a fledgling Mexican restaurant whose owners are putting everything they have on the line just to make enough to survive and provide for their young daughter. Features Chef Grant Achatz of Chicago's Alinea and Chef Thomas Keller of California's The French Laundry.
[Photo credit: Tate English, courtesy of Kelly Williams]