The 'Office Space' Anniversary at the Paramount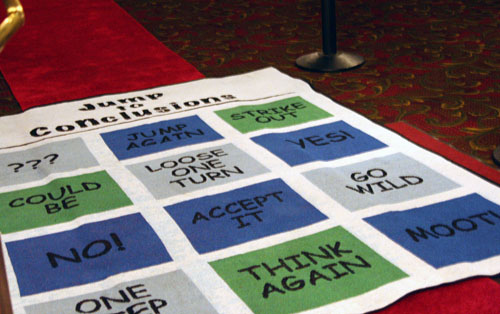 On Sunday night, SXSW and Fantastic Fest teamed up to host a 10th anniversary screening and cast reunion at the Paramount for Office Space, which Mike Judge filmed in Austin (okay, and a couple of scenes in Dallas) in 1999. The Paramount was completely sold out, which means that we saw Office Space with 1,200 people. That's an experience I highly recommend.
I wrote about the event for Cinematical, but I thought I'd include more photos here. The above photo is a shot of the red carpet ... yes, that's a "Jump to Conclusions" mat, just like the one in the movie.
The evening started with a red carpet, and writer/director Mike Judge showed up first with his daughters. The young women looked very happy to be the center of photographic attention:
I managed to get a photo of Judge next to an Office Space poster near the red carpet: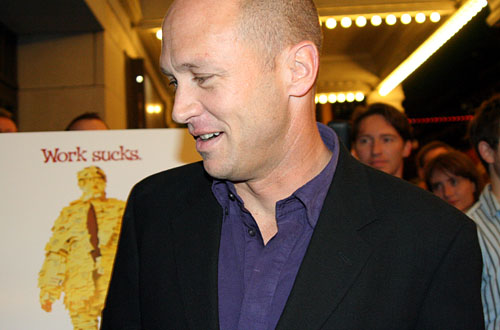 At the street end of the red carpet, someone had placed a printer, just like the one that gets savaged in Office Space. Someone also gave each cast member a baseball bat. As they stepped out of their limos, they swung their bats at the printer, destroying it even more thoroughly than the one in the film.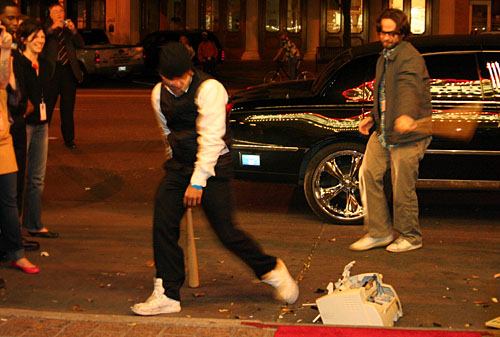 Naturally, Ajay Naidu (Samir) and David Herman (Michael Bolton) were the best at destroying the printer, just as they were in the movie.
After the screening, Judge and the actors all went onstage at the Paramount for a Q&A. Most of the questions were pretty dopey, but the cast seemed to be enjoying themselves. David Herman kept inventing bizarre stories to make Stephen Root (Milton) laugh. It worked.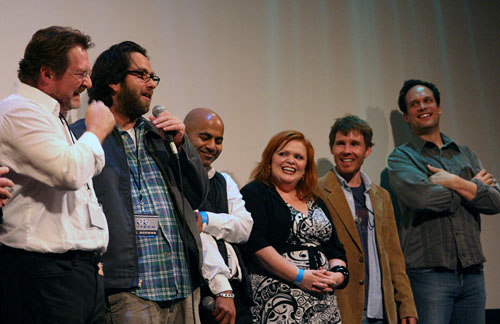 Judge and Gary Cole (Lumbergh) were also amused by the banter: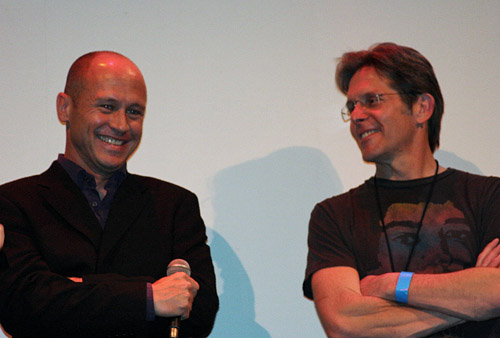 Near the end of the evening, someone asked Ajay Naidu to re-create his breakdancing moves from Office Space. He was reluctant, but with encouragement from moderator Henri Mazza, agreed to dance:
Todd Duffey (Brian the waiter) and Diedrich Baker (Lawrence) were having a good time at one end of the stage: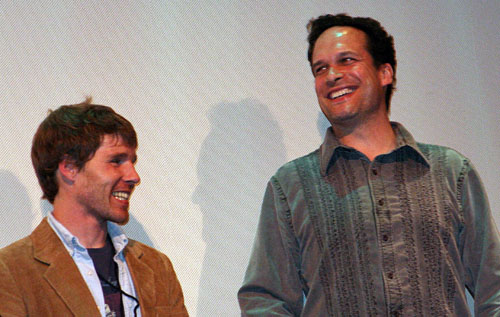 At the other end, John C. McGinley (one of the Bobs), now best-known for his role on Scrubs, applauded his fellow cast members as the event drew to a close.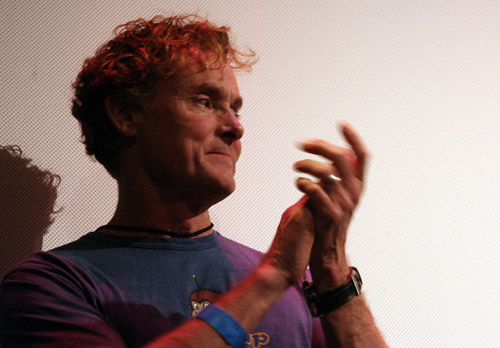 If you missed out, you have another chance to see Office Space at the Paramount -- it will screen during SXSW at a date to be announced. I doubt all the cast members will return, but Judge is a SXSW panelist so he may be there.
Not enough photos for you? I've got an expanded set on Flickr. Other people at Sunday night's event also took lots of photos and video and things. Check out some of these links: