Quick Snaps: A Sneak Peek at 'Christmas with the Dead'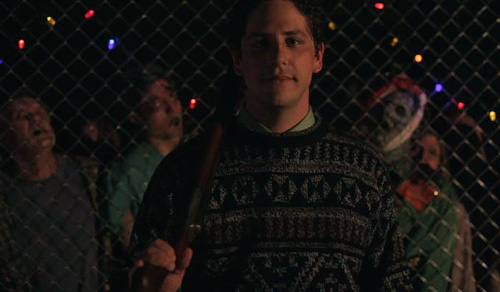 I recently had the chance to attend a sneak-peek screening of the East Texas-shot movie Christmas with the Dead, adapted from a novel by Joe R. Lansdale, who's also one of the film's producers. I've posted some stills from the film after the jump.
The Nacogdoches author might be best known to genre film fans for his association with the cult classic movie Bubba Ho-Tep, which was adapted from his novella. He's also written graphic novels, short stories and TV scripts.
Directed by T. L. Lankford and adapted by Keith Lansdale (the author's son), Christmas with the Dead brings some new elements to the zombie genre, which at this point in cinematic history is a very important thing. Zombie films aren't separated by a very distinct line anymore, and it's great to see a film that challenges the norms we've all come to expect.
Here's the official plot synopsis from the movie's website: "The Christmas spirit never dies. Even after people started becoming zombies, Calvin (Damian Maffei) is haunted by the memories of Christmases past. Years after the painful grief of losing his family and everyone he knows (made worse by the monotony of loneliness), Calvin decides he can't take any more of this existence … and that it's Christmas."
The movie Christmas with the Dead examines how much strength one survivor can have in maintaining his existence with as much normalcy as possible despite the odds being stacked against him. His eventual descent into madness comes from a place of good intentions, but he just can't see how futile his efforts are. It's a very sweet story, and one that might just make you rethink whatever plan you may have for an eventual zombie apocalypse. Assuming there is one, of course.
The film was shot in mid-2011 in Joe Lansdale's hometown of Nacogdoches, Texas. The cast of character actors and first-timers includes Lansdale's daughter Kasey. It's played a few festivals already, including the Phoenix Film Festival, and is continuing to make its way around the film-fest circuit.
Joe R. Lansdale has also written several episodes of Batman: The Animated Series including one of the show's most popular episodes, "Perchance to Dream," in which the villain The Mad Hatter creates a world in Bruce Wayne's mind where his parents never died. The author is currently adapting Savage Season, the first novel in his well-known "Hap and Leonard" series, for the big screen.
Lansdale kindly sent us a few stills from Christmas with the Dead, included below. Here's hoping the movie screens publicly in Austin in time for the holiday season.