Review: To Rome with Love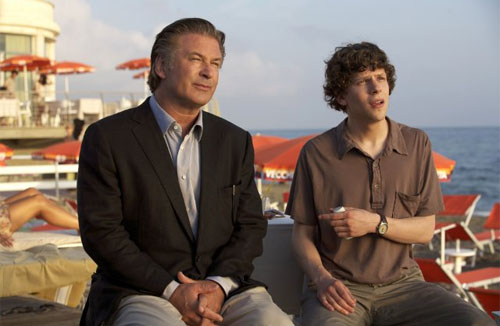 For the last several years, Woody Allen films haven't exactly delivered on the same quality as some of his earlier work. When it appeared that some of the magic might have escaped his director's chair, last year he came through with the wonderful and charming Midnight in Paris.
His latest film would go back to a beautiful European city in To Rome with Love. Much like Midnight in Paris, To Rome with Love has a sizable and talented cast, including Allen himself. When a film as great as Midnight in Paris comes out, it's only natural that the director's followup come with very high expectations. Perhaps the expectations are so unfairly high that To Rome with Love doesn't quite meet them.
The movie doesn't focus on a single narrative story. The ensemble cast's characters each have their own storyline and they never intertwine, but all are done so against the beautiful backdrop of maybe the most beautiful city in the world.
The best of these storylines is the one that fuses a strange and unexplained element of history repeating itself starring Jesse Eisenberg, Alec Baldwin, Greta Gerwig, and Ellen Page. Baldwin plays John, a famous architect who runs into architecture student Jack (Eisenberg), who lives in the same area that he once lived in when he lived in Rome. He soon realizes that Jack is about to go down the same path of errant and misguided love as John once did and he's there to guide him down the right path.
Alison Pill, who charmed audiences in Allen's Midnight in Paris last year as Zelda Fitzgerald, is an American tourist who while lost on vacation runs into a handsome Italian man, Michelangelo. Love blooms as it has no choice but to do and they become engaged. When her parents (Judy Davis and Woody Allen) visit, her father has some unique plans for the father of the groom once he hears him sing in the shower.
The other two storylines in the movie were fairly strange. They involve a random Roman (Roberto Benigni) who becomes very famous for no reason and it's never really explained. The other storyline involves a young newlywed couple, and through various miscommunications and missteps have their own adventures in Rome.
While not every storyline works, there are some really great performances here. Alec Baldwin and Ellen Page are magnificent in their roles. As great as Greta Gerwig usually is, her lack of chemistry with Jesse Eisenberg seemed to bring her performance down a bit. Alison Pill continues to be one of the brightest young up and coming stars in Hollywood today.
In the end, To Rome with Love is not nearly as good as Midnight in Paris, and that may be an unfair comparison. But if Woody Allen continues to set his films in the most romantic and beautiful spots in Europe, seeing more of the charm he delivered in Paris doesn't seem like too much to ask for in Rome. To Rome with Love definitely has its moments, and it certainly isn't bad, but it would have been nice to see all of its parts come together a little better.