Saturday Morning Massacre: Jonny Mars Finds a Movie in a Mansion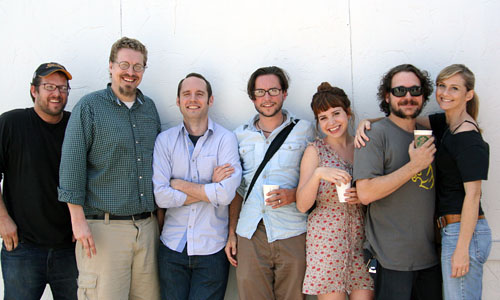 When life drops a creepy old mansion into your lap, you've got no choice but to make a horror movie out of it. And so, within weeks of the fortuitous real estate deal, producer Jonny Mars and crew got to work on the Austin-produced, Scooby Doo-inspired horror film Saturday Morning Massacre (Jette's review), which premiered at the Los Angeles Film Festival earlier this month. The ornate, menacing mansion serves as not only the primary location for the film but is one of its biggest characters.
We sat down to chat with Mars (The Happy Poet, Hellion, America's Parking Lot), a local actor and filmmaker, about how the movie came together, and what it was like acting and producing Saturday Morning Massacre. Mars discussed the intricacies of "run-and-gun" filmmaking, gave us the lowdown on some of the other locations seen in the film and talked a bit about the plethora of upcoming projects he's involved with.
This is the first in a series of four Saturday Morning Massacre interviews, involving many of the people in the above cast and crew photo -- keep an eye out for the other three in the next couple of days.
Slackerwood: How did you get involved in this project?
Jonny Mars: I got a phone call from Jason Wehling. Jason, myself and Jesse Lyda produced this movie. Jason got a phone call from Jesse a year ago at SXSW and he said, "Hey, we just bought this property [the Perry Estate], but we think we're gonna flip it very soon so we've got six weeks, but we think it'd make a great horror film location." So Jason's like, "Whatever." Six weeks isn't a lot of time.
We had just gotten off a couple of features in a row and we were beat so you know, he went over there and he took some photos, and he called me and said, "Jonny, you gotta see what I just saw." And I'm like, "I'm not doing another movie," and we met up for beer and he just started showing me all of the photos and I said, "We gotta come up with a pitch; we gotta come up with an idea."
So basically in six weeks, we came up with a treatment, brought some writers on to finish writing it, cast it, prepped it, shot it.
So this movie happened because you guys saw the perfect location for it.
Mars: You gotta take opportunity when it knocks. You gotta answer that door. So yeah, the location was amazing and yeah, we had to do it. That meant Jason and I were gonna wear a lot of hats. He did all the graphics and I did some acting in it too and we had three crews running all at the same time to shoot it as fast as we could. It was madness. The hardest movie I've ever made.
What are some things you did in it other than acting?

Mars: We both -- Jason and I -- switched off AD-ing. Basically, if I wasn't in a scene, I was running the crew, and Jason always had a second unit running, just constantly doing whatever we could to keep it running.
We just all sat around and came up with the story. We did light casting -- basically we just called our friends. We definitely wrote the part for Ashley [Ashley Rae Spillers]. We thought she was the perfect Velma, and she's very, very funny. We'd worked with her before.
Honestly, the first person that we went to was Spencer [Spencer Parsons]. We were like, "So who are we gonna get?" And Spencer was in town for SXSW. He's a horror nerd -- he loves horror.
So we grabbed him and checked on his schedule. He's a professor at Northwestern, and it happened to fit in the window of him being off from teaching, so he came back two weeks later and shot it.
How'd you like being the "many hats" producer?

Mars: Because of the way we shoot films in Austin, and we don't always have a lot of money, everybody's assuming more responsibilities than you would in a normal production environment. In no way am I complaining, but I do feel that Austin crews have a very elaborate skill set, a very large skill set where a lot of us do more than one thing. Most sets you go on, people do more than one thing.
Where was that house?
Mars: It's called the Perry Mansion, at 45th and Red River. It's right across from the Hancock Center. It's the only mansion in Travis County. We had the location and it's close and we could use it.
Did it take a lot of work to get the house ready for shooting?

Mars: We weren't allowed to do anything to it. One of the stipulations was, there were only a few rooms where we were allowed to use blood because the floors were almost 100 years old, and we couldn't deface anything. So we were writing around these restrictions ... that's why the basement was chosen. It had a cement floor and they didn't mind if we got blood all over it.
Where else did you guys shoot?
Mars: The Monument Cafe is the diner. Jesse and Clark [Lyda] own that. They're the guys who bought the mansion. And obviously AFS was the haunted hangar. It's very few locations. We shot it "run-and-gun," very fast.
What are you working on now?
Mars: I directed a documentary that just premiered at SXSW [America's Parking Lot], and we're getting that set up for distribution very soon. A deal being signed is imminent, if not this week.
And I have a feature I produced and acted in also that is called Good Night that Sean Gallagher directed and we're finishing that up. And then I produced and acted in a new movie that Scotty Meyers directed that was The Untitled Scotty Meyers Project but I think now it's called The Give and Go. It's a tragic comedy, and we're finishing that up as well, trying to find a nice place to debut it. And outside of that, doing something with Kat Candler, another short film that she's directing [Black Metal]. I play the lead singer of the band, which is why I look like a bum right now, trying to grow everything out.
[Photo credit: "Saturday Morning Massacre cast and crew at Austin Studios, June 2012" by Jette Kernion. All rights reserved. From left to right: producer Jason Wehling, director Spencer Parsons, writers Aaron Leggett and Jory Balsimo, actress Ashley Rae Spillers, actor/producer Jonny Mars and actress Heather Kafka. "Jonny Mars at Dallas IFF" by Dallas International Film Festival. Found on Flickr, used per agreement with Dallas IFF.]