'3 References' Production Diary: Days 9-11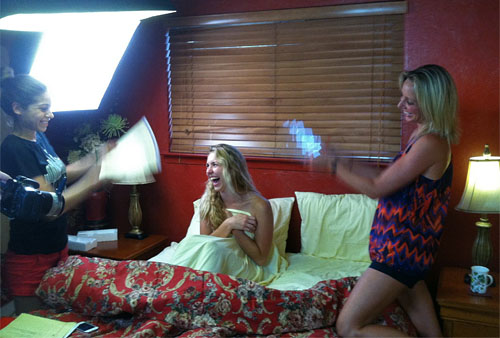 James Christopher is directing the new Twitchy Dolphin Flix film 3 References. Check Slackerwood for his updates as the shooting continues.
There are so many reasons why this has been one of the best shoots we've had in our five-year history. Driving home after another 14+ hour day last night, it hit me. I think a big part of it is attributed to the new blood. We at Twitchy have always prided ourselves on building a troupe mentality and we are dedicated to growing with the same collaborators, but the influx of new energy and ideas cannot be understated.
What began as a last-minute change in the lead gave us Harper Graham and her performance has been beautiful and vulnerable. Just fantastic. Cassidy Schiltz, Lauren Hayes, Mike Williams, Sasha Aimee, Lacey Hernandez, Alicia Dufour, Andrea Dettling and a slew of others have melded nicely with the old Twitchy guard to really create some memorable performances.
But the impact of the new school has been felt behind the camera as much. We'd be lost without new producer Lauren Shelton. And Mark Altman has been a driving force to help keep us moving. Sacha Ryder has taken on new tasks with a smile. Brendan Johnson made the trip from Wisconsin. Every day, it seems there is a new face that jumps right in to help us finish our little film. For some reason, these folks keep giving up their time and talents to help us get some work done in the not the most ideal conditions.
Part of the fun (and part of the challenge) is knowing that you have to kind of jump through diversity and challenge just to get your movie made. Saturday saw us in two locations for one sequence that ended up pushing us behind schedule. The scene involves Christian Swacker's Nick spending some time with his estranged girlfriend and their "child" and the family dog. The Texas heat and a crazy German Shepherd later and we were on our way south for one of the film's final sequences. It's one of those things when you're fighting exhaustion that really adds to the challenge of making the film. It's the fire that forges a team.
The team was put to the test in a few hours with the next call time and again they rose to the challenge. This time, we started out at Barton Springs Pool. Using our Steadicam, we shot a scene featuring Michelle (Harper Graham) and Donna (Sarah England) taking a walk and discussing the twisted game they are playing with Nick. After packing up it was off to Cedar Park. Cassidy Schiltz made her Twitchy debut as Carol, a young girl who meets a guy and thinks she's the "one" and not just "another one." She brought such fresh energy to the set. So much fun.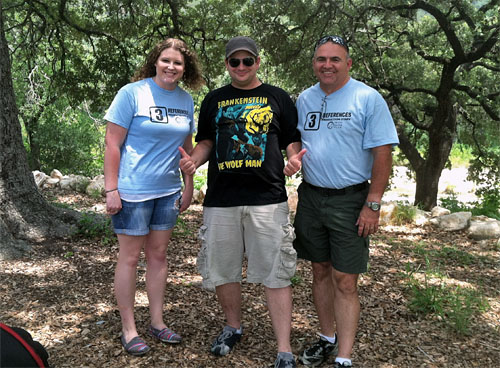 We wrapped our marathon on Monday with a shoot at Bone Daddy's. There Michael Hernandez made his on screen debut. We were especially tickled to have Mike Williams, owner of 3Leaf Entertainment and manager of Twitchy pal's Texas Renegade, taking a stab at acting as a "super douche." After Bone Daddy's, we had a shoot at Bull Creek Dog Park before wrapping late that night.
Again, I can't say enough about the folks at Twitchy. What makes us "us" and what allows us to keep doing what we're doing at the quality that we're doing it for as long as we've been doing is the dedication of the folks that have taken ownership of making sure that we make high quality micro-budget flix. Sitting here, we have four days left. Kind of a bummer.
[Photo credit: "Cassidy Schiltz cooled off by Francis Rodriguez and Harper Graham," "Lauren Shelton, James Christopher and Mark Altman" and "The cast and crew of 3 References" courtesy of Twitchy Dolphin Flix]