Rant: Tim League is Wrong, Bring on the Texters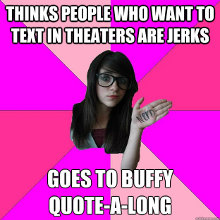 Last week, the Internets were atwitter with news from CinemaCon in Las Vegas. During a panel discussion, Regal Entertainment Chief Executive Amy Miles proposed that allowing moviegoers to text might be a way to lure more people into theaters. Alamo Drafthouse founder Tim League took to the microphone to declare that would happen over his dead body.
There was an immediate outcry among film fans. They condemned the proposal, and sang kudos for Tim.
That's great, except maybe Tim's wrong.
First, the Alamo Drafthouse has packaged various "bad movie viewing experiences" into popular programming events. The Alamo presents quote-alongs, sing-alongs, and heckle-alongs (sometimes by texting). Heck, they've even turned the worst movie experience imaginable into a product: crying infants during "Baby Day" screenings.
Why shouldn't Regal and Cinemark have the same opportunity to boost their net bottom line with creative programming? In fact, I'd rather they do that and lay off the blaring pre-show ad reels.
Second, if texting is constrained to special circumstances, that further reinforces the norm that a certain decorum is called for during normal movie screenings. If you want to text (or talk or fart), go to a special screening where it is permitted. Otherwise, grab a bucket of "shut the hell up" with your Coke and popcorn, and let us enjoy the movie in peace.
I do think it's great that Tim League is drawing a hard line about texting at regular screenings. But I'm willing to let Regal give it a shot. If they want to run trials allowing texting at some screenings of, say, 21 Jump Street, let them have at it. That what Amy Miles proposed, and I don't think that's necessarily such a bad thing. The only thing is that I ask is that they clearly designate these screenings -- so I'll know to go to an Alamo Drafthouse instead.