We Interrupt This Blog for OMG Fredric March Comedies!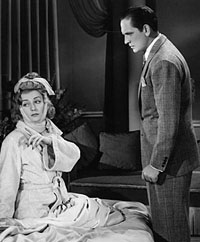 I just found out that Austin Film Society's next series will be "I Married a Witch: Fredric March's Comic Curse" and I immediately started jumping up and down a lot and making little happy noises because I love 1930s comedies with Fredric March in them. The series starts on Oct. 21 (during Austin Film Festival, damn it) with Design for Living and continues on Tuesday nights at Alamo on South Lamar with more fabulous films: Nothing Sacred, Death Takes a Holiday, I Married a Witch and The Best Years of Our Lives, through Nov. 18.
A funny related story: Four years ago, AFS did another Thirties-ish series I loved, focused around the comedies of Jean Arthur. I especially remember one movie they showed that isn't on DVD: If You Could Only Cook, a cute little comedy from 1935 that ends with an amusing "runaway groom" sequence. But what I most remember about this movie is that I saw it on my birthday that year: November 2, 2004, the day of the U.S. Presidential election. The election returns started coming in while we were watching the movie. And I suspect it was a rather liberal crowd, because after the movie ended we all poured into the little Alamo lobby (the old downtown one on Colorado) and looked at a TV and everyone who was so cheered up and distracted by the lovely Depression-era escapist film seemed to visibly deflate at the news that President Bush had been re-elected. But for 90 minutes, that movie managed to distract us entirely from current politics, and it was one of the best parts of my birthday that year.
Nothing Sacred, one of my favorite movies, is showing on Election Day this year -- Nov. 4, not my birthday. Still, I think I'm going to try a little escapism again. It's so good for the soul. If you don't want to sit tensed-up in front of a TV with your stomach in knots, wondering if your candidate will win, I strongly suggest joining us for delightful romps with Fredric March and Carole Lombard ... not to mention a fabulous supporting cast, including Walter Connolly as an editor named Oliver Stone. Coincidence? Hmm.