Film on Tap: Burton Baton Meets the Waco Kid
Film on Tap is a column about the many ways that beer (or sometimes booze) and cinema intersect in Austin.
The most significant local event that infuses film with beer is the annual Off-Centered Film Fest (OCFF), now in its fifth year in Austin, which runs Thursday, April 19 through Saturday, April 21 this year. A collaboration of Dogfish Head Craft Brewery and the Alamo Drafthouse Cinema, the festival features craft beer-themed films and events.
Tickets go on sale today for the OCFF, which includes a Rolling Roadshow screening of Mel Brooks' comedy, Blazing Saddles, a spaghetti Western feast paired with selections from the Dogfish Head portfolio and a special screening of the short-film fest finalists. As usual, Dogfish Head founder and head brewer Sam Calagione will be on hand for all of the festivities and this year he's bringing along his favorite comedic actors, writers and directors including David Wain (Wanderlust), Ken Marino (Role Models, Wanderlust) and Joe Lo Truglio (Superbad), to co-host and cavort as they celebrate film and beer. As I learned in my interview with Calagione last year, he was roommates with Marino and Truglio in New York and they served as his "quality analysis" for his homebrew experiments.
Nothing quite says Blazing Saddles like a quote-along with a buttload of cap guns, pies, and baked beans on hand at the Thursday night Rolling Roadshow screening in downtown Austin's Republic Park. Like last year's Strange Brew event, in addition to Dogfish Head selections several local breweries will represented, including Independence Brewing, Real Ale Brewing and Live Oak Brewing (Sam Calagione seen above with Live Oak founder Chip McElroy). Special kegs will be on hand from (512) Brewing, Circle Brewing, Hops & Grain, Jester King, South Austin Beer and Thirsty Planet. Members of the Texas Craft Brewers Guild will be manning a booth where you can not only join the guild as an enthusiast, but also "pie a brewer" for a small donation to benefit this non-profit supporting Texas craft beer-related mission.
Find out more about this special weekend and a report of the offerings at the new Alamo Slaughter after the jump.
On Friday, April 20, a very special Dogfish Head Beer Feast will feature a screening at Alamo on South Lamar of the Sergio Leone 1968 epic Once Upon A Time in the West. Alamo Executive Chef John Bullington is crafting an amazing six-course Italian feast to pair with eight distinctive beers from Dogfish Head, including a 2010 Burton Baton and 2010 Olde School Barleywine -- not to be missed by rare beer enthusiasts.
Also at Alamo South Lamar on Friday April 20, Calagione and his comedy friends behind the hit web series Wainy Days will host a special evening, as they explore the show "with craft beer goggles on and showcasing the best absurd episodes from all 5 seasons." The OCFF culminates on Saturday, April 21, with the Best of the Shorts Contest Screening. The audience award voting of the ten finalists begins today at the OCFF website and runs through April 18. As always, each entry had to include Dogfish Head and be generally "off centered," with this year's special theme of a Western twist.
Check out the 2010 Dogfish Head Off-Centered Film Fest winner below, whose filmmakers also placed third in the 2009 film fest with Burton Baton's debut film World Wide Clout (on YouTube). The 2010 short film The Legend of the Ancient Ales was the second installment in the "box-office blockbuster series" of Burton Baton action adventures, described as "a gripping journey of Post World War II intrigue and an alcohol-infused joyride through the well-aged pages of history." Note that almost all of the characters are named after Dogfish Head beers, including "Festina Peche."
Alamo Drafthouse Cinemas had a busy month in March, with the opening of their standalone cocktail lounge 400 Rabbits as well as the soft opening of Alamo Slaughter. The theater itself has its own tap wall and signature cocktails as well. Growlers for to-go beer as well as Alamo Drafthouse pint glasses and coaster sets are available for purchase, but note that due to TABC regulations growler fills can only be purchased at Alamo South Lamar, Village, Lake Creek, and all San Antonio and Houston locations.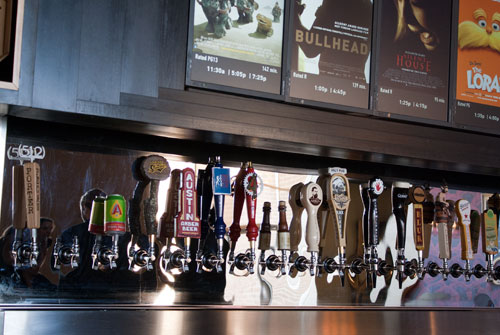 At the recent Alamo Slaughter ribbon-cutting ceremony, I was impressed by the tap selection, which features a plethora of Texas taps as seen in the photo above.
"The Corpse Reviver #2" seen above is quite a fitting cocktail for Alamo Slaughter, although not being a gin fan I'll admit that I passed and enjoyed the tequila-based Bloody Maria instead.
[Photo credits: "Sam and Chip at Strange Brew Rolling Road Show," "Alamo Slaughter Tap Wall," "The Corpse Reviver #2" all by Debbie Cerda, for use with attribution.]