Cutting the Ribbon at Alamo Drafthouse Slaughter
The Alamo Drafthouse Cinema had a soft opening of their newest location during SXSW, but the official grand opening ribbon-cutting ceremony at the Slaughter Lane location wasn't held until last Thursday, March 22. Members of the press and special guests enjoyed a morning filled with tasty tacos and coffee ... and Bloody Marias and mimosas. As a bonus, mid-morning screenings were open for attendees to try out the new seating and dining design of the theaters, which allow for easier access to seats for both patrons and staff.
Austin filmmaker Robert Rodriguez (Spy Kids, Machete) was in attendance along with Alamo Drafthouse CEO Tim League, as you can see in the above photo. Rodriguez not only referred as the Alamo Drafthouse concept as being innovative, but he called League the most "innovative exhibitionist in the country, if not the world," and praised the Drafthouse creators saying that despite their growth, it is obvious that they care so much to keep the integrity of a small business that grows organically.
See more photos from the event below including Rodriguez's introduction to the Drafthouse ceremonial sabrage.
Rodriguez holds the ribbon taut to aid League as he prepares to cut the ceremonial ribbon with a saber. Thankfully no blood was shed.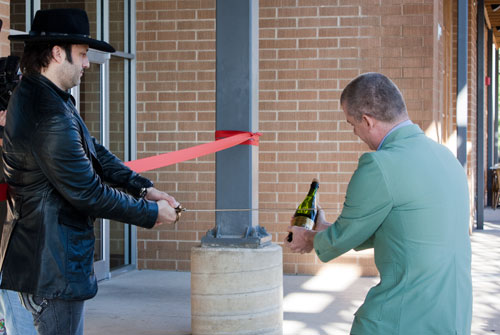 Rodriguez prepares to strike the champagne bottle after instructions from League on the proper method. A clean cut is a good omen of success.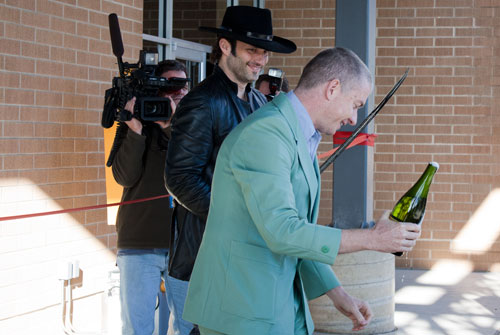 League holds the opened champagne bottle which Rodriguez accurately struck. The technique of sabrage requires that a saber be slid along the body of the bottle toward the neck and strike the lip to break the glass and separate the collar from the neck of the bottle.
Just this week, Alamo Drafthouse Cinema has announced its plans for a new state-of-the-art theater in northwest Austin, in the new Lakeline Market Shopping Center, which will be located at the corner of Lakeline Blvd and Pecan Park Blvd and adjacent to Lakeline Mall. Alamo Lakeline will have 10 screens -- the larger than any existing Alamo theaters -- and will feature a bar with a diverse selection of brews on tap.
Speaking of beer selection, the newest Drafthouse locations outside of Texas will be in two of the hot spots for craft beer -- a Littleton, Colorado location that's under construction, and restoration of a historic San Francisco theater, the New Mission on Mission Street. Road trip, anyone?
[Photo credits: All photos by Debbie Cerda, all rights reserved.]