SXSW Review: Beauty Is Embarrassing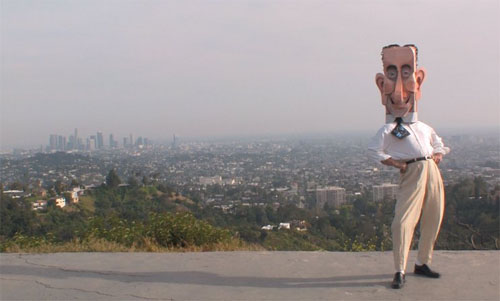 One more time: It's the movies you see on a whim at SXSW, unplanned, knowing very little, that often end up being favorites. I was unable to make it downtown during the day last Monday, knew that parking after 1 pm would be impossible, and decided to have a night at Alamo Drafthouse Village. What I knew about Beauty Is Embarrassing was a friend's description: "It's about the guy who did set designs for Pee-wee's Playhouse." Which turned out to be not only inaccurate but also wildly missing the mark in terms of the movie's scope.
Beauty Is Embarrassing may have been my favorite film of SXSW this year (I keep changing my mind, which is a great dilemma to have). The documentary is about artist Wayne White, who did create and voice puppets for Pee-wee's Playhouse but has created so many more fascinating things. The movie uses clips from White's one-man show/presentation as a basis for structure -- in the show, he recounts a loose history of his artistic life (complete with banjo interludes), and the documentary provides more detail through interviews of colleagues and family, as well as time with White in his workshop/office (which I covet). And yes, there are clips of Pee-wee's Playhouse, including some fascinating behind-the-scenes video.
White is the kind of artist who makes you want to go out and create your own art, no matter what it might be. He's designed puppets, provided artwork/design for music videos like Peter Gabriel's "Big Time," painted "word art" onto existing paintings ... whatever catches his fancy. He's not afraid to say "fuck you" to anything that inhibits art, whether it's his or others'. "Fuck you" could honestly be the alternative title for this movie, it is such a thematic emblem of White's life and also his favorite phrase. However, don't get the impression that this is a perpetually angry man.
White's wife Mimi Pond is an artist in her own right -- she's created graphic novels and wrote the first episode of The Simpsons -- but shifted her focus to raising her family for awhile. Their two children are also pursuing artistic careers. Other interviews in the movie include White's parents, a childhood friend who is now an art teacher, Matt Groening, and Mark Mothersbaugh.
Filmmaker Neil Berkeley, in his directorial debut, has beautifully captured White's personality and his artistic sensibilities in Beauty Is Embarrassing. I often say I'm disdainful of inspirational movies, but this is the kind of movie that energizes and inspires me as I leave the theater, to create artistic things for my own enjoyment and to add art to the world. Never mind the R-rated language -- show this to your students, to your kids, to your family and then go out and do something creative and wonderful.
Texas connections: One of White's projects, shown in the movie, was the "world's largest George Jones puppet head," designed for an art installation at Rice University in Houston. Another project that he works on during the movie (and wears, in a hilarious sequence) is a mask of President Lyndon B. Johnson (pictured at top), who of course hails from Texas.