SXSW Review: Sun Don't Shine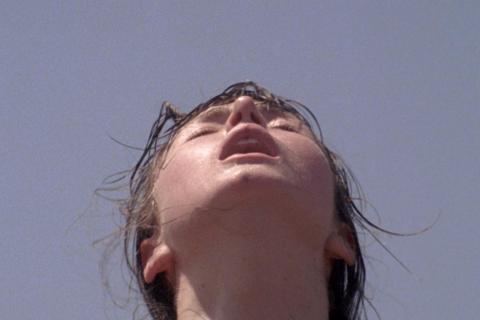 Crystal and Leo are the perfect couple.
Perfectly unhinged, that is. The two subjects of Sun Don't Shine live in a world of rage and are best avoided as they travel the highways of central Florida, greeting everyone who crosses their paths with wild-eyed looks of desperation. As their harrowing back stories unfold during their road trip, we learn the dark details of their lives and their journey.
If my description of Sun Don't Shine is cryptic, it's because revealing any further details would undermine most of the film's spellbinding tension. All I'll say is that Crystal (Kate Lyn Sheil) and Leo (Kentucker Audley) are running a ghastly errand.
Filmmaker Amy Seimetz has crafted a gripping piece of cinematic horror with Sun Don't Shine, a film that peels away layer upon layer of darkness to develop its twisted story and characters. The story's simplicity and compactness belie its complex characters and broad indictment of human behavior. There is far more going on than just a crazed couple on a road trip from hell; the movie gets to the heart of what inspires people to commit violent acts and craftily blurs the line between good and evil.
That Sun Don't Shine says so much with only two major characters and a laser-focused story is a testament to Seimetz's enviable screenwriting and directing skills. Not a moment of screen time is wasted; Sun Don't Shine tells the sad tale of Crystal and Leo with great efficiency and powerful, understated brutality, driving the story with sophisticated character development. Like the best horror films, Sun Don't Shine shocks with psychological torment rather than blatant gore, terrorizing us with chilling revelations, not bloody visual assaults.
The film's influences are obvious, from Deliverance to Seventies road movies like Two-Lane Blacktop and Dirty Mary Crazy Larry, with hints of Badlands and Bonnie and Clyde. Sun Don't Shine is every bit a classic on-the-run road film in terms of structure, look and spirit, (including its arresting Super 16mm visuals of downtrodden Florida) but it's a fresh update that hints at society's present day woes, especially the long-simmering pressure cooker of widening poverty and family distress. Again, the story has far-reaching sociological implications, holding society accountable for Crystal and Leo's horrific situation.
Character-driven films, of course, rely on great acting, and Sheil and Audley deliver in every way. Sheil is outstanding as Crystal, a woman haunted by memories from her past and nightmares in her present. She's entirely mentally unglued, a screamingly violent embodiment of humanity's battered psyche and collective fears. Sheil handles the daunting task of portraying such a tormented soul with frightening believability, avoiding any forced and phony hysterics and demanding our empathy when Crystal reveals painful secrets with quiet resignation.
Leo is the calmer half of the couple, but Audley plays him with a cold rationality every bit as alarming as Crystal's fits of rage. In Audley's capable hands, Leo is a completely plausible bundle of well frayed nerves, a harried boyfriend whose twisted sense of chivalry drives him to places he never imagined he'd go to help his girlfriend. Audley is convincing in all the character's moods and facets, from calculating monster to passionate lover.
A perfect blend of arresting horror, astute character study and sociological reflection, Sun Don't Shine is one of my favorite films of this year's SXSW Film Festival. The festival is over, but do not miss this outstanding film at the next chance to see it.
Austin/Texas connections: Writer, director, actor and producer Seimetz grew up in Texas. Executive producer/actor Mark Reeb (The Overbrook Brothers) is from Austin. Executive producers Shane Carruth (Primer) and editor David Lowery (St. Nick) are Dallas filmmakers. Actress Kit Gwen lives in Houston.
For more details about the film, read Jenn Brown's interview with Amy Seimetz.