SXSW Review: The Taiwan Oyster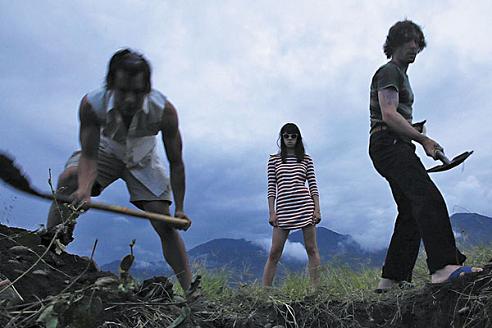 Part rowdy road movie and part meditation on death, The Taiwan Oyster is an intriguing, lyrical and visually poetic film that explores the meaning of mortality.
Set in Taiwan in 2000, The Taiwan Oyster follows two American expat kindergarten teachers, Simon (Billy Harvey) and Darin (Jeff Palmiotti), who embark on a Taiwanese road trip to find the perfect burial site for a fellow expat. Although they never met their deceased countryman, Jed (Will Mounger), and knew of him only through mutual friends, Simon and Darin feel obligated to give him a proper burial when they learn no one has claimed his body.
Their mission has an inauspicious start when a morgue clerk demands a bribe to release Jed's body, and Simon and Darin make a clumsy attempt to steal the corpse. They succeed with help from disgruntled morgue employee Nikita (Leonora Lim), who abandons her job and joins them on their trip.
The three embark on a journey through the Taiwan countryside in a flatbed truck. (Jed rides in an ice-filled freezer on the truck bed.) Fueled by plenty of alcohol and unsure of their destination -- they'll know the right burial spot when they come across it -- they wander from town to town and dive bar to dive bar, pay a visit to Nikita's large and hospitable family, encounter more trouble than they bargained for and spend a lot of time considering their own destinies.
Helmed by Austin filmmaker Mark Jarrett, who co-wrote and produced the movie with his brother, Mitchell, The Taiwan Oyster is a deeply existential film with dark humor and darker implications. Simon and Darin are not-quite-lost souls separated from their homeland, families and friends (this was years before Facebook and Skype). They seem weary of living abroad and wonder what happens next; Jed's sudden death is a kind of wakeup call that forces them to confront their own mortality and question their directions in life. Their road trip is, of course, a metaphor for the characters' philosophical journeys.
The Taiwan Oyster is a stunningly beautiful film, as we would expect given Taiwan's natural beauty and photogenic culture. Director of photography Mike Simpson perfectly captures the country's lush landscapes and colorful, frenetic city life, creating interesting contrasts between the rural tranquility and urban activity. The result is very atmospheric, especially when combined with the unlikely but effective soundtrack of classic American country and rock music (including songs from the Flatlanders and other Texas artists).
The movie also feels very authentic, especially when Simon, Darin and Nikita cross paths with various locals and struggle with language barriers and mild culture shock. (As in most countries, life in rural Taiwan is vastly different from city life.) Casting local extras and bit players helps immensely in this respect; Nikita's extended family members, for example, seem very much like a real family.
I do have a few minor criticisms of The Taiwan Oyster. Some of the dialogue is slightly unnatural; it sounds a bit too convenient and scripted, especially in a film with an otherwise authentic vibe. A romantic fling (I won't name names) also seems contrived and inconsequential to the film's more substantial themes of existential angst. (Just once, I'd like to see a movie featuring attractive young people who don't hook up, or even care to.) And I didn't quite buy Nikita's willingness to hit the road with two complete strangers. She seems too sensible to do so, and her character needs more development and backstory to explain her actions. But the overall story is solid and thought-provoking.
Equally solid are the three leads' performances. Best among them is Harvey's Simon; he's generally understated, in keeping with Simon's usually reserved and contemplative nature. (He does have the occasional row with Darin, but so would anyone.) Lim also does a great job as Nikita, a smart, savvy woman who is a sober, grounding influence on her intemperate traveling companions. First-time actor Palmiotti is a bit hammy on occasion, but he's totally believable as a muscular pretty boy who tears the sleeves off all his shirts and has no use for inhibition (or, apparently, bathing).
The Taiwan Oyster is a gorgeous and captivating film, a physical and spiritual journey in an exotic land. It has much to say about life, loneliness and death, and our eternal struggles with all three.
Austin/Texas connections: Mark Jarrett lives in Austin, where he has worked on many film projects as a location manager. Actor, musician and music producer Billy Harvey is a former Austinite. The film's composer, Dylan Jones, also lives in Austin. Austin's Stuck On On handled The Taiwan Oyster's post production.