SXSW Review: Bernie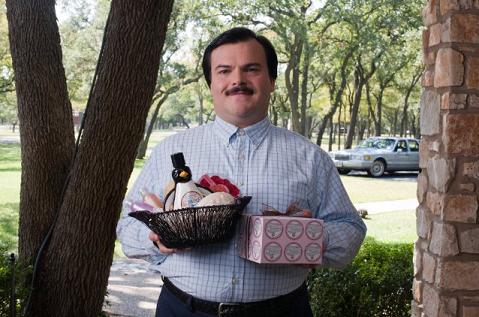 Move over, Waking Life – Bernie is my new third-favorite Richard Linklater film.
Why isn't Bernie my favorite or runner-up? As good as the film is, Slacker and Dazed and Confused have earned their rightful places at the top of my list of Favorite Linklater Films and probably will stay there forever. Pap Smear Pusher and David Wooderson deserve nothing less.
Bernie, however, is arguably the best Linklater film in a decade, an uproariously funny and engaging movie based on one of those only-in-Texas stories that would be the stuff of great fiction if it weren't astoundingly and painfully true.
Based on a Texas Monthly article by Skip Hollandsworth, who co-wrote the screenplay with Linklater, Bernie is the story of Bernie Tiede (Jack Black), a Carthage, Texas mortician who in 1990 befriended elderly widow Marjorie Nugent (Shirley MacLaine) after her husband's funeral. Tiede became Nugent's business manager and constant companion, tending to her needs and traveling the world with her for several years. Their relationship became the talk of their small East Texas town, the subject of much speculation and gossip about why the well liked thirtysomething Tiede took such an interest in the crotchety septuagenarian Nugent, who vied for the title of the town's most hated person. The most common theory had to do with Nugent's multimillion-dollar fortune, which she left to Tiede in her will.
I'm not really spoiling anything by explaining what happened next and why Tiede's story is so notorious (it's in the trailer, after all): Nugent was murdered in 1996 -- her body was discovered nine months later in a freezer in her garage -- and Tiede was the prime suspect. But I won't say more; the curious can consult Wikipedia or Hollandsworth's excellent article, "Midnight in the Garden of East Texas."
Bernie is a thoroughly entertaining take on this tale, a rollicking, colorful story that's less about its titular character than about Carthage, a town quintessentially East Texan in every way. The film tells its story via hilarious interviews with the townspeople (they're actors, but in Linklater fashion, you'd never know it). Most of the townsfolk speak of Tiede in glowing terms, refusing to believe he could murder anyone and generally agreeing that the crabby old lady deserved what she got. "There are people in town, honey, that would have shot her for five dollars," says one of Tiede's many unwavering supporters.
A former Huntsville resident, Linklater nails the East Texas milieu, capturing the area's genteel Old South-meets-Texas swagger vibe and emphasizing the role of abiding faith (religious and otherwise) in East Texas life. Tiede's arrest tests that faith, but meets its match; many denizens of Carthage know what they know about Tiede and therefore simply do not believe he's a murderer, despite solid evidence that he is. The story is an obvious metaphor for small-town, deeply religious notions of good (unquestioning faith) vs. evil (those who seek to destroy faith with unpleasant truths no one wants to accept). Bernie is about much more than a man on trial; it's about faith on trial.
Driving Bernie is its superb script, a festival of one-liners, absurdities and spot-on character studies. The characters are characters in every sense, from Tiede's smooth salesmanship and theatricality (when not catering to Nugent's every whim, he's directing elaborate musicals) to the tough-on-crime pandering of District Attorney Danny "Buck" Davidson (Matthew McConaughey) to the thick drawls of Carthage's good ol' boys and polyester-clad matrons.
I'm not always a fan of Black's work; often as not, he plays Jack Black. (The culprit may be the weak material he's given in many films. With no well defined character to play, Black defaults to playing himself.) But Black is terrific as Tiede, imbuing the oversized undertaker with an outsized personality, unfailing gentleness and a generous spirit, making it easy to see why so many people adored him. He also has subtly effeminate mannerisms; Tiede was widely thought to be gay, but was so well liked that his often narrow-minded friends and colleagues politely minded their own business regarding his sexuality. Fortunately, Black dials back his often manic screen presence and plays the multifaceted Tiede with unexpected nuance.
MacLaine is slightly more over-the-top as the ranting, demanding Nugent. She takes some histrionic moments a bit too far, but she's quite effective in making us so dislike Nugent that we don't quite mourn her violent demise. (If Nugent were a sympathetic character, Bernie would have been an entirely different movie.) And McConaughey has his funniest and best role in years as the cocky, media-baiting Davidson, a man of the law who also understands the art of political theater. Tiede isn't the only one who knows how to put on a show.
Bernie also overflows with great performances in minor roles. The late Rick Dial is particularly funny as funeral director Don Leggett, as is Austin legend Sonny Carl Davis as Carthage wag Lonnie. There also are fun Austiny cameos by KLBJ-FM morning show host Dale Dudley, KVUE-TV anchor Quita Culpepper, and others. The ubiquitous David Blackwell also makes an appearance, as he should in all Austin-related films.
The funniest comedy I've seen in ages, Bernie is a wonderfully entertaining movie, an astute study of Texas culture and a fine addition to Linklater's growing body of great films.
Austin/Texas connections: Bernie was filmed in Austin, Bastrop, Carthage, Georgetown and Smithville with a local cast in some minor roles and local crews. Linklater helped establish the Austin film industry and has been a major player in the local film scene since the 1980s.