SXSW Review: Girl Model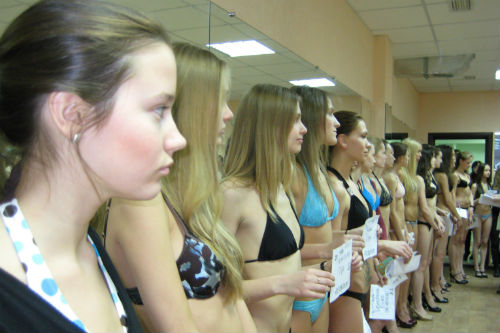 At the beginning of Girl Model, dozens of girls are shown standing in bikinis and heels in a room of mirrors; the metaphor is obvious but succinct. It's hardly news that young women are exploited in the meat market of modeling. But Girl Model explores that on a deeper psycho-emotional level. Motivations are obscured and rationalized, making it impossible for an adult to navigate, let alone pubescent girls.
Filmmakers David Redmon and Ashley Sabin have a well earned reputation with a strong body of work, including Intimidad (SXSW 2008), Kamp Katrina (SXSW 2007), and Mardi Gras: Made in China. Their latest documentary Girl Model attempts to illuminate the illusive reality of young girls in the international modeling industry through a new model and the scout who found her.
Thirteen-year-old Nadya is a Siberian discovered at a quarterly cattle call by Ashley Arbaugh, a former model turned model scout. Ashley spends most of her time looking for girls to send to Japan for modeling contracts -- and the girls have to be young. There is a deliberate indoctrination into modeling, with a local agent running the cattle calls and even contests for girls barely out of the toddler stage, urging mothers to groom their daughters at a young age for a modeling career. Nadya's parents are counting on her because they're so desperate for money. And not long afterward, Nadya is off to Japan: on her own, no guardian, no escort, to a country where she does not speak the language.
Ashley is a very guarded enigma, simultaneously cavalier about her current work and bitter about her modeling past. It seems to pain her to reveal anything, yet she's clearly desperate to be understood if only by herself. She's often trying to justify her own actions or brushing off any doubts she has about her profession. Her contradictory confessions suggest she's perpetuating a cycle of exploitation and abuse. And what's truly disturbing is Ashley seems to be the only one involved on the business side with any recognition of the hypocrisy she's spouting. The only clear thing is that that once the girls sign a contract, they are all but completely powerless.
The only flaw in Girl Model is the dearth of details about the financial and international law surround modeling and child labor. The visa requirements to model in Japan and the fact that the girls are exploited financially are clear, but little else. But that's not for lack of trying; Redmon and Sabin made it clear in the Q&A that the more they tried to get concrete answers, the more resistance they encountered, and were pressured into halting their investigative efforts. It also only teases about another, even darker aspect of modeling, something that thankfully Nadya did not seem to experience.
The parallel between Nadya and Ashley is inevitable; if Nadya continues to pursue modeling, will she follow in Ashley's footsteps? Girl Model doesn't -- and can't -- predict that. But it does provoke many questions that need to be answered for the sake of families looking to better their circumstances through.
Girl Model screens one more time at SXSW.
Austin/Texas connections: Co-director David Redmon grew up in Mansfield, Texas. Consulting producers Marcy Garriott and Robert Garriott, Tom Hammond (audio post-production, Glenn Dill (graphics) and Nick Piesco (web design) are all from or around the Austin area. Two years ago, Carol and Jeff Ferrell at TCU (Texas Christian University) and Edward Tyndall at Texas A&M at Corpus Christi hosted work-in-progress screenings of Girl Model.