Austin at SXSW 2012: Andrew Garrison and Allison Orr, 'Trash Dance'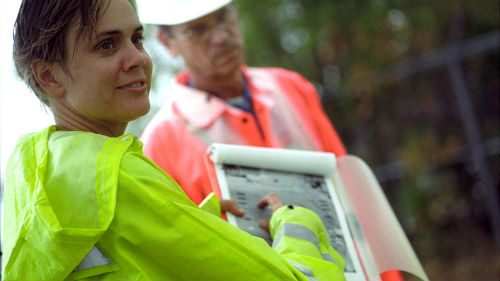 In September 2009, I noticed an unusual special event in an Austin Film Society weekly bulletin about a unique performance piece. The Trash Project was meant to "educate audience members about waste reduction while acknowledging the hard work Austin's sanitation workers." Choreographer Allison Orr of Forklift Danceworks had organized "the biggest dance of [her] life." It was almost a footnote that director Andrew Garrison (Third Ward TX) would be documenting the event, especially when it included 15(!) vehicles.
Now the film Trash Dance is set to make its world premiere at SXSW on Saturday. Andrew Garrison directed, shot, and produced the documentary, with editing by Angela Pires and sound design by Graham Reynolds. Steve Mims (Incendiary: The Willingham Case), Deb Lewis (Troop 1500, Crawford) and Nancy Schiesari (Tattooed Under Fire) provided additional photography. Here's what Garrison and Allison Orr had to say about their project.
Slackerwood: Describe Trash Dance for us in a couple of sentences.
Andrew Garrison: A choreographer and city trash collectors make something ridiculously beautiful together. It is funny, unexpected, and genuinely powerful.
Allison Orr: A year-long look at the process of creating and performing the biggest dance I have ever made in my life -- with 16 trash trucks and 24 employees from Austin's sanitation department

What's one thing about the film that is going to make it impossible for people to resist seeing it?
Orr: Seeing the extraordinary behind work that one might have thought before was just ordinary.
Garrison: The romantic solo performance performed on a crane.

Is there anything the audience should know about Trash Dance before seeing it?
Garrison: You will want to meet your trash collectors and leave drinks out for them after you see this.
Orr: It's all TRUE!

What are the recognizable locations in Austin/Texas and Austin/Texas connections?
Garrison: Mueller airport behind Austin Studios with the Frost Bank and UT Tower in the distance, and various neighborhoods around Austin.
Orr: Frost Bank Tower, Austin Studios, and Kenneth Gardner Service Center (where the trash trucks live!).

Who from the film will be in attendance at the screenings?
Garrison: Choreographer Alison Orr and the stars of The Trash Project original performance -- employees and former employees of what is now Austin Resource Recovery.
Orr: All of the stars!

Where can people go to learn more about Trash Dance?
Garrison: The website will be up soon! You'll be able to download the free game there (yes, the free game!). You can also go to Facebook and Twitter.

Screenings for Trash Dance on SXSW Schedule:
Saturday, March 10 at 1:30 pm, Paramount Theatre
Tuesday, March 13 at 4:45 pm, Paramount Theatre
Wednesday, March 14 at 7:30 pm, Canon Screening Room at the Long Center
Saturday, March 17 at 7:30 pm, Stateside Theatre
[Photo credit: Allison Orr during The Trash Project rehearsal. Used with permission]