Lone Star Cinema: Roadie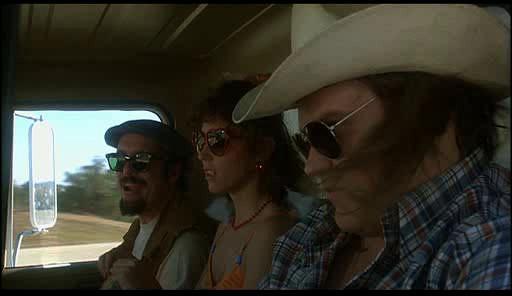 I imagine that no one involved in the making of Roadie considers the film a career highlight. And a few of the cast and crew probably wish the film never happened. Yes, folks -- Roadie is that bad.
Sorry to be so harsh in my assessment of the film, but…actually, no, I'm not sorry, for this 1980 rock'n'roll "comedy" is an execrable mess. Even the ubiquitous presence of Meat Loaf -- who has done respectable and entertaining work in many other films and TV shows -- can't save Roadie, a film so profoundly dumb and unabashedly horrid that a more suitable title might be Roadkill.
That said, for better or worse Roadie is a significant part of Texas film history. While it's isn't worthy of praise, it is a Texas cultural artifact worthy of inclusion in Slackerwood's Lone Star Cinema series.
Roadie is the story -- and I use the term story loosely -- of Travis W. Redfish (Meat Loaf, in all his hairy and rotund early career glory), a Shiner beer truck driver who happens upon a broken-down RV delivering Hank Williams Jr.'s sound equipment to Austin. Redfish fixes the RV and drives it to Austin in the nick of time. To return the favor, band manager Ace (Joe Spano, later of Hill Street Blues fame) and concert promoter Mohammed Johnson (Don Cornelius, who wisely kept his Soul Train day job) offer Redfish a job as a roadie for Johnson's travelling rock'n'roll show.
I won't waste your time or mine describing what follows in any great detail. Redfish falls for ditzy Lola Bouilliabase (Kaki Hunter), possibly the only virgin groupie in the history of popular music. The two travel the country with a forgettable coterie of oddballs (including RV driver Bird, played by Austin's legendary Sonny Carl Davis), setting up sound equipment for various bands such as Blondie, the punk band Spittle (actually the Standing Waves), and Alice Cooper. There are some funny rock'n'roll hijinks that aren't funny and a few dramatic scenes that aren't dramatic. There also is a vague message about the importance of family ties, as Redfish stays in touch with his irritatingly strange family back home in Texas. (Art Carney, apparently in need of a paycheck in 1980, plays family patriarch Corpus C. Redfish.)
Beyond its nonsensical story, plodding direction and clunky dialogue, Roadie also is bizarrely chaste and inoffensive for a movie about rock'n'roll. The PG-rated film is completely sexless, offering us mild titillation but nary a naked groupie (and I had such high hopes), almost no profanity and only one drug reference. I assume this wholesome milieu was necessary to earn a PG rating and make the film accessible to its target audience of music fans younger than 17. But Roadie's mostly squeaky-clean universe only compounds the film's surreality and irrelevance; the end result is a gritless, unsexy and sometimes even corny film wholly detached from the real world of roadies, as if the producers were oblivious to the notion of sex, drugs and rock'n'roll.
I'd mention the acting in Roadie, but it's probably best not to. Even Meat Loaf's quirkily intriguing persona and the immense talents of Spano, Carney and Davis can't rescue this mostly unwatchable turkey; fortunately, they all redeemed themselves in many other roles. For his long career and contributions to the Texas film industry, Meat Loaf received a well deserved Texas Film Hall of Fame Award in March.)
On a positive note, Roadie does have a few interesting cameos (among them Roy Orbison and Peter Frampton) and some entertaining musical performances from Williams, Blondie, Cooper and other bands. And if Austin film fans can tolerate Roadie's general god-awfulness, they'll be rewarded with glimpses of the Soap Creek Saloon, Mrs. Johnson's Bakery, Congress Avenue and other downtown streets, I-35, the old Ramada Inn and other landmarks. There also are a few shots of the then-rural town of Manor. The film also features the Austin band Asleep at the Wheel, along with Alvin Crow and the Pleasant Valley Boys.
The Roadie DVD is a bare-bones affair; the only extras are scene selection, the theatrical trailer, and English, French and Spanish subtitles. (However, I suspect the dialogue is terrible in any language.)
Austin/Texas connections: Roadie was filmed in many Austin locations, including Crazy Bob's Saloon, the Soap Creek Saloon, the Ramada Inn on I-35, Mansfield Dam, Congress Avenue, Airport Boulevard and Loop 360, as well as in Manor. Meat Loaf grew up in Dallas. Sonny Carl Davis lives in Austin and has appeared in many local and Texas-made films. Roy Orbison was born in Vernon, Texas. Asleep at the Wheel and Alvin Crow have been fixtures of the Austin music scene since the 1970s.
[Editor's Note: For a completely different viewpoint on Roadie, read Raoul Hernandez's account of a recent Austin Film Society screening.]