Austin at SXSW 2012: Bee vs. Moth Brings Music to 'The Oyster Princess'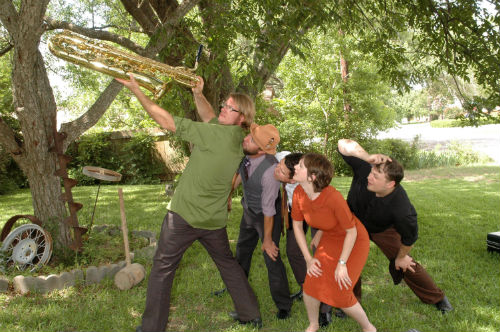 Last year at SXSW, Austin band Bee vs. Moth performed a special live score accompanying Buster Keaton's silent movie The Cameraman. And they're back again, this time for The Oyster Princess. If you fell in love with The Artist or caught the live-score event last year, this is a must-see event. I tracked down Sarah Norris of Bee Vs. Moth to get the inside scoop.
Slackerwood: Describe the film for us in a couple of sentences.
Sarah Norris: The Oyster Princess is a 1919 German silent comedy by Ernst Lubitsch. The film tells the story of a spoiled heiress whose quest to marry a prince leads to mishaps, mockery and mistaken identities. Austin band Bee vs. Moth plays our original soundtrack live with the film.
What's one thing about the film that is going to make it impossible for people to resist seeing it?
Watching a silent film with live accompaniment is a fun, engaging experience that really brings the film to life. Bee vs. Moth's original score is witty and modern, making a surprising complement to the film's irreverent critique of the rich.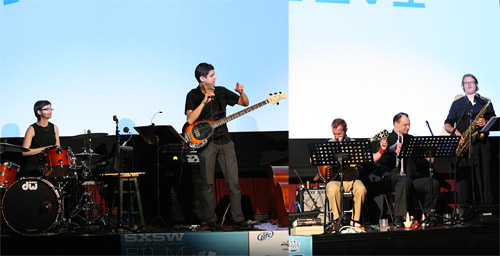 Is there anything the audience should know about the film before seeing it?
Director Ernst Lubitsch (The Shop Around the Corner, Heaven Can Wait) later attained fame in the U.S. with witty, urbane comedies deemed as having "the Lubitsch touch." He directed for every major studio in America, and even became production manager at Paramount. The Oyster Princess is a great, early example of his directing trademarks.
What are the recognizable locations in Austin/Texas?
This film was shot in Berlin in the 19-teens, so you'll have to drink more than a few beers at the Alamo Drafthouse to see any Austin locations. But we won't stand in your way.
Who from the film will be in attendance at the screenings?
Bee vs. Moth will of course be in attendance and in performance. Odds of the original cast and crew making an appearance are low, but see the beer strategy mentioned in the question above.
Where can people go to learn more about your band?
You can watch a trailer (also embedded below) and learn more about Bee vs. Moth on our website. We're also on Facebook and Twitter and bandcamp.com.
Screening for The Oyster Princess on SXSW Schedule: Thursday, March 15, 12 pm at Alamo Ritz 1
[Photo credit: "Bee vs. Moth." Used with permission from Sarah Norris. "Bee vs. Moth at SXSW 2011" by Jette Kernion for Slackerwood.]