Texas at SXSW 2012: Ya'Ke Smith, 'Wolf'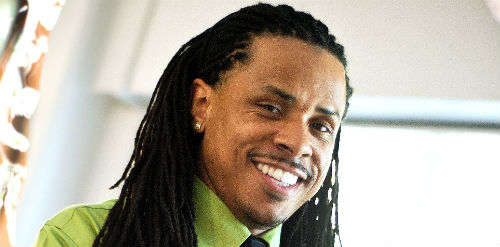 You may remember Ya'Ke Smith's 2010 short Katrina's Son from Austin Film Festival, where it won Best Narrative Short. Smith, who is not only a filmmaker but an Assistant Professor at The University of Texas at Arlington, is back with the controversial feature Wolf, premiering in the Emerging Visions category. And check out the top-notch cast, listed below.
Slackerwood: Describe your film for us in a couple of sentences.
Ya'Ke Smith: A family is shaken to the core when they discover their son has been molested. As they struggle to deal with the betrayal, their son heads toward a total mental collapse because of his love for his abuser, while his abuser attempts to exorcise his own past demons. The film stars Irma P. Hall (Soul Food, Collateral, The Ladykillers), Eugene Lee (Lackawanna Blues, Coach Carter) and newcomers Mikala Gibson (Gretchen), Shelton Jolivette and Jordan Cooper.
What's one thing about Wolf that is going to make it impossible for people to resist seeing it?
It deals with a subject that is taboo, one that a lot of people shy away from. If you want to see a take on religion, sexuality, betrayal and familial discord that is unique in its approach than this is the film for you. I also think that it's a piece that will cause conversation. There are a few hard-hitting sequences that will stick with you long after you leave the theater.

Is there anything the audience should know about the movie before seeing it?
Quite honestly it's not an easy watch, but I think it's an important one. It walks the line between beautiful and brutal. It's visceral in its photography, storytelling and in the raw and naked emotions of the performances.

What are the Austin/Texas connections people might recognize?
We shot it all in San Antonio. However you will recognize a few Austin actors, some I've worked with many times before.

Who from the film will be in attendance at the screenings?
Me (writer/director/editor), the other producers, all the main cast and some of the crew.

Where can people go to learn more about the film?
You can go to the website, Facebook, or Twitter.
Screenings for Wolf on SXSW Schedule:
Sunday, March 11, 7:30pm at Canon Screening Room (Rollins at the Long Center)
Tuesday, March 13, 4 pm at Alamo Drafthouse Lamar C
Friday, March 16, 4:30 pm at Stateside

[Photo credit: "Ya'Ke Smith." Used with permission from the filmmaker.]