2011 in Review: Elizabeth's Favorite Performances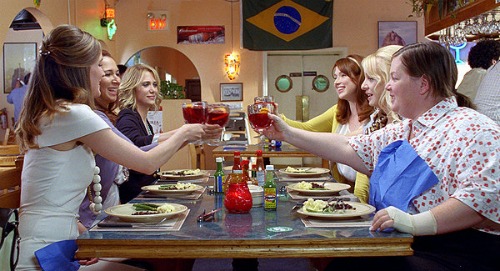 It's January, awards season is nigh and it's already time to look back to a few weeks ago when it was 2011. Out of the many and various movies I saw last year, some included outstanding, memorable performances that deserve a little more attention. While I haven't yet seen The Iron Lady or We Need to Talk About Kevin, this list is my attempt to shine a light on my favorite onscreen performers from 2011.
1. Viola Davis, The Help
Davis' Aibileen speaks in stoic glances, gently assures her baby charge that she is loved, and slowly opens up to Skeeter (Emma Stone).
It's been months since I've seen the film, but the image of Aibileen running through the streets of Jackson after Medgar Evers' assassination remains fresh in my memory. In this moment especially, Davis has made her character so real and sympathetic that the viewer shares her fear. Davis is the standout of a marvelous cast. (my review)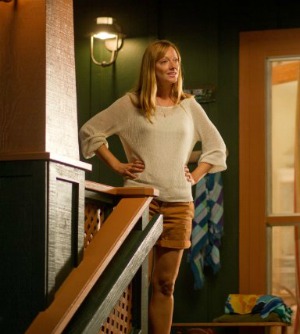 2. Judy Greer, The Descendants
I don't really understand the hoopla around George Clooney in this film. For me, the best thing about Payne's Hawaii-based movie is Greer playing housewife Julie Speer.
I've been a fan of Judy Greer for a while, and was still surprised at the depth and nuance of her acting in this supporting role. Her character's anger is bitingly honest, which is refreshing in a film that banks on Clooney's character's never-quite-believable emotions towards his comatose wife. (my review)
3. Kristen Wiig and the cast of Bridesmaids
Melissa McCarthy practically steals the movie with her sister-of-the-groom Megan, Rose Byrne excellently portrays the "perfect" friend vying for the bride's platonic love, and Maya Rudolph captures well the feelings of an addled bride before her big day. Those are just a few of the people who make up the strong cast for Bridesmaids; there's not a weak actor in the bunch.
Still, Kristen Wiig is the one who stunned me as maid-of-honor Annie. Before I saw this movie, I couldn't stand Wiig (based on what I'd seen of her work on Saturday Night Live). As Annie, we see her fighting for the love and attention of her best friend, dealing with class differences (as well as joblessness and recession), and an unsatisfying sex life. Even as her character makes stupid decisions and flips out, Wiig makes Annie intensely relatable. (Jette's review)
4. Alan Rickman, Harry Potter and the Deathly Hallows: Part II
If you weren't moved during the sequence wherein Harry learns the truth about Snape, then I don't know if we can be friends. (Jette's review)
5. Jake Gyllenhaal, Source Code
This futuristic/time-travel movie is carried by a quality cast, led by Gyllenhaal as determined soldier Colter Stevens. Different aspects of his personality show up in each eight-minute interval he travels back to the train. It seems the only thing that may keep him from accomplishing his assigned task to find a bomber of the train is his confusion about his situation. Gyllenhaal humanizes what seems an outlandish premise for this fantastic (and underrated) film. (Jette's review)
6. Adepero Oduye and the cast of Pariah
Although this movie is receiving "wide" release on Friday, I was able to catch it at Austin Film Festival 2011; it was one of my favorite things about the fest. Oduye plays the main character Alike, an in-the-closet teen lesbian caught between two worlds: that of her family home, dominated by her conservative and controlling mother (Kim Wayans), and that of her butch friend Laura (Pernell Walker). Charles Parnell plays her father, who loves his daughter but tends to accede to his wife. Even the supporting cast is full of actors who create well-formed characters out of their roles.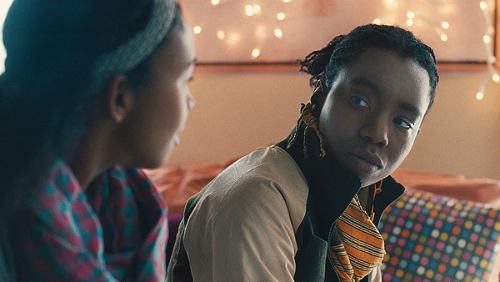 As the film progresses, Oduye's Alike comes to realize what kind of person she wants to be. Her portrayal lifts the movie from what could have been a bleak story to the bittersweet, haltingly optimistic and hopeful film it is.
7. Anton Yelchin and Felicity Jones, Like Crazy
These two crazy kids basically are the whole movie. As their characters make very real and human mistakes and miscommunicate -- or don't communicate at all -- Yelchin and Jones pull off the feat of keeping their characters likeable. Perhaps this couple isn't meant to be together, but because of the earnestness of the actors in the lead roles, I found myself pulling for them anyway. (my review)
Honorable Mention: The animal performers of 2011

I'm including Snowy from The Adventures of Tintin in this, although he is technically a fully-animated character. The dog in the Spielberg movie was almost exactly how I imagined him as I read the books as a child, and for a dog, was a fairly complete character. (my review)
The dog in The Artist -- Uggie, a Jack Russell terrier -- is reminiscent of dog star Asta/George from the 1930s (see The Thin Man films or Bringing Up Baby), perfect for a movie based in that era. He practically lights up the screen and has excellent chemistry with his human co-star (Jean Dujardin). (Jenn's review)
Paw Paw, the cat in The Future, narrates the film (well, really, Miranda July does). At times we see his feet as he is in his cage at the vet. His paws arc and paint invisible lines and we hear his thoughts as he waits to go home with his humans.