Review: Harry Potter and the Deathly Hallows: Part 2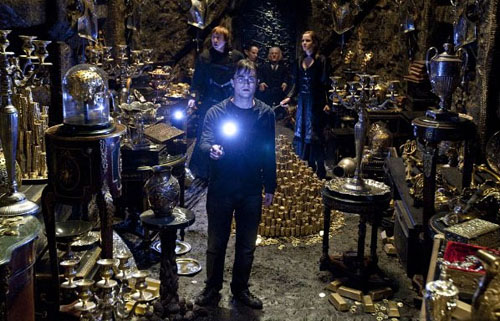 Although Harry Potter and the Deathly Hallows was not one of my favorite novels in the Harry Potter series from J.K. Rowling, that didn't lower my expections for the pair of movies, particularly the one opening in theaters this weekend, Harry Potter and the Deathly Hallows: Part 2. After all, I didn't like Harry Potter and the Order of the Phoenix at all the first time I read it, and I thought the movie was better than the book overall (my review). And I did enjoy Harry Potter and the Deathly Hallows: Part 1, as you can see from my review last year. Still, I was wary of how the movie would be able to represent what I considered a very jumbled and confusing set of climactic sequences, not to mention an epilogue I could have done without.
I did enjoy Harry Potter and the Deathly Hallows: Part 2 while actually watching it -- but for days afterward, I found myself picking it apart in a way I haven't done with the previous movies, or at least not since the movie version of Harry Potter and the Goblet of Fire, which I found rather rushed. In fact, some of the problems I had with this latest movie are the same ones I had with Goblet of Fire: the sacrifice of character time in favor of action and spectacle. (Hell, that's the problem with the first two movies as well, now that I think about it.)
For those of you who haven't read the book but would like a relatively spoiler-free summary, Harry Potter and the Deathly Hallows: Part 2 starts right where Part 1 left off, with only the most cursory reminder of where we were when we last saw Harry and the gang. There is no way you could watch this movie without having seen the others and no pretense that you should even bother. Harry (Daniel Radcliffe), Hermione (Emma Watson) and Ron (Rupert Grint) are still on the hunt for the Horcruxes, the objects that keep evil Lord Voldemort immortal. Their quest ultimately seems to point to Hogwarts, but will that help or hurt their magical friends and fellow students?
The movie is an improvement on the book in some ways -- in fact, I like an adaptation to digress from its source in a few interesting ways to surprise the readers while they're watching. Many sequences that seemed to go on a little long in the novel are admirably shortened, such as the plans to break into Gringotts and the novel's epilogue. The action overall moves continuously, and once the quest has started, there's barely time to draw a breath -- no stopping for long explanations, except for a sequence of flashbacks that could have ground the movie to a halt but is instead handled quite deftly.
The difficulty is that when you are condensing a large book into a movie that lasts just over two hours, of course you are dropping things by the wayside. This movie covers only the last third or so of the book but the problem still stands. And as with the previous movie, what writer Steve Kloves and director David Yates chose to cut were the times with supporting characters, the moments of compassion and affection. This might make sense on paper, but the whole point here is that this is a movie people have watched after enjoying these characters for seven previous films. That's why the filmmakers don't bother to set up the previous events for you. It's assumed that you know who all these people are and what they've been doing.
Harry Potter and the Deathly Hallows: Part 2 is just a shade over two hours long; I think it would not have disturbed the rhythm of the third act to have added just a little more time with the supporting characters, many of whom are relegated to a blink-and-you'll-miss-it moment onscreen. Professor Trelawney (Emma Thompson) has a brief but delightful moment in the book; here she pops up to do little more than have us wonder how much they paid Thompson to be on set for such a throwaway glimpse. Tonks and Lupin, Fred and George ... I would have rather seen slightly more of these characters in action and less of the unnecessarily long "setting up the defenses of the area" magic that looks very impressive in a theater but adds no value to the story itself.
In fact, the entire climactic battle sequence of the film is poorly filmed, with a focus on long shots of masses of people we don't know and don't care about. My cynical guess is that there's a longer version of Harry Potter and the Deathly Hallows: Part 2 out there, which Warner is saving for a second theatrical release or an expensive Blu-ray box set, in an attempt to get as much money out of Harry Potter fans as possible. After all, look at the success of the extended versions of the Lord of the Rings adaptations. If this is true, it's unfortunate for the actual movie we are watching in theaters this weekend.
Only one new character gets significant screen time in Harry Potter and the Deathly Hallows: Part 2 -- Aberforth, played so well by Ciaran Hinds that I heard some audience members saying they thought that he was being played by the actor who plays Aberforth's nearest relative. Hinds is unrecognizable but he manages to create a compelling character in a few brief scenes. The rest of the cast is up to its usual high standards: despite my carping about not enough screen time for many supporting characters, I admit Maggie Smith gets some of the best moments in the movie.
Harry Potter and the Deathly Hallows: Part 2 is a perfectly fine way to say goodbye to Harry and his friends. I think it could have been better, but I'm pleased the series has maintained a high quality and entertainment level throughout eight films.